---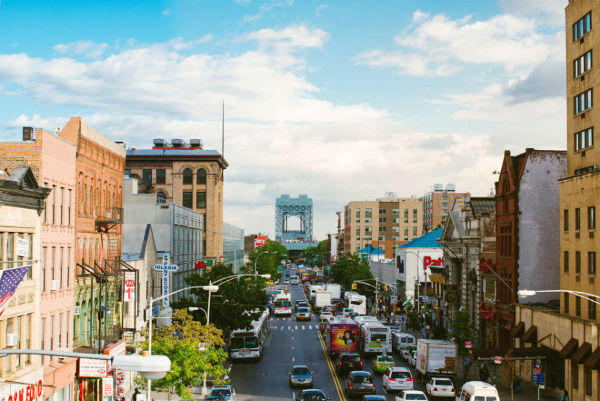 After a three-year campaign, Harlem-based WE ACT for Environmental Justice and the more than 180 other organizations that comprise the NY Renews coalition are celebrating the New York State Climate Leadership and Community Protection Act (CLCPA).
CLCPA was passed the Senate (Bill S2992B) sponsored by Senator Todd Kaminsky (D-Long Beach) by a 41-21 vote on June 19th and the Assembly bill (A3876B) sponsored by Assemblyman Steve Englebright (D-Setauket) that passed the Assembly by a 104-35 vote on June 20th. This unprecedented legislation sets the most ambitious emissions reductions standards in the country, with a goal of reaching a 100-percent reduction in greenhouse gas emissions statewide by 2050.
"This is a huge win for New Yorkers, giving us the strongest, most aggressive climate legislation in the nation," said Cecil Corbin-Mark, Deputy Director and Director of Policy Initiatives at WE ACT for Environmental Justice. "It is not perfect, and there are many critical issues regarding equity and a just transition which we will need to keep fighting for, such as mandating that 40 percent of the funds collected from ratepayers for energy efficiency and renewables be invested in low-income communities and communities of color, who have been disproportionately impacted by climate change. But even though this legislation does not include everything we want, it is still worth celebrating."
To achieve the goal of 100-percent emissions reductions by 2050, the CLCPA, when signed by the Governor, will legally mandate that the State reduce its emissions by 85 percent by 2050 while setting a "net-zero" standard for the other 15 percent, which allows for some flexibility for certain industrial sectors through off-setting or capturing of those emissions. While this is far from ideal, the measure does include guidelines that will prevent polluters from continuing to emit those pollutants in communities already over-burdened by pollution.
These unprecedented reductions are expected to be achieved through a mixture of renewables and energy efficiency measures, along with the development of new technologies. For example, in the utility sector, the CLCPA requires that 70 percent of the State's electricity will come from renewables by 2030, with utility emissions being eliminated completely by 2040.
During the three-year campaign, WE ACT brought busloads of its members to countless rallies and visits with elected officials in Albany. Our membership, representing the communities of Northern Manhattan, played a critical role by giving a voice to those who are already being impacted by climate change, adding urgency and putting a face on the issue.
"As we celebrate this landmark legislation, we want to thank our members for their time and effort as well as acknowledge the tireless work of our many partners in NY Renews, who accompanied us and helped organize all the rallies and trips to Albany," noted Corbin-Mark. "We will continue to work together to introduce additional measures that will mandate a 40-percent investment in communities that have historically bore the brunt of these emissions and other pollution as well as measures to ensure the kind of job growth and job training that can help these communities overcome that enduring burden.
"We also want to thank our elected officials in Albany, who had the courage and leadership necessary to push through such groundbreaking legislation," added Corbin-Mark. "In particular, we want to thank New York State Senate Majority Leader Andrea Stewart-Cousins (D-Yonkers) and the Speaker of the New York State Assembly Carl E. Heastie (D-Bronx) for their bold leadership on this bill; New York State Senator Todd Kaminsky, who represents the 9th District and championed the bill in the Senate as the Chair of the Senate Environmental Conservation Committee; New York State Assemblyman Steve Englebright, who represents the 4th District and championed the bill in the Assembly as Chair of the Assembly Environmental Conservation Committee; and New York State Governor Andrew M. Cuomo for his leadership and support."
WE ACT for Environmental Justice is a Northern Manhattan membership-based organization whose mission is to build healthy communities by ensuring that people of color and/or low-income residents participate meaningfully in the creation of sound and fair environmental health and protection policies and practices. WE ACT has offices in New York and Washington, D.C. Visit us at weact.org and follow us on Facebook, Twitter, and Instagram.
---