---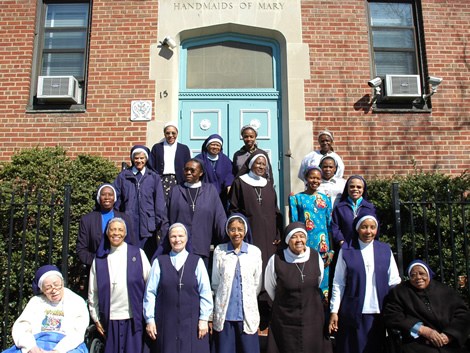 An  order of Black nuns, little known beyond New York and one of three original orders of this kind in the United States, is marking its centennial with a gala and benefit on Tuesday, March 29, 2016, at 6 p.m. Considered by many to be a New York treasure, the Harlem-based Franciscan Handmaids of the Most Pure Heart of Mary (FHM) will celebrate 100 years of serving the needs of the community at the New York Academy of Medicine in Manhattan.  
The centenary year is an opportunity to bring to light FHM's history and honor its unsung heroes, the co-founders of the FHM community. FHM was formally founded 1916 in  Savannah, Georgia, by the Rev. Ignatius Lissner in the wake of proposed segregationist legislation that would prohibit White religious leaders from educating and providing pastoral care to Blacks in the state. To thwart this plan, Father Lissner enlisted the help of Miss Barbara Williams (later to become Mother Theodore Williams, FHM), a Black woman from Baton Rouge, Louisiana. The two joined forces, founding a congregation of Black women to continue to educate Black children and provide pastoral care to the Black community. It was the birth of a religious order with a social justice mission.
In 1923, the sisters moved to Harlem at the request of Cardinal Patrick Hayes, where they launched one of the first pre-school educational programs in the United States. They eventually established three schools, which have gone on to educate some of New York's brightest, including Congressman Charles B. Rangel and Kevin Lofton, president of the Catholic Health Association of America. St. Benedict Day Nursery remains to carry on the legacy of excellence and services 80 children annually.
The sisters have fed the hungry and provided clothing as well as Christmas gifts and toys, operating the St. Edward Food Pantry, which is now located at Mt. Loretto, a center for Catholic Charities, in Staten Island and serves more than 20,000 families each year; they were awarded the Kathy Goldman Beyond Food Award at the 15th Annual Food Bank of New York Conference in 2006 for their tireless efforts. The nuns continue to provide altar bread to many parishes in the Archdiocese of New York and have led several preventative care medical missions to Nigeria servicing approximately 2,000 people per mission since 2000.
"We joyously take a moment to reflect on our 100 years of providing vital assistance to the community, but amid a renewed calling to revitalize our purpose and expand our mission of service for the next 100 years," said Sister Gertrude Lilly Ihenacho, who as congregation minister heads up the mostly Black order. 
To that end, the sisters launched their "100 Days of Kindness" campaign on January 6, to coincide with the arrival of the Magi, who brought gifts to celebrate Jesus' birth. Through April 14, the nuns are asking everyday New Yorkers to each perform a daily random act of kindness—big or small—to enrich someone's day, in homes, offices and on city streets. The campaign embodies the spirit of Ephesians 4:32, "Be kind and compassionate to one another, forgiving each other, just as in Christ God forgave you." The effort is part of the Jubilee Year of Mercy 2016 as declared by Pope Francis (which began on December 8 and runs through November 20, 2016) to focus Catholics everywhere on mercy and forgiveness rather than judgment. A Jubilee Year, or Holy Year, is a special time announced by the Catholic Church of blessings and pardon from God for Catholics internationally.
Proceeds of the benefit will help the order provide scholarships to needy children to attend and revitalize the St. Benedict Day Nursery, which services children from ages two to four. 
Tickets to the Centennial Celebration range from $25 for ceremony-only tickets to $1000 for special seating and access to all events of the evening, which include pre-reception, celebration program, dinner and post reception. Sponsorship packages are available from $25,000 to $100,000. For tickets and for more information, email FHMCentennial@gmail.com.
Nestled in a 1926 historic building on Manhattan's Museum Mile, the New York Academy of Medicine Conference Center is located at 1216 Fifth Avenue, New York, NY 10029, between 102nd and 103rd Streets in East Harlem.
Related Articles
---