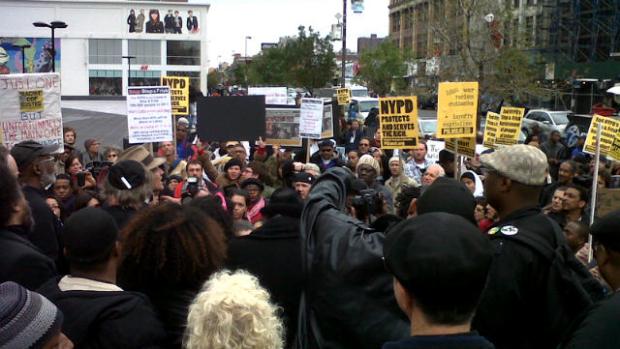 In Friday night's bitter cold in front of the Adam Clayton Powell Jr. State Office Building in Harlem, a few dozen protesters drew a proverbial line in the sand.
Nicholas Heyward is leading the charge to remind New York City of the Bill Bratton who ran the NYPD from 1994 to 1996.
During that time period, a housing officer shot and killed Heyward's 13-year-old son, Nicholas Jr., while he held a toy rifle as he played cops and robbers in his apartment building stairwell.
"I lost my son. And that's painful. I wouldn't be out here still, 19 years later…It really does hurt. Bad," said Heyward.
The concern here is how Bratton, the original architect of the NYPD's stop-and-frisk policy, will be able to affect a sea change within the culture of the department.
Change not just at Police Headquarters, but in the precincts, with tour commanders, and out on the streets among beat cops.
"What kind of law is that? Based on the complexion of your skin, or based upon your geographic location, they police have the right to stop you where you are, search your person, and talk all kind of crap to you in the process. We cannot have these policies," said protester Danette Chavis.
To be clear, Bratton is not walking back onto the job as a dark horse. He has overwhelming support.
"I cannot even begin to thank Mayor-elect de Blasio for the opportunity that he and his administration are providing to me to once again return to this profession that I love so much, and that I've been associated with for almost 46 years," said Bratton during the news conference to announce his appointment.
New York City is a much different city 17 years later than when Bratton was first here as police commissioner. The city is much safer. Crack, cocaine and other drugs are not the problem that they were 17 years ago.
When asked if he is willing to give Bratton a chance that in dealing with a different kind of new York city, that he could be a different kind of police commissioner this time around, Heyward responded, "I don't know if I could. Like I said, I don't know if I could actually give a man a chance, despite the fact that New York City is safer. What kind of change is actually going to take place when this man is in office, that the citizens of New York can really believe in?"
This protest didn't seem to be a blatant attempt to convince Mayor-elect de Blasio to reverse his decision for Bratton as police commissioner. Instead, they are putting Bratton on notice, that he cannot allow what they see as the department's checkered history over the last 12 years, to repeat itself in a new administration (source).
---
---
Related articles
Related Articles