---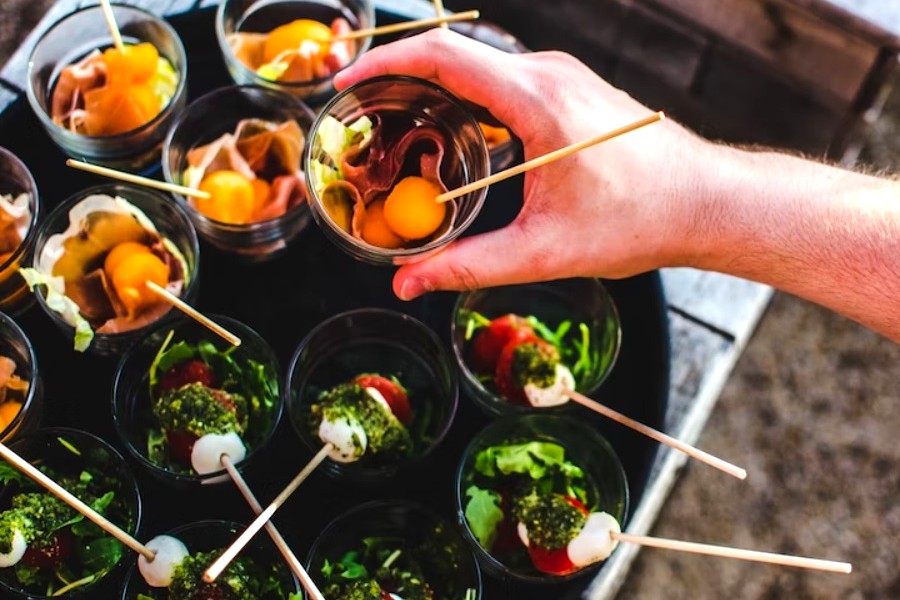 Happy hour events are a popular way for startups to build a thriving company culture and promote employee engagement.
An article on Overproof highlights that happy hours can be used as a means of recognizing and rewarding employees for their accomplishments, which can lead to increased satisfaction with their work and motivation to continue striving for success.
Happy hours are an excellent opportunity for employees to relax and socialize with each other outside of the office, which can strengthen relationships and foster a sense of community.
A 2021 survey involving more than 11,000 employees, as reported by a recent article on GRIT, highlights the critical role of fostering a strong sense of belonging in retaining staff. The survey findings revealed that creating a sense of belonging within an organization is the primary factor that drives employee retention.
However, organizing a successful happy hour can be a challenge for startups, especially when it comes to catering. That's where happy hour catering services come in. In this article, we will explore the benefits of happy hour catering services for startups, including how they can help to build a positive company culture and promote employee engagement.
We will also discuss some creative happy hour ideas that incorporate catering services, such as mixology bars, cultural cuisine, and dessert parties.
Creative Cocktail and Appetizer Pairings
If you're looking for creative happy hour ideas to engage your employees, you can opt for food and drink pairings. By partnering with a local caterer or restaurant, you can create a menu of appetizers and drinks that complement each other, offering a unique and memorable experience for your employees.
One option for partnering with a local caterer is CaterCow, a catering service that specializes in providing options for both small and large groups and events. CaterCow works with a variety of local caterers and restaurants to offer a range of customizable menus that cater to different dietary needs and tastes.
Using a service like CaterCow can simplify the process of organizing a happy hour with food and drink pairings. Their platform allows you to easily browse different options and customize your menu based on your preferences and budget.
They also take care of the logistics, including delivery and setup, so you can focus on enjoying the happy hour with your colleagues.
DIY Mixology Bars 
Setting up a DIY bar at your happy hour can be a great way to encourage interaction and creativity. You can offer a selection of ingredients, such as fruits, herbs, and syrups, along with spirits and mixers, so employees can create their own cocktails.
This not only fosters a sense of community but also encourages teamwork as employees share ingredients and help each other create the perfect drink. Plus, it's a great way to show off your bartending skills and impress your colleagues.
Furthermore, having a DIY bar can help create a relaxed and fun atmosphere that is conducive to socializing and networking. It offers an opportunity to unwind after work, and enjoy a drink while chatting with colleagues in a more informal setting.
Celebrate Cultural Diversity 
Organizing a happy hour with food from different cultures can be a great way to celebrate diversity and learn about different cuisines. Partner with a local caterer or restaurant to create a menu of dishes from around the world.
This not only encourages employees to try new things but also promotes cultural understanding and acceptance. For example, offering Indian curries, Japanese sushi, or Mexican tacos can be a great way to explore new flavors and learn about different cultures.
Moreover, celebrating cultural diversity can also help employees from different cultural backgrounds feel valued and respected, and create a sense of belonging in the workplace. When employees feel included and appreciated for who they are, they are more likely to be engaged, motivated, and committed to their work.
An October 2022 article published on builtin.com reports that companies with diverse workforces have a 2.5 times higher cash flow per employee. The article highlights that cultural inclusivity plays a crucial role in promoting a diverse workforce that performs better, leading to a 19 percent increase in revenue.
Sweet Indulgence: Desserts for All
Organizing a dessert party for your happy hour can be a great way to satisfy everyone's sweet tooth. When planning your dessert menu, consider offering a diverse range of treats that cater to different tastes and preferences. For example, you could offer a selection of cakes, cookies, brownies, pastries, candies, and chocolates.
In addition to offering a variety of desserts, you could also incorporate interactive elements into your happy hour. This could include setting up a chocolate fondue station or a cookie decorating station.
Offering coffee and tea can be a great way to complement the desserts and create a cozy and comforting atmosphere. You could offer a selection of coffee and tea flavors, such as caramel, vanilla, or chai, to cater to different preferences.
Conclusion
Happy hour events after work are a great way for startups to build a thriving company culture. By offering creative catering options, startups can promote teamwork, camaraderie, and a sense of community.
Whether it's creative cocktail and appetizer pairings, DIY mixology bars, cultural cuisine, or dessert parties, there are many catering ideas that can engage employees and build a positive work environment. By investing in these activities, startups can create a productive and enjoyable work environment that attracts and retains top talent.
---