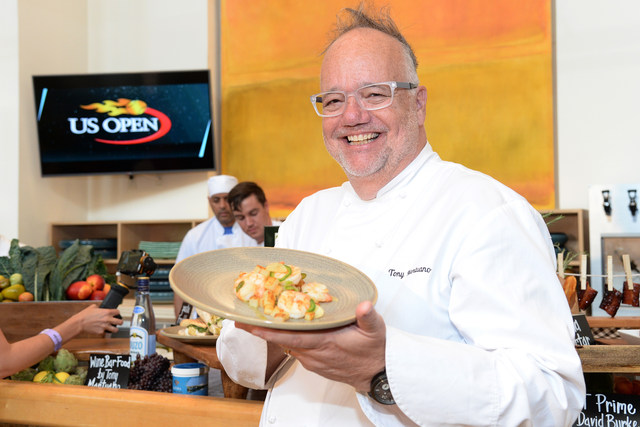 This year's US Open brings with it a wide variety of diverse flavors and dining experiences, courtesy of the United States Tennis Association (USTA) and official US Open restaurant partner, Levy Restaurants. Dining options include a refreshed open-air Food Village in which fans can savor perennial favorites and global flavors, from Korean BBQ and lobster rolls to Mediterranean fare, as well as several new and returning master chefs serving up signature dishes in the US Open's on-site restaurants.
Each year, the US Open creates the ultimate culinary celebration for more than 700,000 fans. This year, fans can get a taste of top trends from New York dining hotspots in Food Village, including a US Open-exclusive chicken sandwich from David Chang's Fuku, Korilla BBQ (of Food Network's The Great Food Truck Race fame), and the first-ever wholly vegetarian and vegan menu from Soomsoom.
This year also welcomes several big names to the celebrity chef roster and on-grounds restaurants. James Beard Award-winning chefs Ken Oringer and Jamie Bissonnette bring Spanish small plates (Toro), while US Open veteran David Burke returns with renowned steak and seafood (BLT Prime by David Burke). Local star restaurateur Ed Brown and Iron Chef Masaharu Morimoto head up the US Open's fresh seafood stop (ACES), while fellow James Beard Award-winner Tony Mantuano offers up rustic Italian (Wine Bar Food).
FOOD VILLAGE From Chef David Burke's BLT Fish Shack and Angry Taco to New York's "King of Meat" Pat LaFrieda, and new additions starring David Chang's Fuku, Korilla BBQ and Soomsoom, the US Open's Food Village again showcases a championship culinary roster. In addition to classic dishes like lobster rolls and LaFrieda's signature steak sandwich, fans will enjoy a selection of new dishes, including:
Fuku Spicy Fried Chicken Bacon Ranch Sandwich (Fuku) – exclusive to the US Open: Habanero-brined, spicy fried chicken thigh on a Martin's potato roll, topped with applewood smoked bacon, Fuku ranch, and pickles.
Soom Sandwich (Soomsoom): Mesclun greens topped with a refreshing mix of diced cucumbers and tomatoes, red & white cabbage salads and four fresh falafel balls, served with a side of creamy tahini.
Korean Tacos (Korilla BBQ): Three locally-sourced corn tortillas with choice of bulgogi (marinated ribeye), caramelized kimchi and queso fresco; braised ginger sesame chicken topped with kimchi slaw and nori; or slow roasted pork with pineapple kimchi salsa and cilantro.
Mexican Style Street Corn (Angry Taco): Flavorful corn on the cob dressed with mayonnaise, chipotle puree, and lime juice.
Lobster Roll (BLT Fish Shack): Mouthwatering lobster with coleslaw, garnished with lemon and served on a New England roll.
Prosciutto Panini (Wine Bar Food): Prosciutto sandwich with vine ripened tomato, mozzarella di bufala, and fresh basil.
Nutella Dessert Pizza (Neopolitan Express): Italian imported Nutella and sliced almonds, lightly dusted with powdered sugar.
NEW LOCAL PARTNERS Fuku: Momofuku Chef/Founder David Chang brings New York-based Fuku and its Spicy Fried Chicken Sandwiches and crispy Fuku Fingers to the US Open:
Fuku Chicken Sandwich: Habanero marinated spicy fried chicken thighs served on a Martin's potato roll and garnished with pickles and Fuku butter; available with Ssäm Sauce on the side.
Fuku Fingers: Habanero-marinated spicy fried chicken breast strips, served with Fuku ranch and honey mustard.
BLT Fish Shack: ESquared Hospitality, together with David Burke, brings classic east coast seafood to Food Village, starring:
Fish & Chips: Crispy Guinness-battered filets with tartar sauce, lemon wedges and Old Bayseasoned French fries.
Shrimp & Chips: Panko-crusted jumbo shrimp, a clean take on a classic, served with tartar sauce, lemon wedges and Old Bay-seasoned French fries.
Neapolitan Express: Neapolitan's pizzas feature locally sourced vegetables, as well as all-organic ingredients:
A Diavolo Pizza: Made with Italian imported tomato sauce and Parmigiano Reggiano cheese, topped with organic jalapeños, spicy Sopressata salami, Mike's Hot Honey, and extra virgin olive oil.
Margherita Pizza (Original Neapolitan): Topped with tomato sauce, fresh mozzarella, Parmigiano Reggiano cheese, basil, and finished with extra virgin olive oil.
Soomsoom: For the first time, the US Open welcomes a wholly vegetarian and vegan culinary offering. Soomsoom's Mediterranean menu promotes health conscious dishes fresh from the farm.
Falafel Sandwich: House-made, gluten-free falafel, made from chickpeas and mixed with parsley, cilantro and a blend of savory spices, served in a freshly baked pita, topped with Israeli salad and accompanied by a side of tahini.
Hummus Plate: Handmade hummus topped with three gluten-free falafel and a dash of Israeli salad, accompanied by pita straight out of the oven.
Korilla BBQ: Korilla brings you the best of Korean cooking, in a format you already love – Korean inspired tacos and rice bowls
K-Bop: Purple rice bowls served with caramelized kimchi, beansprouts, fire-roasted corn, garlic spinach and choice of bulgogi (marinated ribeye), braised ginger sesame chicken, slow roasted pork shoulder in gochugaru (Korean red pepper flakes), and organic tofu, with choice of Korilla's signature sauces.
Korean Tacos: Three locally-sourced corn tortillas with choice of bulgogi, caramelized kimchi and queso fresco; braised ginger sesame chicken with kimchi slaw and nori; or slow-roasted pork with pineapple kimchi salsa and cilantro.
Kimcheese Fries: Waffle fries topped with hot cheese whiz and kimchi salsa.
Angry Taco: David Burke and ESquared Hospitality bring Chef Burke's flavorful and spicy favorites including tacos, nachos, salads, Mexican street-style corn, chips, guacamole and more to Food Village this season.
RESTAURANT DINING EXPERIENCE
---
---
Toro: James Beard Award-winning chef, Ken Oringer, has partnered with Jamie Bissonnette, Will Malanati, and Doug Jacob to bring Spanish tapas bar, Toro, to the US Open. Dishes featured include Pincho Boards – snack-ready boards featuring toasted olive oil and tomato breads, spicy Shishito peppers, goat and sheep cheeses, dates filled with Marcona almonds and Cabrales blue cheese, and premium cured Spanish ham as well as a variety of seafood tapas, including Galician octopus served with Sungold tomatoes and charred onions.
BLT Prime by David Burke: Chef David Burke returns to the US Open with ESquared Hospitality to bring his renowned steaks and seafood to guests with the award-winning BLT Prime brand, served in an elegant setting. The menu features a 20 oz. Kansas bone-in, dry-aged steak, burrata with prosciutto and pomegranate seeds, tuna tartare and a clothesline of bacon.
Wine Bar Food: Acclaimed Chef Tony Mantuano's Wine Bar Food returns with a new location in Building 11. Wine Bar Food gives guests a taste of Chef Mantuano's signature Italian dishes, with a new menu featuring Pasta Penne all'Amatriciana with guanciale, San Marzano tomatoes, and Pecorino Romano. New this year is a selection of warm paninis: fresh tomato, prosciutto, or smoked chicken breast.
ACES: New Jersey's own Chef Ed Brown, of Lincoln Center Kitchen fame, returns with Iron Chef Masaharu Morimoto in the US Open's signature seafood stop, ACES. While Morimoto rolls up his oneof-a-kind sushi combos, Brown will introduce fresh seafood like Skuna Bay Salmon, Maine Lobster Salad and ACES Raw Bar.
Oyster Bar: A new seafood concept focused on super-fresh local oysters and other delicacies will debut behind Building 7 this year. The Oyster Bar will be shucking a seasonal selection of oysters and serving up jumbo lump crab cocktail, shrimp ceviche, poached salmon salad, and shrimp caprese salad along with a variety of desserts, beer, wine and cocktails.
BEVERAGE SPOTLIGHT
• Grey Goose Le Grand Fizz: a blend of Grey Goose Vodka, St-Germain Elderflower Liqueur, soda water and lime for a refreshing summer cocktail.
• Sgroppino (Wine Bar Food): Choice of chilled lemon sorbet with prosecco and a splash of Grey Goose vodka or sweet strawberry sorbet with prosecco and a splash of rum.
• Fresh Mint Lemonade (Soomsoom): Homemade lemonade made with real lemons, blended with freshly picked mint leaves and a natural sweetener, served over ice.
• Mean Green Juice (Korilla): A refreshing combination of pureed cucumber, melon, lime, and jalapeño, mixed with Korean green tea.
• Moet & Chandon Terrace: The luxurious champagne lounge returns to US Open in 2016.
• Jacob's Creek Bar: The main Food Village will feature a new Jacob's Creek bar showcasing the winemaker's "Two Lands" wines.
Via usta.com
Photo credit: August 25, 2016 – Tony Mantuano poses for a photo during the Food Tasting at the 2016 US Open at the USTA Billie Jean King National Tennis Center in Flushing, NY.
Related Articles
---