---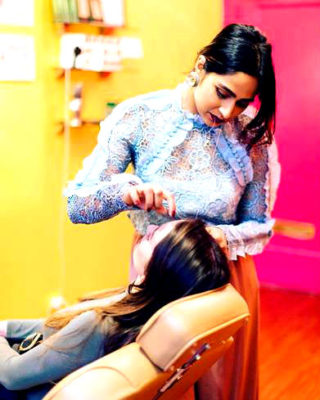 The new Hibba Beauty salon sounds fabulously inticing. Hibba Beauty, is a all-natural and organic Indian inspired salon has just opened its newest location at Columbus Circle.
Hibba Beauty is named after its founder, Hibba Kapil, browologist and hair removal expert. Since opening her first Soho salon in 2010, Hibba has been at the forefront of innovative, specialist beauty procedures. Along with the more traditional salon services such as threading, waxing and facials, Hibba also offers eyebrow microblading and sugaring.
Unlike any other eyebrow treatment, microblading is the latest craze to hit the market. With every woman out there wanting "The Most Beautiful Woman In Harlem," Marva Trotter – esque brows, this semi-permanent form of eyebrow tattooing offers clients a natural and full brow. Best of all, it lasts for years and requires minimal up-keep. Prices for this procedure at Hibba Beauty range from $450 – $600. Sugaring, a technique that was established many centuries ago in Egypt, is the gentlest, most natural hair removal procedure on the market.
Hibba and her team of licensed browologists and waxing technicians provide clients with a calming space filled with Indian inspired décor. The salon uses products that are all natural, organic and fair trade.
"I believe that beauty comes from the inside out, and brows should be groomed to create a natural shape that best enhances your features, letting your inner beauty shine" – Says founder Hibba Kapil
Check out the newest opening at Hibba Columbus, 1841 Broadway Suite #1106, New York, New York, hibbabeauty.com/
---