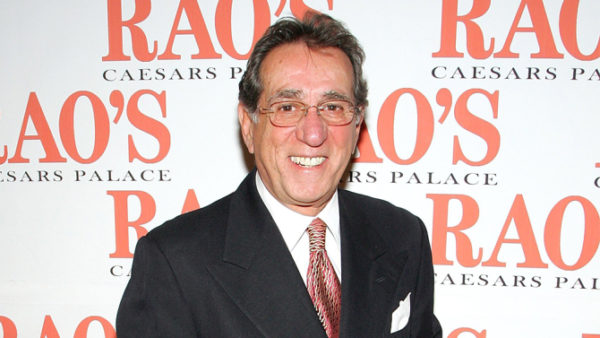 The joke was that even Frank Pellegrino couldn't get a table at Rao's, the famed 10-table restaurant in East Harlem that his family owned for more than 100 years. Pellegrino passed away Tuesday afternoon after a long battle with lung cancer, say friends.
He was 72.
For many years, Rao's, which punched way above its weight when it came to attracting celebrities, was an unassuming place on East 114th Street that you might just walk by without noticing. Inside, though, it would have been rare not to find at least one A-list celebrity, from Martin Scorcese, Tony Bennett and Leonardo Dicaprio to Billy Crystal, Woody Allen, and Nicholas Pileggi. Bill Clinton and Nobel Prize-winner Elie Wiesel were also known to stop by and enjoy the restaurant's famed red sauce.
It was the kind of place where the rapper Fat Joe would run into Hillary Clinton and post a picture on Instagram.
As Pellegrino recounted in one of his cookbooks, Yankee pitcher Mariano Rivera came in during his last season and received a standing ovation.
The place was usually so crowded that Pellegrino earned the nickname "Frankie No" because of his reflexive response to people who hoped to get a table.
"To say Frank was a NY legend is an understatement — he bled this city and its egalitarian promise," remembered Charles Gasparino, a senior correspondent at Fox News and former Wall Street Journal reporter. "People love to talk how no one can get a table at Rao's. Well that's true but it misses the point. The tables were given out to old time customers when the place became hot some years ago."
New entrants needed to wait their turn to "own" a table, and it didn't matter who they were. Warren Buffet was one of those who wanted a table and received Frankie's famous "no."
In 1973, Pellegrino started working at the restaurant, which his family had opened in 1896. He and his cousin took over in 1994.
In 1990, Pellegrino's long association with actors and directors led Pellegrino in another direction — acting.
He played Johnny Dio in Scorcese's "Goodfellas," which led to roles in Woody Allen's "Manhattan Murder Mystery" and bit parts in "Mr. Wonderful" and "It Could Happen to You."
In 1999, he was cast in what was probably his biggest role — FBI Agent Frank Cubitoso in "The Sopranos." It was a recurring role that he kept for five years.
It wasn't only Pellegrino who ended up on the screen. Rao's was the setting for scenes in 'The Wolf of Wall Street," "Top Chef" and a Jay-Z music video.
He wrote three more, the most recent of which — "Rao's Classics" — was published last year.
A.J. Benza, who spent many nights in Rao's as a columnist for The Daily News and had a regular table on Wednesday nights, remembers the time he ended up on Pellegrino's bad side.
"Back in 1995, I innocently wrote in my column that Rao's was filled with 'Gangsters who want to be actors and actors who want to be gangsters,'" Benza remembers.
He went in later in the week and Pellegrino was not happy.
"Frankie motioned me into the seldom-seen backroom. 'You. Come here. We're gonna talk,'" he said. "As I sat silently in a wooden chair, against a wall stacked with pasta boxes and bottles of olive oil up to the ceiling, Frankie took off his glasses and leaned in. In very hushed tones he basically told me of his business partners' big plans of taking Rao's worldwide. 'When money people read what you wrote,' he said, 'they tend to keep their money in their pocket, capeesh?'
"I told him I get it."
Benza says that now, when he visits Rao's outposts in Las Vegas or Hollywood, or sees their bottled red sauce on the supermarket shelves, "I really get it."
In recent years, Pellegrino fought a battle against the lung cancer that eventually took his life.
"Frank was so old school — tough exterior but had a heart of gold and he fought cancer as you would expect a street-kid from East Harlem would — until he could fight no more," says Gasparino.
Pellegrino is survived by his son Frank Jr. — who runs the Rao's outposts in Hollywood and Las Vegas — his wife, and a daughter.
Photos credit: LAS VEGAS – JANUARY 11: Rao's co-owner Frank Pellegrino Sr. arrives at the grand opening party for Rao's at Caesars Palace January 11, 2007 in Las Vegas, Nevada. (Photo by Ethan Miller/Getty Images for Caesars). Via source
Related Articles