---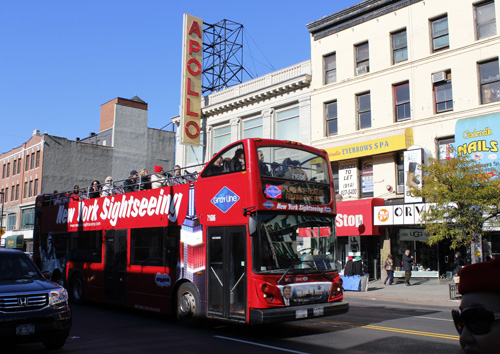 For the first time in seven years, New York City officials expect the number of foreign visitors to decrease, a drop they attribute to the protectionist policies and rhetoric of President Trump.
Saying that those moves are scaring off many of the visitors who have helped fuel the city's robust growth since the last recession.
On Tuesday, the city's tourism marketing agency, NYC & Company, plans to announce that its forecast for international visitors has turned from positive to negative since Mr. Trump was elected in November. The city now expects to draw 300,000 fewer foreigners this year than in 2016, when 12.7 million international visitors came, a decline that will cost businesses in the city that cater to tourists at least $600 million in sales, the agency estimates.
Fred Dixon, the chief executive of NYC & Company, said Mr. Trump's statements and actions had changed perceptions about the hospitality of the United States just as prospective tourists are making vacation plans for 2017. "The Europeans start coming to New York around Easter and continue through summer," Mr. Dixon said in an interview. "That's when you'll see the rhetoric out of Washington really having an impact on travel."
He said American tourism promoters were "just sort of holding our breath" in anticipation of a revision of Mr. Trump's aborted plan to ban arrivals from seven mostly Muslim countries. "Regardless of the specifics, it's pretty clear the message is going to be unwelcoming," Mr. Dixon said.
News reports about that plan, which could be released on Wednesday, could further dampen interest in visiting New York City, which is the most popular American destination for foreign tourists, Mr. Dixon said.
The White House did not immediately respond to a request for comment.
The rest of the country is expected to see an even larger decline in foreign tourism over the next two years, said Adam Sacks, president of Tourism Economics, an international firm that forecasts travel trends for several cities in the United States, including New York. He said the annual number of foreign visitors to the United States could fall by 6.3 million between 2016 and 2018 because of reactions to Mr. Trump's words and actions, such as pledges to pull out of international trade agreements.
"We're going to be looking at a very challenging year for U.S. travel," Mr. Sacks said.
He said indicators of interest in visiting the United States, including online searches for airline tickets and hotels, started dropping after the election. They dipped again after Mr. Trump's inauguration and fell further after he signed an executive order on the travel ban, Mr. Sacks said.
"The data are all showing a pretty dramatic shift in behavior and interest," he said. "That certainly accelerated since the executive order."
Mr. Sacks said his firm had a "solid track record" of forecasting tourism, but he added that there was less certainty in estimating what he called "Trump impacts."
ForwardKeys, a Spanish company that tracks travel, said that it saw an "immediate slump" in bookings of flights to the United States after the travel ban was announced, including a 13.6 percent drop in Western Europe.
To combat the perception of a less hospitable climate, NYC & Company plans to start replacing some of its advertising overseas with billboards that declare that the city is "Welcoming the World." Mr. Dixon said the city was "doubling down on our welcome message."
Alicia Glen, the city's deputy mayor for housing and economic development, said it was not New York City's style to turn people away.
"We're a place that welcomes everybody," Ms. Glen said. "It's in our values and in our economic interest. We'll keep reminding visitors what we stand for, so we can keep this both the most internationally visited and the safest city in America."
New York still expects a slight increase in tourism this year, but only because of an increase in domestic visitors, Mr. Dixon said. NYC & Company forecasts that the city will attract 61.7 million visitors, up from 60.7 million in 2016, with an increase of 1.3 million domestic visitors offsetting the decline of foreign travelers.
Before Mr. Trump's election, the city had been expecting an increase of 400,000 foreign visitors in 2017, Mr. Dixon said. That swing will be very costly to the city's economy, he said, because foreign tourists stay longer and spend more freely than domestic tourists. On average, foreigners spend about $2,000 in the city, compared with about $500 for Americans.
"We were looking forward to a really strong 2017," Mr. Dixon said. "Travel is a very precious commodity and people have choices. Once the vacation of 2017 is gone, you don't get that back."
Via source
Related Articles
---