---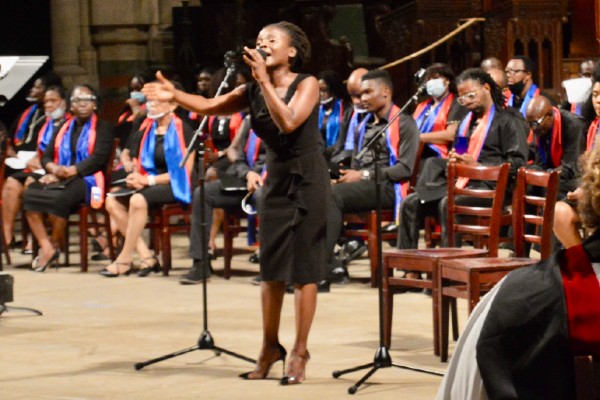 Following the July 7, 2021, assassination of Haitian president Jovenel Moïse and the devastating earthquake that struck Haiti, the Cathedral of St. John the Divine in Harlem, NY.
Members of the Haitian American Clergy Association, the Haitian Consulate of New York, and faith leaders from the greater New York Haitian community held a service of solidarity for the people of Haiti and the people of New York inside the Cathedral of St. John the Divine on Saturday, August 21, 2021.
This ecumenical service was an opportunity for members of the Haitian community and New Yorkers from all communities to connect and pray for the recent upheaval and violence, which has shaken the Haitian government and population.
The Reverend Dr. Nathanaël Saint-Pierre, Rector, St. Augustine of Hippo Episcopal Church, organized the event, and the Right Reverend Clifton Daniel III, Dean of the Cathedral, hosted.
Others who participated include Pastor Leslie Thomas, Church of God; the Honorable Bocchit Edmond, Haitian Ambassador to the United States, and other leaders in the Haitian community.
The recent earthquake in Haiti has caused thousands of deaths, while many are suffering from serious injuries or have lost their homes. Landslides, overwhelmed hospitals, and a government in unrest signal a recovery that will be difficult and impossible without global support.
This tragedy echoes the catastrophic earthquake of 2010, which took thousands of lives and permanently altered the course of Haiti's recovery. A resilient nation that has battled a long history of slavery, disease, exploitation, and imperialism, Haiti is now again in dire need of assistance and activism.
New York City is home to one of the largest Haitian communities outside of Haiti. Since the earthquake, New Yorkers immediately supported Haiti's relief efforts. All police precincts across the city are collecting donations. NGO's, including Episcopal Relief & Development, are directing funds to this massive humanitarian emergency.
The Episcopal Church recognized the Right Reverend James Theodore Holly on November 8, 1874, as the first Episcopal Bishop of Haiti. Since that time, the Episcopal Diocese of New York has maintained a close relationship with the Diocese of Haiti.
Photo credit: The Episcopal Church.
---