---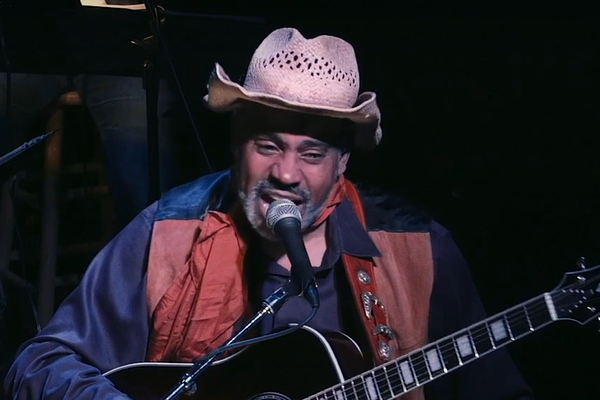 Coming straight from off-Broadway …"gather around the campfire to join Allan Harris and the Cross That River Band.
As they tell the story of American's West from the perspective of the African American cowboys who journeyed from slavery to freedom out West. "If I was going to live, I had to cross that river," Harris tells. Interweaving fiction with historical fact, Harris and the band speak in first person, sing the story's themes, and showcase iconic images that help to tell the story. At the center of the show is Blue, a former slave turned cowboy, who wants nothing more than to be free to live and love as he chooses. While the story is brutally honest about slavery and the treatment of Native Americans, the piece at its heart is optimistic."
Total Theater.com review stated that this production reminds us that "it's our duty and our privilege to make sure that we remember this country is built by people of all colors, backgrounds, and beliefs."
"The voice of a benign storyteller, a deeply romantic true believe with a heroic vision of American history and the African-American contribution."BROADWAY WORLD  "An exhilarating production.  The show has a riveting story along with a fabulous score – an extraordinary theatrical experience.- NY TImes
A quarter of the cowhands in the West were Black. A Harlem composer found a way to honor their history. During these racially charged times in the United States with the focus on racial discrimination across the country, Cross That River takes audiences on a musical journey into why Black Lives Matter. Cross That River represents a significant moment in American history where Black Cowboys lived and helped settle the West. It is a story that's never been told in this way.
The unsettled West of the 1860s provides a new life and new dreams for Blue, a run-away slave, who escapes from slavery to Texas to become one of America's first Black Cowboys. This compelling tale of freedom integrates fiction with historical fact, and each song presents a different page in this complicated chapter of American History.The story of Blue begins in Louisiana, and with every song of this highly-infectious score, the audience is moved further along on Blue's harrowing journey across the Sabine River to freedom in the Wild West. Each song tells a unique story, at times joyful, sometimes tragic, but mostly a poignant chronicle of enduring perseverance. Award-winning musician, Allan Harris wrote Cross That River to tell the untold story of the Black West and empower Americans with an inspiring story of hope and freedom.
Check out the teaser here
Educational outreach is an important component of this thrilling and relevant musical tale that performed for a multiple week Off-Broadway run to great critical acclaim.  Here are just a few of the memorable reviews:
Produced by Pat Harris for Love Productions Records
---