---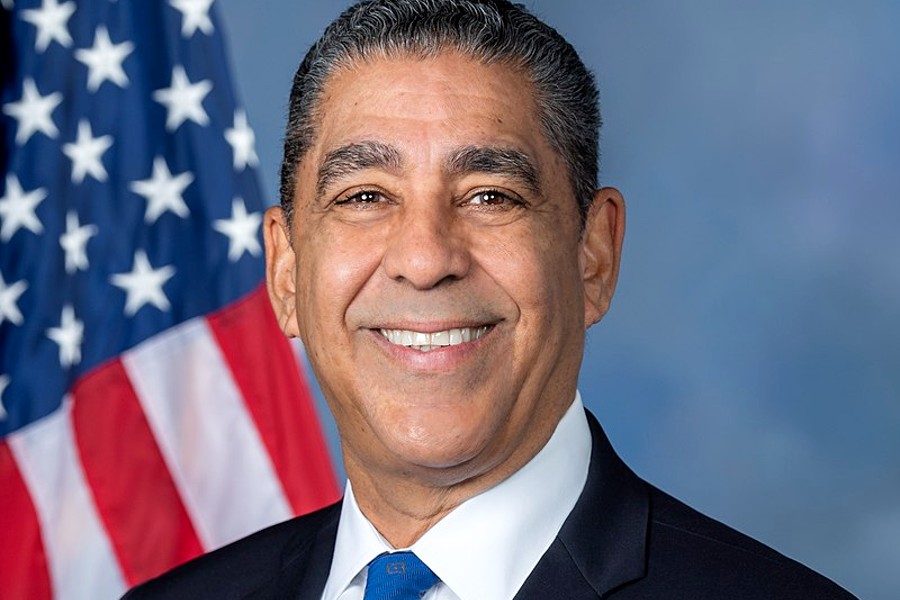 Representatives Harlem's Adriano Espaillat, Grace Meng, and Joe Morelle the three New York members of the powerful House Appropriations Committee.
Which funds federal agencies and programs—announced today the start of a new cycle for state and local governments and non-profits to receive direct federal funding through the Appropriations process. They have also created guidance to help New York nonprofits and government entities navigate the Community Project Funding process in Congress.

Community Project Funding recognizes that Members of Congress know their districts best and know the needs of their communities. Unlike the former congressionally directed spending, also known as "earmarks," the revamped Community Project Funding process prioritizes accountability, transparency, and strong community support. Updated reforms require rigorous vetting, limits 15 community project requests from each Member of Congress, public disclosure of potential recipients on the Congressmember's website, and certification that no Congressmember's family can benefit from the project. To assist potential New York recipients in learning more about the process, Espaillat , Meng, and Morelle created a concise fact sheet.

Eligible entities that can apply for funding include state or local governmental entities and certain eligible non-profit organizations. All for-profit groups and entities are ineligible. Eligible projects are broken down by each spending bill.

Those interested in submitting a Community Project Funding request must consult with their specific congressional representative. Click here to view and submit the 2024 Community Project Request Form for Rep. Adriano Espaillat.

"We are incredibly excited to announce that New York state and local governments, and non-profit organizations, are now able to request Community Project Funding in upcoming annual federal spending bills," said Reps. Espaillat, Meng, and Morelle. "This process ensures that Members of Congress can work with their communities to identify projects which need funding and has successfully allowed us to target funding to projects in our congressional districts that need this support the most to continue their work. Members of Congress know our districts best, and we look forward to collaborating closely with community groups to identify the projects and what steps may be involved to ensure this process and funding opportunity is available to all."

A copy of the guidance can be found here .
Representative Espaillat is the first Dominican American to serve in the U.S. House of Representatives and his congressional district includes Harlem, East Harlem, West Harlem, Hamilton Heights, Washington Heights, Inwood, Marble Hill and the north-west Bronx.
First elected to Congress in 2016, Representative Espaillat is serving his fourth term in Congress. Representative Espaillat currently serves as a member of the influential U.S. House Committee on Appropriations responsible for funding the federal government's vital activities and serves as Ranking Member of the Legislative Branch Subcommittee of the committee during the 118th Congress.
He is also a member of the House Budget Committee and the Congressional Hispanic Caucus (CHC), where he serves in a leadership role as the Deputy Chair as well as Chair of the Congressional Hispanic Caucus Institute (CHCI). Rep. Espaillat is a member of the Congressional Progressive Caucus (CPC) and serves as a Senior Whip of the Democratic Caucus. To find out more about Rep. Espaillat, visit online at https://espaillat.house.gov/ .
---
Spanish
Espaillat, Meng y Morelle anuncian Financiación de Proyectos Comunitarios para el año fiscal 2024 para ayudar a las comunidades locales
Los congresistas Adriano Espaillat, Grace Meng y Joe Morelle, los tres miembros de Nueva York del poderoso Comité de Apropiaciones de la Cámara ―que financia agencias y programas federales―, anunciaron hoy el inicio de un nuevo ciclo para que los gobiernos estatales y locales y las organizaciones sin fines de lucro reciban fondos federales directos a través del proceso de Asignaciones Presupuestarias. También han creado una guía para ayudar a las entidades gubernamentales y sin fines de lucro de Nueva York a navegar el proceso de Financiamiento de Proyectos Comunitarios en el Congreso.

El Financiamiento de Proyectos Comunitarios reconoce que los miembros del Congreso conocen mejor sus distritos y conocen las necesidades de sus comunidades. A diferencia del anterior gasto dirigido por el Congreso, también conocido como "earmarks (asignaciones)", el proceso renovado de Financiamiento de Proyectos Comunitarios prioriza la rendición de cuentas, la transparencia y el fuerte apoyo de la comunidad. Las reformas actualizadas requieren una investigación rigurosa, límites de 15 solicitudes de proyectos comunitarios de cada miembro del Congreso, divulgación pública de los posibles destinatarios en el sitio web del miembro del Congreso y certificación de que ninguna familia del miembro del Congreso puede beneficiarse del proyecto. Para ayudar a los posibles beneficiarios de Nueva York a obtener más información sobre el proceso, Espaillat, Meng y Morelle crearon una hoja informativa concisa.

Las entidades elegibles que pueden solicitar financiamiento incluyen entidades gubernamentales estatales o locales y ciertas organizaciones sin fines de lucro elegibles. Todos los grupos y entidades con fines de lucro no son elegibles. Los proyectos elegibles se desglosan por cada proyecto de ley de gastos.

Los interesados en presentar una solicitud de Financiamiento de Proyectos Comunitarios deben consultar con su representante específico en el Congreso. Haga clic aquí para ver y presentar el Formulario de Solicitud de Proyecto Comunitario 2024 para el Rep. Adriano Espaillat (NY-13).

"Estamos increíblemente emocionados de anunciar que los gobiernos locales y del estado de Nueva York, y las organizaciones sin fines de lucro, ahora pueden solicitar fondos para proyectos comunitarios en los próximos proyectos de ley de gastos federales anuales", dijeron los Reps. Espaillat , Meng y Morelle. "Este proceso garantiza que los miembros del Congreso puedan trabajar con sus comunidades para identificar proyectos que necesitan financiamiento y nos ha permitido destinar financiamiento a proyectos en nuestros distritos electorales que más necesitan este apoyo para continuar con su trabajo. Los miembros del Congreso son los que mejor conocen nuestros distritos y esperamos colaborar estrechamente con los grupos comunitarios para identificar los proyectos y los pasos necesarios para garantizar que este proceso y la oportunidad de financiación estén disponibles para todos".

Puede encontrar una copia de la guía aquí .
El congresista Espaillat es el primer domínico-estadounidense en servir en la Cámara de Representantes de los Estados Unidos y su distrito congresual incluye las comunidades de Harlem, East Harlem, West Harlem, Hamilton Heights, Washington Heights, Inwood, Marble Hill y el noroeste de El Bronx. Elegido por primera vez al Congreso en 2016, el congresista Espaillat cumple su cuarto mandato en el Congreso. El Rep. Espaillat actualmente se desempeña como miembro del influyente Comité de Apropiaciones de la Cámara de Representantes de los Estados Unidos, responsable de financiar las actividades vitales del Gobierno federal, y se desempeña como miembro de alto rango del subcomité del Poder Legislativo de dicho comité durante el Congreso 118. También es miembro del Comité de Presupuesto de la Cámara y del Caucus Hispano del Congreso (CHC), donde desempeña un papel de liderazgo como vicepresidente, así como presidente del Instituto del Caucus Hispano del Congreso (CHCI). El Rep. Espaillat es miembro del Caucus Progresista del Congreso (CPC) y se desempeña como coordinador principal (Senior Whip) del Caucus Demócrata. Para obtener más información sobre el congresista Espaillat, visite su portal en línea en https://espaillat.house.gov/.
---