---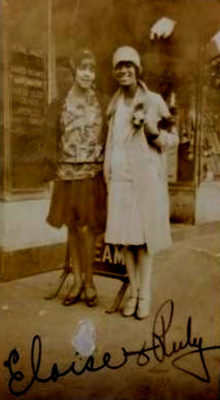 Two Harlem diva Flappers dressed in Harlem 1920's street style, we're not sure of the street address but these two ladies look fabulous in Harlem, New York 1920's.
The ladies look like they are about tot take a Harlem stroll. Long before bra's were being burned in the 1960's, these flappers wore short skirts, bobbed their hair, listened to jazz (oh, my God), and flaunted their disdain for what was then considered acceptable behavior
The bottom of the image was signed in script:
Eloise & Ruby
It has been signed and cropped off at the bottom of the photograph via source.
Related Articles
---