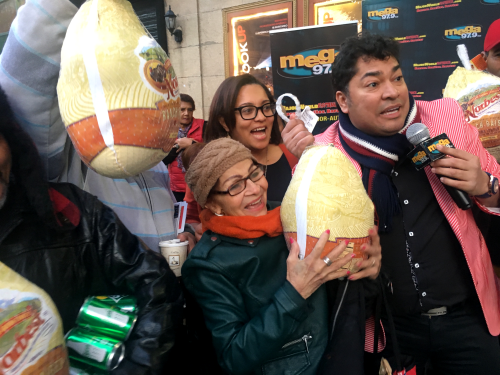 State Senator Marisol Alcántara, together with Congressman Adriano Espaillat, Assemblywoman Carmen De la Rosa and Councilmember Ydanis Rodriguez, distributed over a thousand Thanksgiving turkeys to Uptown families at United Palace Theater yesterday. The atmosphere was festive and celebratory, with each family receiving one turkey for their holiday meal. Families were served in the order that they arrived, with no special treatment for anyone.
State Senator Marisol Alcántara said: "As Dominican-Americans, Thanksgiving represents one of the many ways in which we participate in the ongoing American story and culture. During this time of division and xenophobia, I hope that the spirit of gratefulness and thanks will touch everyone's hearts, regardless of their political, religious, or ethnic background. I also especially want to thank the native peoples of the United States for their giving spirit and their enduring contributions across the Americas."




"Thanksgiving is one of America's most cherished traditions and a time when we reflect upon the many blessings bestowed upon each of us,"said Rep. Adriano Espaillat. "As we give thanks, it is always my honor to join fellow public servants and community leaders to stand united as we give of our time in service to help those who are in need during this Thanksgiving turkey giveaway to kick off the holiday season for Uptown families."
"The spirit of Thanksgiving brings us together as one to graciously embrace our many blessings and gives us an opportunity to extend a helping hand to the less fortunate by giving back and volunteering our time. Our people deserve a decent thanksgiving meal with their loved ones. Today, I join my colleagues in collaboration with other organizations to provide turkeys to our community so that they can afford to thankfully celebrate Thanksgiving Day accordingly, said Assemblywoman Carmen De La Rosa.
"Thanksgiving is typically a day to be grateful for all our blessings, but I believe that counting our blessings should be a daily task for all and each of us. I particularly love Thanksgiving because it gives the opportunity to get together with those we love, laugh, and eat by their side creating long-lasting memories, " said Council Member Ydanis Rodriguez. My heart is with the families that are never going to be reunited again and those that because of immigration issues cannot enjoy the bliss of this special day."
Related Articles