---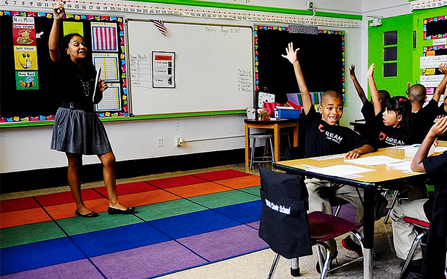 DREAM Charter School received the full approval from the Panel for Educational Policy by a 12-0 vote last week to site a new Pre-K program in the P.S. 50 school building.
While DREAM currently operates its K-2 classes at P.S. 50, the school's K-8 grades will move into a new facility, built by Harlem RBI, DREAM's parent organization, for the 2015-2016 school year. The new Pre-K program will operate out of P.S. 50.
"We are excited about increasing access to high-quality early childhood education for more families in East Harlem and giving children a better foundation for language and social skills in these critical early learning stages," said Eve Colavito, Head of School of DREAM Charter School. "This positive PEP vote means that we are now full steam ahead on preparing to welcome 'Little Dreamers' – our founding Pre-K class to serve more families in need."
The DREAM Pre-K program will consist of two classes of 18 students each. The curriculum will be designed to prepare students to automatically enroll into DREAM's Kindergarten classes the following year. Similar to DREAM's elementary school's co-teaching model, each classroom will have a teacher and a teaching assistant. DREAM has already hired an experienced Pre-K Director to lead the program.
Recruitment activities for the program will start in the coming weeks and the lottery will be held in June.
---