---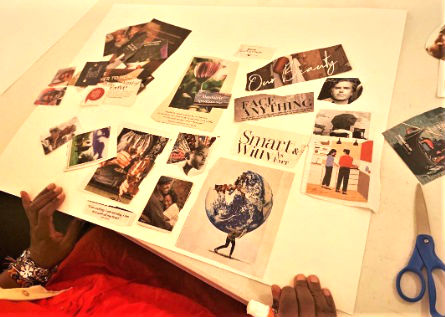 By Lil Nickelson
Monique Caines-Talley is Harlem born and raised and she's a woman who always dreamed about owning her own business someday.

She made attempts at several businesses, but the one that stuck was a business running vision board workshops to teach others how to visually outline their goals and dreams to catapult their selves to the next level in life.  Monique appropriately named her business "Dream with Your Eyez Open," and she's a certified life coach as well.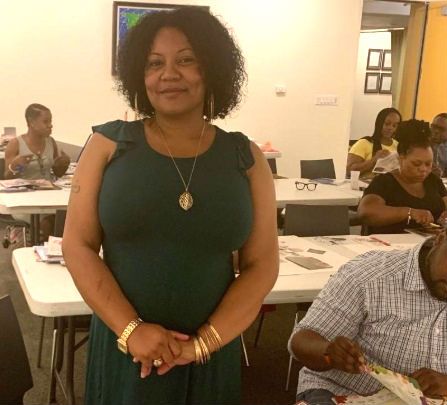 Monique applied for, enrolled in and is a graduate of the Harlem Business Alliance's  ("HBA") The Lillian Project.  Under the leadership of its Executive Director Regina Smith HBA received a grant from the W.K. Kellogg Foundation to create a women's entrepreneurial incubator.  The Lillian Project is named after Harlem's own legendary businesswoman, Lillian Harris Dean aka Pig Foot Mary.  The project facilitates entrepreneurship for native-born low-income Harlem women by teaching them skills needed to start and grow a business and providing hands-on support with strategic planning, development, and implementation.
Monique's first workshop since graduating from The Lillian Project was "The Attracting Love Vision Board Workshop" on Saturday, June 8th, 2019 in the afternoon at The Dwyer Cultural Center located at 258 Saint Nicholas Avenue with its entrance on 123rd Street that started at 12 Noon sharp.  Many women and men dream about connecting with their "soul mate," but haven't really thought about what traits and characteristics would attract them to their soul mate.  There are so many things besides physical looks that you want them to possess and the workshop helped participants to explore and map them at.  Wondering what types of traits?  Things like knowing how to tell a story, likes to travel, is a compassionate and kind person, has a witty sense of humor, likes to dance, or watch funny or tear-jerker movies.  Is outgoing to people, loves kids, is loving to his mother or father and has family-oriented personality.  Food and beverages were provided along with all the materials needed to map up on a board what they are looking for in a love mate.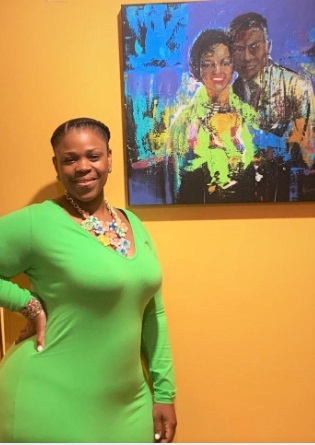 Her second workshop will be on Sunday, December 8th, 2019; the location and time to be determined.  The theme of this workshop will be titled "Vision Vibes & Vibration," and it designed to help people who:
• feel stuck in life and have no idea what's next,
• are in stressful situations and lack direction,
• need to plan or set goals, but aren't quite sure where to start, or
• already have a vision board, but things haven't manifested.
If you could answer yes to any of these questions then you should seriously consider saving up $45 to attend because this is the workshop for you; early bird price is $35 if you register in between October 1st and November 1st.  Surprise give a ways will be distributed.  Food and beverages will be provided along with all the materials needed to map up on a board that works.
For further information go to her website moniquethecoash.com or give her a call at 646 388-2021.
Photos taken by Lil Nickelson. 1) Attracting love vision board in the creation phase by a workshop participant. 2) Workshop participant Jenny Canty. 3) Monique Caines-Talley
---