---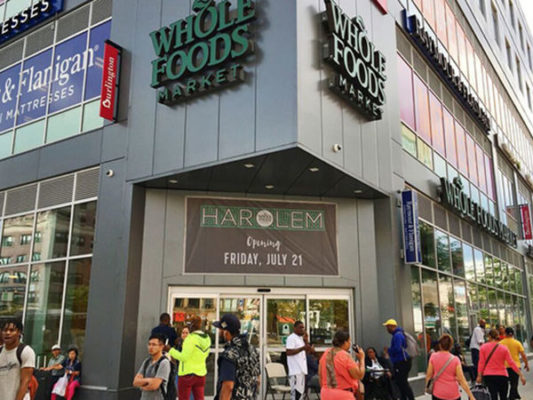 By Lil Nickelson
On Friday July 21st, 2017, the 40,000-square-foot Whole Foods Market Harlem opened in grand style. 

The line to get in stretched on 125th Street from Lenox Avenue to the middle of the block and this was before 8am.
I went around to the entrance on Lenox Avenue and was admitted into the area that new vendors were enjoying breakfast before the doors officially opened. Harlem Park to Park Executive Director, Nikoa Evans-Hendricks was talking to several vendors who were excited that the day their products would be on display in Whole Foods Market  had finally arrived.
Some of their names and products are:
Tren'ness Woods Black spices and rubs from Sylvia's
Vy Higginsen Mama's One Sauce
Annabelle Santos Spadet skincare products
Michael Martinez That's Smooth grooming and skin care products for men of color
Darlene DaCosta Limation limeade
Christina Minardi, Northeast President for Whole Foods and Damon Young Store Team Leader for Whole Foods Harlem broke bread baked at Hot Bread Kitchen for the occasion and passed it out to people gathered inside before the doors were opened to all guests.  Christina stated how 250 people are employed in the store and that 140 of them are Harlem residents; that is 56% of the total.  Five percent (5%) of the opening day's receipts would to donated to Harlem Grown's Saturday enrichment program, which provides cooking lessons, health education, fitness classes and wellness seminars to members of the Harlem community.
Store Team Leader Damon Young has worked ten years for the company and he was thrilled to be a part of this historical moment.  I also spoke with Jamal, a Brooklyn resident that has worked for the company for 3 years; loves the job and he was glad to now be working in the Harlem store.  Even Jessica who was one of the 140 Harlem residents hired and working for the company for one month is happy with the job stocking the hot food and salad stations.  She gave me a tip that the alkaline water is always on sale.
Representatives from numerous Harlem based organizations were in attendance as well; Curtis Archer President of Harlem Community Development Corporation, Barbara Askins President & CEO of the 125th Street BID, Lawrence Ben Miles from the NY Women's Chamber of Commerce and Evetta Petty, owner of Harlem's Heaven Hats was spotted in the crowd.
I heard a few off the record comments about the prices being high and on some items like quality fresh meats and fish they are right.  As an avid food shopper that travels from farmer's market to specialty butcher shops from Chinatown to Inwood to Brooklyn to Queens, Whole Foods prices are more of reflection of the quality of the products they offered; they aren't trying to overcharge in our community.  I'd bet they are very price sensitive to the varied income level of our residents. I can't wait to shop and tell of the bargains I found.
Related articles
---