---
By Lil Nickelson
Tio Luca is the latest restaurant to open up on Lenox Avenue north of 125th St and to further diversify menu offerings in the village of Harlem. Tio Luca is located at 421 Lenox Avenue on the Northwest corner of 131st Street and it is a wine and tapas (small plates) dining venture that serves South American cuisine (Columbia, Venezuela, Peru, Brazil with Spanish and Italian influences). It is owned by a long time Harlem resident and his Chilean born partner named Carol, who named the restaurant in honor of her uncle (which is "tio" is Spanish).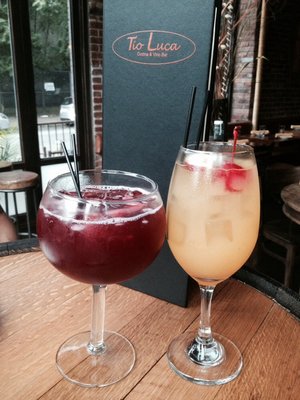 Speaking with Carol I realized it was a labor of love building out the space that ironically took the owners nine months to transform the space (which is the last home of the old Black Liberation Bookstore) into the bright, open and airy dining space it is today. The ceiling to floor windows that wrap around the restaurant make you feel like you are sitting outdoors. The exposed brick walls and large wood mantel around the bar add to the restaurant's charm Due to its close proximity to several churches Tio Luca was unable to obtain a liquor license and serves wine and bar only, however, the owners overcame this obstacle by developing unique cocktails that are infused with champagne and sparkling wines. The most popular drinks are the Caribbean Sauvignon and the Strawberry Sangria.
The owners and Executive Chef Marcos Bidart have developed an extensive tapas menu featuring South American cuisine that is reasonably priced in between $10 to $14 that appeals to everyone from vegetarians to meat and seafood lovers. At present the restaurant is open Tuesdays through Thursdays and Sundays for dinner from 4pm to 11pm and on Fridays and Saturdays they are open from 10am to 12 midnight and they serve brunch on weekends. They are closed on Mondays.
Sharing plates is easy as well; they have three soft corn tortillas (shrimp, steak and chicken) for $10 and a Taco Platter (steak, chicken and shrimp) with four of each for $36. The dinner menu also offers enticing salads, entrees, side orders and grilled pork and beef dishes. Their most expensive entrée is seafood paella for $28.
Brunch is served on Saturdays and Sundays from 11am to 4pm and the menu continues with the South American cuisine. You can order Quesadillas, Breakfast Burritos, Huevos Rancheros, and Omelet Latino. You can also order French Toast, Steak and Eggs, Crab Cakes and a Tio Luca Salad. Brunch prices range from $10 to $15, and side orders (bacon, sautéed spinach or fries – yucca, sweet potato or white potato) cost $4. Your first drink with your brunch order is $3.
My tasting team member and I stopped by early one Tuesday evening and sampled from the tapas menu offering: Lobster Ceviche and the Quinoa Salad three of their signature cocktails. Visually the plates were appealing and everything taste delicious. The drinks were as good to drink as they looked too. I found it interesting that the owners found a way to infuse their drinks with champagne and wines; I didn't miss the hard liquor at all.
So you need to make your way over to Tio Luca and check out the atmosphere, the food and beverages. Call them at 212 939-9305 or visit their web site (www.tioluca.com). I know you will agree with me when I say you can feel like you are traveling to far-away places just by expanding your palette right here in the village of Harlem.
---