---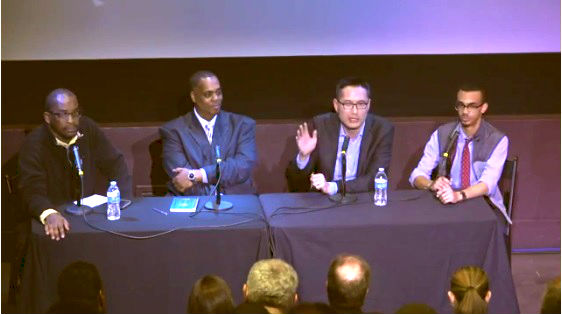 On Wednesday April 22, Digital NYC brought the Five-Borough Tour to at Madiba at MIST, Harlem, hosting a panel of three of Harlem's leading entrepreneurs:John Henry, Samuel K. Sia and Clayton Banks, who addressed the business, mission, challenges, successes, and advantages of their companies. The keynote was given by the first woman to ever serve as a Commissioner for the Federal Communications Commission (FCC), Mignon L. Clyburn, who is considered the Beyonce of technology.
Clyburn focuses on fairness, openness and a sharing economy, and talks about the landmark decisions of the FCC, which are net neutrality and municipal broadband.
John Henry is a director of strategy of the first accelerator out of NYC's latest technology hub in Harlem called Cofound Harlem. The accelerator offers opportunities to the public, like resources, mentorship and free office space, taking no equity as long as you're headquartered in Harlem.
Samuel K. Sia is the Cofounder for Harlem Biospace, which is a community of biotech innovators and scientifically-minded citizens that turn ideas into products. Apart from other tips, Sia advises that you should be creative with your startup, which means taking advantage of the resources that your city has to offer.
The Cofounder of Silicon Harlem, Clayton Banks, speaks on his startups, and also expresses how urban markets are going to be the economic engines of the U.S. With Silicon Harlem, he aims to change the perception of poverty and crime in Harlem and says that he considers his company a connected network that can impact this country in a profound way, by transforming urban markets into tech and innovation hubs (source).
These videos are the last of public events to directly introduce New Yorkers to Digital.NYC, a first-of-its-kind comprehensive hub for the city's tech ecosystem.
Listen to all thee parts of the series:
http://siliconharlem.net
http://digital.nyc
---