---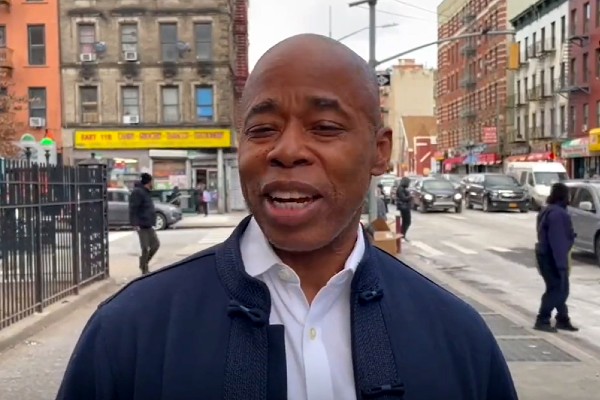 Department of Consumer and Worker Protection (DCWP) Commissioner Peter A. Hatch, NYC Free Tax Prep provider Ariva, elected officials.
Community members today held a 'Get Your CTC/EITC Day of Action' in the Concourse neighborhood of the Bronx as part of a national effort to raise awareness of valuable tax credits like the Child Tax Credit (CTC), Earned Income Tax Credit (EITC) and Child and Dependent Care Credit (CDCTC).
The American Rescue Plan increased the value and eligibility of these credits meaning more money for more people this tax season. Commissioner Hatch also reminded New Yorkers about NYC Free Tax Prep, which offers free, professional tax preparation that can help New Yorkers keep their full refund.
Families with dependents who earned $72,000 or less and individuals who earned $50,000 or less in 2021 can use NYC Free Tax Prep to file for free in-person or virtually.
The Concourse neighborhood in the South Bronx is one of the 22 neighborhoods identified by DCWP as having high number of non-filers and high EITC eligibility. Following the event, DCWP led street canvassing to reach even more New Yorkers with information about tax credit changes and NYC Free Tax Prep.
On Tuesday, Mayor Eric Adams also released a video on social media encouraging New Yorkers to take advantage of credits and NYC Free Tax Prep.
"We need to provide New Yorkers with all the resources possible to feed their families and cover other essentials as we recover from the financial effects of the COVID-19 pandemic," said New York City Mayor Eric Adams. "Tax credits, like the Child Tax Credit, the Earned Income Tax Credit, and the Child and Dependent Care Credit, provide much-needed breathing room for so many working families, and, thanks to the hard work of DCWP, New Yorkers can now more easily access those extra dollars. We are thrilled to provide free tax prep services virtually and in-person to help eligible New Yorkers get their full refund without additional hassle."
"Working families will drive our economic recovery, and for so many NYC families, their tax refund is the largest check of the year," said Deputy Mayor for Economic and Workforce Development Maria Torres-Springer. "This year, there are valuable tax credits available to help you provide for your family and support the local economy. We are proud to join the White House and cities across the country to encourage New Yorkers to learn about the CTC and EITC. Claim yours today with NYC Free Tax Prep!"
"Whether you've filed before or not, had income or not, have kids or not, changes to tax credits this year mean more money for you when you file," said DCWP Commissioner Peter A. Hatch. "I would like to thank President Biden, Vice President Harris, and Mayor Adams for prioritizing working families and spreading the word about these valuable credits. The Child Tax Credit, Earned Income Tax Credit and Child and Dependent Care Credit have been shown to reduce poverty, help families meet basic needs such as food, rent, and childcare, and inject millions of dollars into the local economies. We are proud to help New Yorkers access NYC Free Tax Prep services to navigate this tax season and beyond. Claim yours by filing for free today!"
"COVID-19 had a devastating impact on the Bronx and many residents are still struggling to make ends meet financially," said Bronx Borough President Vanessa L. Gibson. "The American Rescue Plan's changes to the Child Tax Credit, Earned Income Tax Credit and Child and Dependent Care Credit have been shown to have a significant impact on reducing poverty across the country and have helped many of our families that are in need of support . Thank you to DCWP, Ariva and Spring Bank for partnering to raise awareness and education of these tax credits that thousands of New Yorkers are eligible for, as well as providing free tax services to the community."
"Today's Day of Action is a great reminder to families, about the positive work our federal partners have done throughout the pandemic to protect our families and provide the critical financial resources of The  Child Tax Credit, Earned Income Tax Credit, and Child & Dependent Care Credit within The American Rescue Plan. I'm excited to see so many partnerships between local financial institutions and the City of New York to provide our families with quality tax services, to make sure they can benefit from these programs.  Our families deserve financial security, and I look forward in my role as Chair of the Consumer Affairs & Worker Protection Committee to work with the Adams' administration to continue this work," said Council Member Marjorie Velázquez.
"In everything we do our communities need to come first. The Child Tax Credit does just that by alleviating some of the financial burdens that come with caring for children. It really does take a village, but that village should always have the support of its government. According to the Columbia University on Poverty and Social Policy, the tax credit kept three million children out of poverty last year. We must continue to prioritize families and children's health and wellness at this level as we transition to a post-pandemic society. I look forward to the continued benefits the Child Tax Credit and the Earned Income Tax Credit have for our families in the Bronx and nationwide," said Council Member Amanda Farías.
"The Child Tax Credit has been an incredible source of financial support for working families during the COVID-19 pandemic," said Council Member Shahana Hanif. "While people were struggling to make ends meet under the Trump administration, President Biden and Congressional Democrats passed a historic relief package to lift over five million working people out of poverty. Over 25 million people have taken advantage of this tax credit, but there are still millions that have yet to claim theirs. This filing season, be sure you work with your accountant, or New York's free tax filing service, to claim your Child Tax Credit on your 2021 returns."
"Raising awareness for valuable tax credits along with the City providing free, reliable financial services helps working for families in critical need of assistance and fights poverty," said Council Member Julie Menin. "Especially during a pandemic and times of financial hardship, every dollar counts and credits like these assist in meeting the current needs of New Yorkers. During my tenure as Commissioner of the Department of Consumer and Worker Protection, the City invested in an unprecedented tax credit campaign and I am proud these services are continuing with the new Administration"
"Everyone should be aware of the Child Tax Credit, as it provides families with the monetary support they deserve. Raising awareness and ensuring that everyone who is eligible receives the Child Tax Credit is a critical component in lowering the child poverty rate. As families take advantage of Child Tax Credit, it will lower stress and encourage family's future success," said Council Member Althea Stevens.
"After a really challenging year or two, Ariva, Inc, is very happy to once again offer in-person tax assistance with our host partner, Spring Bank, with the support of DCWP. Our tax preparation service is a free, high-quality alternative to more expensive commercial preparers, but it is also so much more than that. The program is part of a package of comprehensive services: for clients who are interested, we also offer financial counseling, ITIN application assistance and assistance in accessing safe and affordable financial products. The Bronx is very underserved by traditional financial services, and our program and those of our partners are very popular because they address a critical need in our community as we help people build financial health and enter the financial mainstream," said Maribel Montilla, Tax Program Director, Ariva.
"Many Bronxites need to be able to do more with less, and Ariva is here to help people do this. The financial service that Ariva provides to Bronxites, for free, is of the highest quality. The Ariva staff and volunteers are knowledgeable and caring experts in tax preparation. Spring Bank is a proud partner and supporter of their work at tax time and throughout the year. In addition to hosting their tax site at our headquarters in the Bronx, we are proud to partner with them and the City of New York in hosting a Financial Empowerment Center where members of our community can get access to trusted financial advice and resources," said Demetris Giannoulias, CEO of Spring Bank.
Tax Credits
Claiming even one of these tax credits this tax season could equal thousands of dollars.
Child Tax Credit (CTC): Parents and caregivers with children younger than 18 can get up to $3,000 or $3,600 per child depending on the child

'

s age. Filers do not need to have had income to claim the credit. Families who got advance payments in 2021, must file in 2022 to get the rest of their money. This includes families who signed up online using the IRS Non-filer Portal or GetCTC.org. Only the children being claimed need to have Social Security Numbers (SSN); the filer does not need a SSN and can file using an Individual Taxpayer Identification Number (ITIN).
Earned Income Tax Credit (EITC): EITC is available to working families and individuals with low and moderate incomes. Now filers 19-24 and over 65 without children can claim for the first time up to $1,502.
Child and Dependent Care Credit (CDCTC): Working families who pay for childcare for children under 13 or the care of dependent adults can get back up to $4,000 in care expenses for one qualifying person and up to $8,000 for two or more people.
2022 NYC Free Tax Prep Services
DCWP's City-funded NYC Free Tax Prep program offers multiple options to file for free, including in-person, drop-off, virtual and online services.
Families with dependents who earned $72,000 or less and individuals who earned $50,000 or less can use NYC Free Tax Prep.
Filers should check the eligibility requirements and choose the filing option that is best for them. Anyone who lives or works in New York City can use NYC Free Tax Prep.
NYC Free Tax Prep services include:
In-Person Tax Prep—sit down with a volunteer preparer: At in-person tax prep sites, knowledgeable IRS certified Volunteer Income Tax Assistance (VITA)/Tax Counseling for the Elderly (TCE) volunteer preparers help filers complete an accurate tax return. There are over 100 locations across all five boroughs with additional locations opening later in tax season.
Drop-off Service—drop off your documents and pick up your completed return later: With drop-off service, filers can drop off their tax documents and pick up the completed return later.
Virtual Tax Prep—like in-person free filing but online: Virtual Tax Prep is an online service where an IRS certified VITA/TCE volunteer preparer will video conference with filers to help prepare their tax return using a secure digital system. Filers can submit photos or scans of tax documents to the preparer, confirm their identity, and complete their return by video call with a preparer. Filers will need access to a computer, tablet, or smartphone; a stable internet connection; and the ability to download secure video conference software.
Assisted Self-Preparation—free online tax prep on your own or with help: Assisted Self-Preparation allows filers to complete their tax return online on their own and an IRS certified VITA/TCE volunteer preparer will be available by phone or email to answer questions. Filers will need access to a computer, tablet, or smartphone; a stable internet connection; an email address, and their 2020 adjusted gross income (AGI) or self-select PIN.
New Yorkers can call 311 or visit nyc.gov/taxprep to choose the best filing option for them and find the most convenient location if choosing in-person or drop-off tax prep.
A checklist of what documents New Yorkers need to bring with them to file and multilingual information about the services are available at nyc.gov/taxprep.
Services are available in English, Spanish, Arabic, Armenian, Bengali, Chinese, French, Haitian-Creole, Hebrew, Korean, Russian, Urdu and others to come.
Visit nyc.gov/taxprep to stay up to date and join the #FreeTaxPrep conversation on @NYCDCA's social media channels.
NYC Free Tax Prep Public Awareness Campaign
DCWP's multilingual public awareness campaign, which focuses on raising awareness about tax credits and free filing, is now running on the city's bus shelters and LinkNYC kiosks, and will also include print, on radio and online advertising.
DCWP is also conducting street marketing, and extensive outreach throughout the season, doing a targeted mailing to 350,000 EITC-eligible New Yorkers and, with the help of the City's tax season partners, distributing 200,000 multilingual informational brochures.
DCWP is also collaborating with more than two dozen sister agencies to inform New Yorkers about these valuable tax credits and how to access free tax prep.
In July 2021, DCWP, in coordination with NYC Opportunity and the Children's Cabinet, launched a massive campaign to boost uptake of the newly enhanced federal Child Tax credit (CTC), leveraging DCWP's NYC Free Tax Prep providers to help families enroll.
To raise awareness, DCWP marshaled 15 City agencies and offices and more than 5,000 community-based organized and armed them with communication tools in 10 languages.
Through email campaigns to 500,000 SNAP and cash assistance clients, to 403,000 City employee emails, and to others; Public Engagement Unit (PEU) text messages to 185,000 households with children in targeted ZIP codes; a paid digital advertising campaign and press placements in community and ethnic media among other strategies, the City reached more than 1 million New Yorkers about the CTC.
Paid Preparers
Consumers using a paid preparer should ask the preparer for a Consumer Bill of Rights Regarding Tax Preparers (available in 12 languages) and read it thoroughly before having their taxes prepared, and also get DCWP's Tips Regarding Tax Preparers.
Consumers should also be on alert for preparers that overcharge, charge hidden fees, or file their return without permission.
NYC Department of Consumer and Worker Protection (DCWP) protects and enhances the daily economic lives of New Yorkers to create thriving communities.
DCWP licenses more than 59,000 businesses in more than 50 industries and enforces key consumer protection, licensing, and workplace laws that apply to countless more.
By supporting businesses through equitable enforcement and access to resources and, by helping to resolve complaints, DCWP protects the marketplace from predatory practices and strives to create a culture of compliance.
Through its community outreach and the work of its offices of Financial Empowerment and Labor Policy & Standards, DCWP empowers consumers and working families by providing the tools and resources they need to be educated consumers and to achieve financial health and work-life balance.
DCWP also conducts research and advocates for public policy that furthers its work to support New York City's communities.
For more information about DCWP and its work, call 311 or visit DCWP at nyc.gov/dcwp or on its social media sites, Twitter, Facebook, Instagram and YouTube.
---