---
Are you looking to decorate your home, but want it to be fun and lively for the kiddos? Designing a child's room can be tricky.
Of course, most parents want their children to have a place that is just for them. However, children are picky about what they like or don't like. Because everyone's tastes are so different, chances are you'll have to do quite a bit of experimenting to find the perfect designs for your own child. Still, there are a few design ideas that children are bound to love!
1. Make It Cute
This is the obvious answer, but probably the most useful! When decorating your child's room it will be important to remember that you are designing for a child. So make it cute! Kids love animals, rainbows, clouds, and cars so use any of these ideas when planning out what the design should look like.
Incorporating soft textures, colors that are fun and engaging without feeling overwhelming, as well as rounded shapes are all great choices for children's room design. If you're unsure where to start, try looking for cute kawaii room ideas and go from there. It's important to remember that something you find endearing, your child might find boring. Following contemporary trends can be a good idea since it can relate to other kids in a different way.
For example, if you want to go for a cute design but make it a little more unique you can add some bright colors and patterns while still going with the flow of what children tend to gravitate towards naturally.
2. Create A Theme
If your child is at an age where they have their favorite cartoon, comic, or sport, you can base your design around that. It can really be anything your child is into.
While going with a theme provides a good place for you to start, you don't want it to be the only thing your child sees in their room. You don't want to make some of the typical mistakes like being too obvious with the design. By all means, make it fun and colorful, but try to think of ways you can personalize it as well. Taking elements of what they like – like the color schemes and one or two of their favorite characters – will make the design even better.
However, you want your kid to be able to develop different interests and have them reflected in their living space. With that in mind, playing with a theme, but keeping it subtle, somewhat abstract, and open to interpretation might be the way to go. Children love their own spaces, so it is important to give them a home that is theirs. Putting in personal touches whenever possible will make the design feel more like it belongs to your child.
3. Tell A Story
Using some of the contemporary design trends like putting a pop of color here and there or creating a unique look with shapes and patterns can create a sense of adventure. As we're sure you know, your child will see the world differently than adults do. They'll be looking for ways to express themselves and settle into their own nook in the world.
Taking a few risks while designing will pay off in the end. Think of a story you'd like to tell through the design and the colors you use. Many parents like to design their child's space in ways that will teach them about shapes and different elements of nature. This can help children learn more about themselves and expand their minds.
For example, you can feature woodland creatures on the walls and create a habitat for them. It will encourage children to learn about wildlife and be more compassionate toward it as well. Make it fun by showcasing a beaver building a dam, and a squirrel stashing food, or a bear eating honey. The possibilities are endless! The idea is to use elements found in nature and turn them into something you and your child can create a story about.
4. Rethink What You Know
Incorporating some of the traditional design elements that we know and love, like flowers and hearts, with a modern flair is a great idea. Taking what we're all familiar with and adding in new elements is a great way to keep things fresh and exciting – no matter your age.
When designing for kids, there are quite a few ways you can take the traditional and make it modern without sacrificing comfort or style. For instance, you can use traditional patterns like damask in an interesting color combination that will work well with the rest of the design. You can also use these patterns to create a fun wallpaper border that will give children's rooms a unique look.
Incorporating colors that are vibrant also adds to the mood of the room, so try to determine what feeling you'd like to convey and use those particular colors when designing the space. Playing with light and dark colors is a great way to create an aesthetic that makes the room feel bigger, brighter, and more comfortable.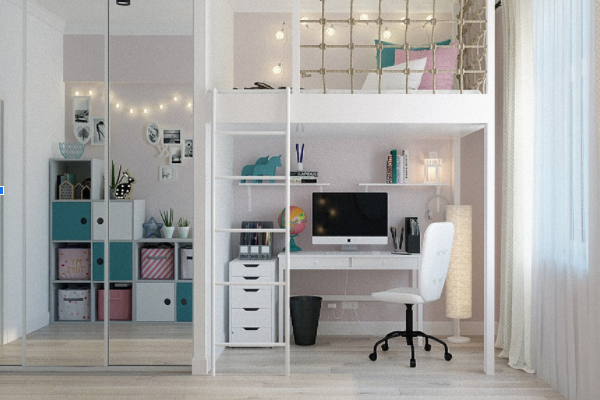 When designing a room for a child, don't forget that it's important to have plenty of storage options, as well as enough free floor room for playtime. The room should be set up in a way that makes it both functional and fun for your youngster. Hopefully, with these design ideas in mind, you can create the perfect space that will encourage children to learn more about themselves and the world around them!
---