---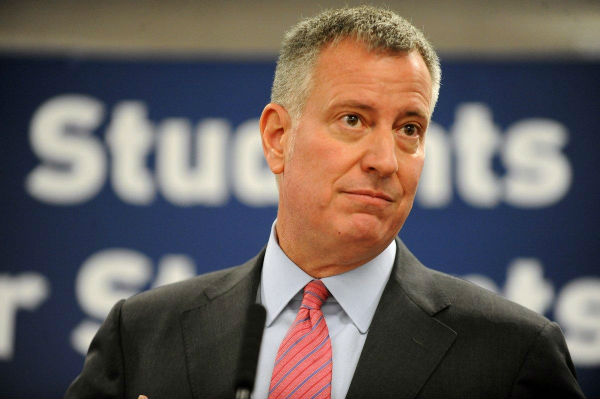 Mayor Bill de Blasio today announced unprecedented global recognition for nine innovative climate action projects in New York City from Harlem to Hollis. These projects demonstrate the power and leadership of cities in confronting our climate crisis. The Cities100 report, launched today, showcases bold climate initiatives from 100 of the most forward-thinking projects worldwide. Cities featured demonstrate that they can deliver on the highest goals of the Paris Agreement and drive toward solutions to global warming, even with the lack of federal leadership. New York City had nine projects included in the report, more than any other city in the world.
Additionally, two of these initiatives have been shortlisted for the prestigious C40 Cities Bloomberg Philanthropies Awards for exemplary leadership in creating a livable future for the next generation. New York City has won more C40 Awards than any other city over the past six years.
"Superstorm Sandy made all too clear the reality of global warming," said Mayor de Blasio. "While the Federal government has abdicated climate leadership, we are taking direct action to meet the challenge of climate change in our city. We are honored to receive international recognition for our groundbreaking Green New Deal, including our commitment to divesting our pension funds from fossil fuel companies and the world-first building mandates legislation."
"In New York City, we recognize our climate crisis for what it is – an emergency – and also that what matters most is not words, but action," said Daniel Zarrilli, NYC's Chief Climate Policy Advisor and OneNYC Director. "With OneNYC 2050, NYC's Green New Deal, we have accelerated our own actions to demonstrate the type of ambition that is necessary to confront our climate crisis. We're thankful for this international recognition from Cities100 and C40 Cities on our work and we are hopeful in the fight ahead as we secure a livable future for the next generation."
"At a time when national leaders are abdicating their responsibilities on the global stage, New York City has shown we can step up and innovate to tackle critical issues like climate change. The Mayor's Office for International Affairs has been championing that message to leaders around the world and serving as a platform for the global exchange of ideas. As home to the United Nations and the largest diplomatic corps on the planet, New York is uniquely positioned to share best practices with others and to learn from global experts as well. Today's Cities100 report affirms that cities can lead and that New York City is moving in the right direction," said Penny Abeywardena, Commissioner for the Mayor's Office for International Affairs.
The projects to be recognized in the Cities100 Report include:
OneNYC: NYC's long-term strategic plan and Green New Deal to secure our city's future against the challenges of today and tomorrow, with bold actions to confront our climate crisis, achieve equity, and strengthen our democracy. We have committed to achieving carbon neutrality – which means a 100% reduction in net greenhouse gas emissions – by 2050.
NYC Divestment/Investment: New York City is the first city in the nation to commit to divesting our pension funds from fossil fuels and investing in climate solutions. These bold actions are spurring a larger economic transformation and building global momentum for the divest/invest movement by supporting other cities through collaborative efforts such as the C40 Divest/Invest Forum that New York City launched with the City of London.
Building Mandates: The NYC Building Emissions Mandate (Local Law 97) is a first-of-its-kind and the strongest city policy in the world to cut greenhouse gas emissions from buildings. The law requires large existing buildings to cut their carbon emissions beginning in 2024 or face steep penalties, bringing large buildings to near-zero emissions by 2050. The law is applicable to 50,000 buildings and will eliminate 6 million tons of greenhouse gas emissions by 2030, the equivalent of taking 1.3 million cars off the road each year.
1.5 Degree Plan: New York City's 1.5°C: Aligning New York City with the Paris Climate Agreement was the first-ever city climate action plan to articulate the pace, scale, and impact of actions that are necessary to bring a city's efforts in line with the Paris Agreement's 1.5°C target. The plan includes over 30 major climate action commitments to begin by 2020 that will accelerate greenhouse gas reductions, including commitments to legally mandate greenhouse gas reductions in all large buildings and to lead the development of the first-ever global protocol for carbon neutrality for cities.
Vision Zero: Vision Zero is New York City's data-driven strategy to eliminate traffic deaths and serious injuries while promoting active and sustainable transportation to cut GHGs and air pollution and boost equity of access through engineering, enforcement, and education. Vision Zero cut traffic deaths by 28% from 2013 to 2018 while increasing use of sustainable transportation modes and avoiding nearly $5 billion in related costs of traffic fatalities. The City estimates Vision Zero's impact on cycling alone has translated into an increase of over 25 million cycling trips per year, with a corresponding reduction in annual GHG emissions of over 3,000 metric tons.
donateNYC: donateNYC is Department of Sanitation's program to encourage waste reduction and reuse. Residents can find donation locations near them on a searchable map, and businesses and non-profits can exchange furniture and other durable good and surplus food to help save money and support emergency feeding programs.
Idling Reduction Program: The Citizen Complaint Idling Program, enacted by City Council and signed by Mayor de Blasio in 2018, is a first of its kind program to empower citizens to not only report prohibited idling, but receive compensation for their efforts.  This program helps to reduce both local air pollutants and greenhouse gasses emitted in New York.
Resilient Edgemere: The Resilient Edgemere Community Plan sets a comprehensive framework for neighborhood climate adaptation, addressing the risks of flooding and coastal storms while promoting long term engagement between the City and the community to address historic social and economic challenges. Crafted through an 18-month community-based planning process, the Plan coordinates post-Sandy housing recovery assistance, including residential elevation and relocation, with investment in coastal protection, parks and affordable housing.
Water Demand Management Program: NYC's Water Demand Management Program, one of the most robust conservation programs in the nation, has achieved savings of over 10 million gallons of water per day since 2013. By 2023, NYC plans to achieve a total savings of 20 million gallons per day, ensuring that both water and energy resources are optimized and conserved in the face of climate change and population growth.
About Cities100: The Cities100 report, now in its fourth year, is a collaboration between Realdania, C40, and Nordic Sustainability to find and showcase 100 of the most ambitious climate action projects in the world. In the pursuit to identify the most innovative projects, Nordic Sustainability and C40 launched a campaign for applications in the spring of 2019. The campaign brought in 195 project submissions. The applications then went through a process of vetting and evaluation by Nordic Sustainability and a team of experts from C40. The Cities100 report will be launched online on October 2, and can be viewed by visiting cities100report.com.
"DEP is beyond proud to have two of our signature programs recognized in the Cities100 report," said DEP Commissioner Vincent Sapienza. "Together with our partner city agencies, and thanks to the leadership of Mayor Bill de Blasio, New York City is tackling the climate crisis head-on and developing innovative, best practice strategies that will help preserve our beautiful planet for future generations."
"Climate change is an immediate threat to New York City and our future," said Sanitation Commissioner Kathryn Garcia. "Waste accounts for four percent of the city's greenhouse gas emissions, and we must do all we can to divert waste from landfills. DonateNYC helps New Yorkers reuse products before they become waste, helping residents and businesses give goods, find goods and do good. We are pleased that C40 has recognized this program and encourage all New Yorkers to do their part to help us send zero waste to landfills."
"This administration has made a strong commitment to building for a more resilient future for New York City, advancing a number of award-winning initiatives. The Resilient Edgemere plan is just one of the many ways we're pushing forward on our goal to create a more sustainable city for generations to come," said HPD Commissioner Louise Carroll. "I applaud the Mayor for his leadership in bringing New York to the forefront of the global fight against climate change."
"We are grateful for this recognition of the transformative work done by New York City, including the hard-working men and women of DOT," said DOT Commissioner Polly Trottenberg. "Under Mayor de Blasio's Vision Zero leadership, we have seriously invested in sustainable transportation modes like cycling while at the same time reducing the number of traffic fatalities for five straight years.  Recognizing that the climate crisis requires immediate action, we are laser-focused on transitioning NYC into a more energy-efficient city – including with more bike lanes and bus lanes, as well as expanded bike-share, car-share, electric-vehicle charging – and much more."
"As the Chair of the Energy and Telecommunications Committee, I am proud to learn New York City is receiving global recognition for our efforts to address climate change and combat global warming. The Mayor's office multi-pronged approach has proven to be effective, and I look forward to continuing to support the city's efforts as we work towards achieving our clean energy goals as a state," said State Senator Kevin Parker.
"Climate change is the defining challenge of our time. New York City is on the front lines of this fight, not only because of the threats climate change poses to our city and our people, but because of the actions we are taking to reduce emissions and transform our energy systems. There is so much more work to do, but these nine initiatives, including groundbreaking leadership on fossil fuel divestment, can and should be copied by cities, states, and countries around the world. I commend Mayor de Blasio, Comptroller Stringer, and the City Council for their efforts," said State Senator Liz Krueger.
"I am proud to see that New York City topped the international Cities100 Report with nine climate-based initiatives to help our city and state reach our lofty climate goals," said State Senator Joseph P. Addabbo, Jr. "In the Senate we recently approved the Climate Leadership and Community Protection Act — the most ambitious climate act in the nation — to put New York State on the path to 100% clean power by 2040 and a wind farm off the shores of Rockaway. Together, New York City and State can lead the nation in climate action," said State Senator Joseph Addabbo.
"As the sponsor of the Green Deal for New York on the state level, I fully support the city's efforts to make the five boroughs a cleaner, greener, place that preserves the environment and protects the earth. My legislation aims to make our state greenhouse gas emissions neutral by 2030 by transitioning from a fossil fuel-based economy to one based on 100% clean renewable energy. This effort goes hand in hand with the city's One NYC 2050 goals and I look forward to working with the Mayor to make our world a better place for future generations to thrive and flourish," said State Senator James Sanders.
---