---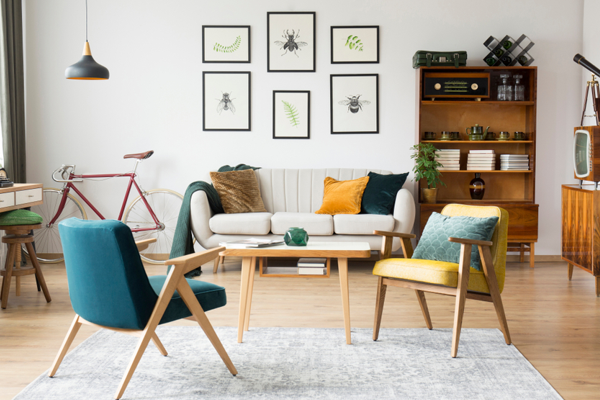 2020 and 2021 will go down in history for a number of reasons as our lives changed almost beyond recognition due to the global COVID-19 pandemic.
From face coverings to fomites, we've seen some extraordinary changes – some of which we'll be happy to leave behind and others which, it appears, are here to stay for the time being.
Staying in is still the new going out
In 2020, as customers found themselves locked out of their favourite bars and restaurants, people started to look closer to home for their entertainment – quite literally!  In fact, figures show that, last year, UK homeowners spent £4,035.70 each on home improvement and DIY projects.  Despite the fact that we're now coming out on the other side of the pandemic, it seems that we're not quite ready to give up the convenience and cost savings of socialising at home.  As a result, the homewares industry has been enjoying a surge in business as homeowners focus their attention – and spending power on their homes.  From major projects such as kitchen remodelling to a switch up of soft furnishings, home improvement is having a moment and, one emerging trend is for new fitted blinds which allow homeowners to enjoy as much natural light as possible. 
While a renewed interest in home improvement is welcome for the industry, it quite naturally brings with it an increase in competition, and businesses are finding themselves struggling to make their voices heard above all the noise when it comes to attracting customers online.  Studies show that 68% of consumers don't have a particular company in mind when they start searching for home improvement services online – which gives an indication of just how fierce the competition can be.  Lots of businesses, such as fitted blinds providers are looking to increase their online visibility by getting onboard with management and marketing tools like Booksy.
Even more importantly they need to have responsive customer service, since people are picky and if a company has not answered quickly, they will cross it out and turn to the competition that will be more than happy to assist them. Failing in customer service is a big no-no and every company should perfectly polish their team in this department.
On the market
Primarily an appointment scheduling app, popular with professionals in the hair and beauty industry, Booksy is also an incredibly useful marketing tool for small businesses.  Booksy's marketing features include: 
Email marketing
Widely considered to be one of the most effective marketing tools available, email marketing allows businesses to deliver their messaging directly to the inboxes of customers and potential customers; thereby greatly increasing conversions and helping to form relationships.  Booksy's AI-powered system allows businesses like blinds fitting brands to quickly and easily create email marketing campaigns that really deliver.
Flyers
For businesses operating in a particular location, flyers are a hugely effective way of keeping your brand front and centre in customers' minds.  The beauty of a flyer is that, in many cases, customers will hang onto them (even if they get shoved in a drawer) for future reference; unlike digital marketing content which is often out of mind the moment that a user scrolls past.  Booksy can help local businesses get their message across with fantastic quality, attention-grabbing flyers at an extremely reasonable cost.
Mirror stickers and wobblers
2021 is very much the age of collaboration, and lots of local businesses are discovering the value of partnerships and co-promotions.  One extremely simple (and really affordable) way of doing this is for businesses to team up by displaying stickers and wobblers on their premises.  The folk at Booksy are experts at creating promotional merchandise like stickers and wobblers to help clients make the most of their small businesses. 
Conclusion
Effective and affordable marketing has never been more important for small business and, in 2021, brands need all the help that they can get to make sure that their message is reaching the right people at the right time.  Booksy's suite of marketing tools can make all the difference to businesses with tight budgets and, as a bonus, brands will also have access to Booksy's appointment scheduling and management tool which makes light work of booking and managing appointments for homeware businesses. 
---