---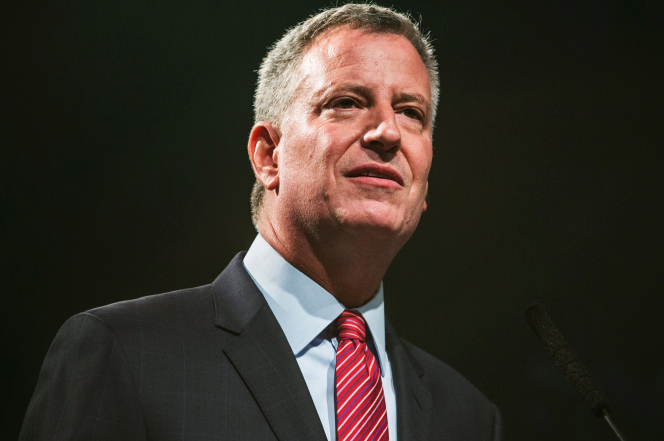 Today, Mayor Bill de Blasio, Deputy Mayor Laura Anglin, and New York City Department of Buildings (DOB) Commissioner Melanie E. La Rocca announced that injuries during the construction of buildings declined.
The decline was by more than 26 percent in January through October 2019 compared to the same period last year. The injury decline comes even as the city's construction boom shows no signs of abating: permits for major construction projects actually increased slightly over the same timeframe.
"The backbone of New York City's construction industry are hard-working people in the building trades hoping to earn a good day's pay and make it home safely," said Mayor Bill de Blasio. "Taking care of those workers' safety is our top priority, so it's great to see that while scaffolding continues to go up across all five boroughs, construction injuries continue to decline. And thanks to continued proactive inspections and new training requirements, I'm hopeful construction-related injuries will become as rare as a vacant lot in Midtown."
"Ensuring workers on construction sites are operating in a safe environment is a citywide commitment," said Deputy Mayor Laura Anglin. "Since the DOB launched its new Construction Safety Compliance Unit, we've seen significant decreases in injuries while maintaining continued growth in construction across the city. We must continue to build off this year's success so that all construction workers can get home safely to their families."
"Injuries are down even as the city's construction boom continues, which is welcome news for workers and their families — and a sign that our focus on proactive enforcement and safety training requirements are having a real impact. Our commitment to workers is simple: everyone who leaves for the job site in the morning deserves to come home safely at night. We are going to keep up the pressure to drive these numbers down further and make safety the highest priority on every construction site," said Buildings Commissioner Melanie E. La Rocca.
Injuries on construction sites decreased from 657 in the first ten months of 2018 to 483 through October of this year, a decline of 26.5 percent. DOB issued 16,322 permits for major construction projects from January through October 2018, versus 16,291 such projects permitted in the same period of time in 2019. (Major projects are new buildings, major alterations of existing buildings, and demolitions.)
The decrease in injuries comes after the launch of DOB's Construction Safety Compliance (CSC) Unit, dedicated to conducting proactive, unannounced inspections of major construction sites citywide. The improvement also coincides with the implementation of Local Law 196 of 2017, which requires safety training for workers at New York City's larger construction sites. CSC is in the process of inspecting roughly 6,000 sites to enforce the law and check whether construction workers have the required training.
In September 2018, DOB dissolved its longtime Buildings Enforcement Safety Team (BEST) and divided BEST's responsibilities between two new units: the Construction Safety Enforcement Unit, which focuses on emergency response and other functions; and CSC, which focuses on proactive inspections of major construction sites, where workers are at the highest risk of injury. The latter unit also specializes in approving and inspecting site-safety plans and demolition applications.
CSC currently has 38 inspectors and 10 trainees and will have as many as 53 inspectors.
Since the unit's inception in September 2018, CSC personnel have conducted 20,166 proactive inspections at 10,256 construction sites, issuing 2,523 stop-work orders and 11,484 OATH summonses, which carry penalties of nearly $15 million for safety lapses on job sites in the five boroughs.
"The Department of Buildings has been working diligently to bolster the safety of construction workers and the public, and I join in celebrating the 26 percent reduction in construction-related injuries," said Council Member Robert E. Cornegy, Jr., Chair of the Committee on Housing and Buildings. "As we move to implement more safety measures, like Local Law 196 of 2017, I only hope the numbers continue to go down as the construction boom continues."
"These results show the benefit of DOB using the safety data they collect, and then targeting Inspectors towards those sites where accidents are most likely to occur. Safety is of the utmost importance to our contractors and we look forward to working with DOB as they continue the use, and expand the role, of the Construction Safety Compliance Unit," said Louis J. Coletti, President and CEO, Building Trades Employers' Association.
"The construction market in New York City is in a robust period of growth, leading to the creation of more middle class jobs with benefits for construction workers across the five boroughs. With so much building around the city, it's important to recognize that this decrease in injuries can be directly linked to DOB's launch of the Construction Safety Compliance Unit and the enhanced training and site safety awareness created by Local Law 196. Workers deserve the highest safety standards and proper training, and thanks to DOB's honorable determination to keep workers safe, we can be confident that all construction sites will be held accountable." said Gary LaBarbera, President of the Building Construction Trades Council of Greater New York.
"These important measures ensure that parties are held accountable and promote a culture of safety. The result is a sharp decline in construction-related injuries. If you're in compliance with the rules set forth by the City, the Construction Safety Compliance Unit should be a welcome sight on your project," said James Whelan, President, The Real Estate Board of New York.
"The 26 percent reduction in workplace injuries in an even busier construction marketplace is wonderful news for the men and women that work in our industry. More importantly, it shows how the partnership between the Department of Buildings and the General Contractor and subcontractor community can work together to build smarter while maintaining a strong and unwavering commitment to safety in the workplace. Clearly NYC is a complicated construction market. But when committed to solving a problem, we can achieve our shared goal to reduce workplace injustices. We look forward to continuing to work with the leadership at the DOB to advance practical solutions to complicated projects so that everyone can return home from work the same way they arrived," said Brian Sampson, President, Associated Builders & Contractors, Empire Chapter.
"Increasing training and proactive enforcement makes workers safer on the job. We are encouraged by the latest report of a 26 percent decrease in injuries; this is great news for our City's construction workers and their families," said Charlene Obernauer, Executive Director of NYCOSH.
---