---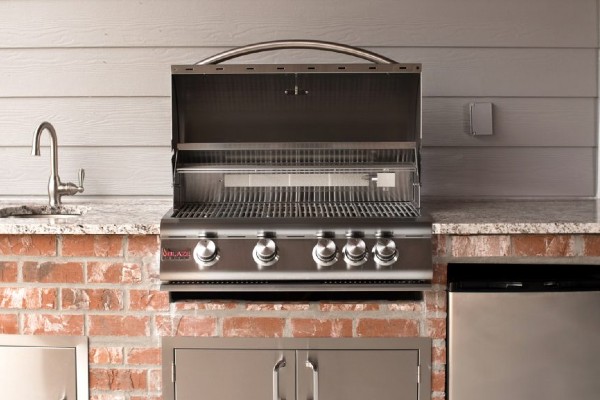 Outdoor spaces are getting a great deal more attention these days than they did in the past. After all, people are growing tired of being confined to their homes. That's leaving many homeowners looking for ways to break out of those four walls and expand their living spaces. What better way to do that than making an outdoor living space more functional and enjoyable? Several options are available, including everything from planting a beautiful garden to having a pool installed. Of course, one of the increasingly popular solutions is building an outdoor kitchen.
Designing the Outdoor Kitchen of Your Dreams
Numerous outdoor appliances and accessories are on the market right now. They range from basic refrigerators and sinks to luxury countertops, dishwashers, and hidden storage bins. All those items can certainly enhance an exterior entertainment area, but the cooking portion of the setup deserves a great deal of thought as well. For outdoor kitchens, a grill could be considered essential. If you're considering a built in grill, it's important to keep a few points in mind. They'll help you choose the right one for your space and ensure your family gets the most out of the outdoor kitchen. 
What to Consider When Choosing an Outdoor Grill
A seemingly endless lineup of grills is available at this point. If you're having an outdoor kitchen installed, though, the basic charcoal grills found at local chain stores are probably a bit beneath your overall expectations. They usually don't last long and, in all honesty, there are bigger and better options to choose from. If you have your heart set on all the flavor and amazing smokiness charcoal brings to food, numerous premium charcoal grills are readily available. 
Premium and luxury gas grills are also at homeowners' disposal. For built-in gas grills, connecting to a permanent natural gas line is often a better solution than using one propane tank after another. Having the grill connected to a permanent gas line ensures you'll have a constant supply of fuel. It'll put an end to the problem of running out of gas at the worst possible times. Combination grills are also available. They allow outdoor chefs to enjoy the benefits of charcoal and gas. Keep in mind that electric grills are an option as well.
Choosing the Right Size
Finding the right size grill for your outdoor kitchen is also essential. Consider how much outdoor cooking you do and how many people you'll typically be feeding when deciding on the perfect grill size. Many people feel bigger is better, but it's best to think about the amount of space you have for the grill before purchasing the largest one that's available. Remember, you'll want to save room for storage space and other appliances and fixtures. On the other hand, choosing a grill that's too small may leave you with a case of buyer's remorse.
Getting the Perfect Built-In Grill
Built-in grills are a must for outdoor kitchens, but not all are created equally. Be sure to consider the type of grill you'd prefer whether it be charcoal, gas, electric, or a combination model. Take size into account so you'll be sure to pick a model that accommodates your needs without taking over the entire outdoor kitchen. These factors will go a long way toward ensuring you're able to enjoy your outdoor kitchen to the fullest extent and make the most of the investment. 
---