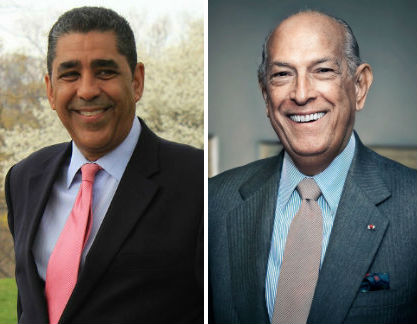 Congressman Adriano Espaillat issued the following statement regarding today's unveiling of the United States postage stamp honoring Dominican-American fashion designer Oscar de la Renta:
"I commend the United States Post Office for today's unveiling of the Forever© stamp honoring Oscar de la Renta," said Rep. Espaillat.  "As a lifelong friend, I dearly miss Oscar and care about honoring his work and his memory.
"To me and so many Dominican-Americans, he was more than just a designer, he was a friend and a pioneer.  As the first Dominican-American in Congress, it is my goal to highlight the achievements of those who have contributed to American society and culture.  Though Oscar was highly regarded by some of the most prominent figures of our time, including First Ladies, he maintained his humility and never cast aside those who were less fortunate.
"His creativity, resourcefulness, and love for life are admirable characteristics that made him a true national treasure.  Oscar was widely known for his love of country and deep affection for the Dominican and Dominican-American community.
"I am proud to see Oscar's legacy honored and hope to keep his memory alive. Oscar, estamos muy orgullosos de ti.
---
Become a Harlem insider - Sign-Up for our Newsletter!
---
"The Oscar de la Renta stamp is a beautiful and fitting tribute to his life and the contribution he made to American culture.  His legacy continues to inspire those who he mentored and among those who admired him for his signature sophistication and creativity."
Related Articles
---
VIDEO
---
"Dr. Harry Delany is a renowned Harlem born and raised surgeon, the son of the great jurist and civil rights leader, Hubert Delany...." This monthly post is made in partnership with Harlem Cultural Archives.