---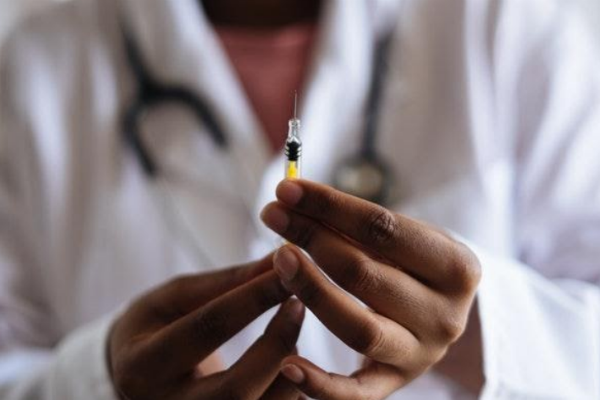 The Health Department today announced that New York City's historic COVID-19 vaccination campaign has prevented an estimated 48,000 deaths, 300,000 hospitalizations, and 1.9 million cases.
This has happened since the start of the vaccination campaign in December 2020, based on an analysis conducted by epidemiologists at Yale University and supported by the Health Department and the Commonwealth Fund.
Over 77% of New Yorkers of all ages are fully vaccinated and over 17 million doses of vaccine have been administered in New York City to date.
"COVID-19 vaccines have saved so many lives and prevented an immense amount of suffering," said Health Commissioner Dr. Dave A. Chokshi. "Nearly 48,000 New Yorkers will celebrate another birthday this year due to the power of vaccination."

"COVID-19 has upended so many aspects of our lives, but New Yorkers, in overwhelming numbers, have continued to do the right thing" said Dr. Celia Quinn, Deputy Commissioner for Disease Control. "My thanks go out to every New Yorker who has done their part to flatten the curves by getting vaccinated, boosted, and following public health precautions."
"Our analyses demonstrate that the vaccination campaign implemented in New York City has thus far saved 48,000 lives, as well as averted more than 300,000 hospitalizations and almost two million cases," said Dr. Alison Galvani, Director of the Yale Center for Infectious Disease Modeling and Analysis. "This extraordinary success is particularly noteworthy given the emergence of highly transmissible variants."
"The success of New York City's vaccination campaign, and the deaths and illnesses that have been avoided as a result, is a testament to what can be achieved when we invest in and support public health," said Commonwealth Fund President Dr. David Blumenthal.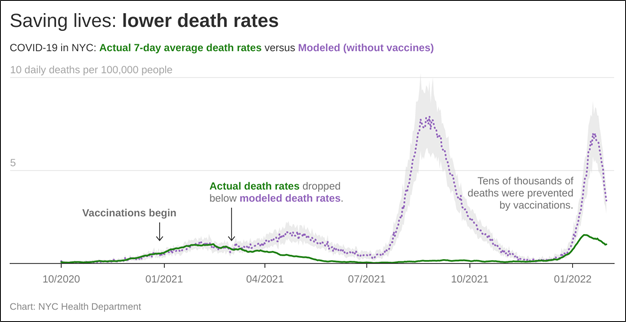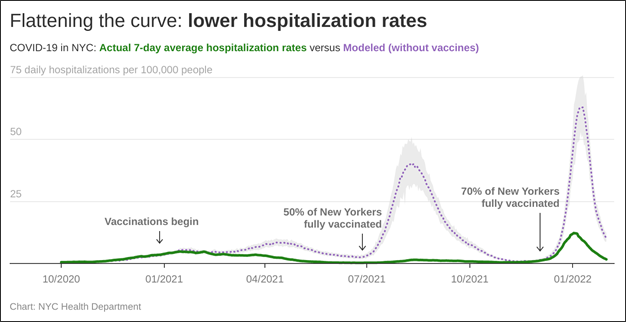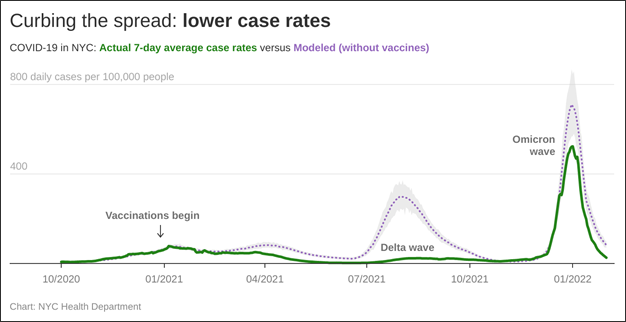 Methodology and Limitations
The analysis used New York City COVID-19 vaccination data and surveillance data to create models of COVID transmission and outcomes to estimate cases, hospitalization, and deaths that were likely prevented given the vaccination campaign.
The models have been peer-reviewed and published in JAMA Network Open, Proceedings of the National Academy of Sciences and  Lancet Infectious Diseases journals. The current analysis is an extension of an earlier peer-reviewed assessment of the NYC vaccination program.
This analysis has some limitations that affect how the results are interpreted. First, the model is unable to capture all infections citywide over time, only those confirmed and probable cases reported to the Department are included.
Second, the model does not account for hospitalizations and deaths averted by COVID-19 therapeutics, like monoclonal antibodies or antiviral treatments, which may overestimate the contribution of vaccines towards the averted outcomes.
Third, it is assumed for this model that vaccine uptake behavior was not affected by prior infection status. Finally, waning immunity for both naturally-acquired and vaccine-elicited immunity was assumed, based on published estimates in the literature.
The results described above capture the outputs of the model based on 95% credible intervals.
Get Vaccinated – and stay up to date on vaccines!
A fully vaccinated person is much less likely to get sick or spread the virus that causes COVID-19, especially if they have their booster shot.
New Yorkers who have not yet received their booster should do so as soon as possible. To find a vaccination site, visit nyc.gov/vaccinefinder or call 877-VAX-4NYC (877-829-4692).
Get Tested!
Testing remains an important part of reducing the spread of COVID-19. If you are feeling ill, believe you have been exposed, or have recently traveled or attended a gathering, visit nyc.gov/covidtest, text "COVID TEST" to 855-48, or call 311 to find a testing site near you.
Mask Up!
Masks are still required in certain settings, like health care facilities and public transportation. All masks should cover the nose and the mouth and rest snugly above the nose, below the mouth, and on the sides of the face.
Higher-quality masks, such as N95s, KN95s or KF94s, offer an additional layer of protection.
Stay Home!
If you are feeling sick you should stay home and leave only to seek appropriate care and testing.
---