---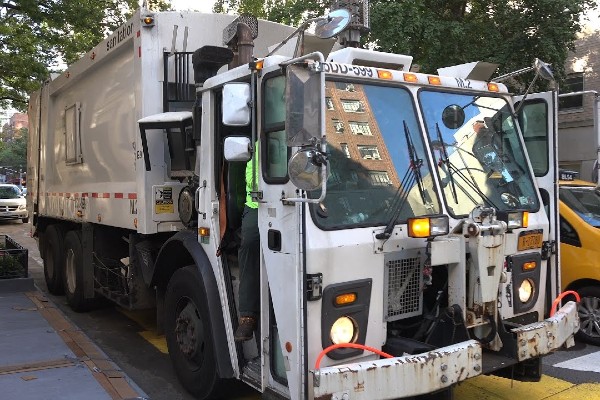 NYC Department of Citywide Administrative Services (DCAS) Acting Commissioner Dawn M. Pinnock and NYC Business Integrity Commission (BIC) Commissioner Noah Genel today.
Announced the release of a new roadmap to prevent injuries and fatalities caused by commercial garbage trucks. The report, titled Safe Fleet Transition Plan: Private Vehicle Crashes and Vehicle Safety Technology, focuses on ways to improve the safety of commercial garbage trucks through modified vehicle design.
Commercial garbage trucks were involved in at least 43 fatalities and 107 injuries in New York City from January 2010 through May 2019, the period examined in this report. The report examined the root causes of these crashes and identified steps to address the problem.
"Commercial garbage trucks pose unique dangers in an urban environment, but there are clear steps that can be taken to make them safer," said Dawn M. Pinnock, Acting Commissioner of the NYC Department of Citywide Administrative Services. "Enhanced vehicle design and added safety features can improve driver visibility and help operators navigate crowded city streets."
"Improving traffic safety in the commercial waste-hauling industry is an important goal of BIC's, and the guidance provided by this preliminary report has been crucial in furthering that goal," said Noah D. Genel, Commissioner and Chair of the New York City Business Integrity Commission. "This past summer, BIC issued new rules relating to traffic safety. Enforcement of those regulations, together with further educating the industry and working with our numerous partners on future efforts will help continue to make our City's streets safer."
Collisions involving commercial garbage trucks are on the rise nationally and there are heightened risks in urban environments. These large vehicles often have limited driver visibility and are more difficult to operate than other vehicles. To address the problem locally, the report, part of Mayor Bill de Blasio's Vision Zero initiative, offers four core recommendations:
Changing the design of truck cabs. Conventional truck cabs have limited visibility that increases the risk of collisions involving injuries or fatalities. Large trucks with conventionally designed cabs can have a frontal obstructed view of 20 feet or more. Since 2010, all fatal collisions in New York City involving a commercial garbage truck that was stopped and then put into drive, involved a cab with a conventional design. In 2017, the City of New York released its Safe Fleet Transition Plan for government trucks, which called for high vision truck cabs when available. This report reinforces the need for this design change for commercial garbage trucks. One way DCAS plans to put this finding into practice is through using the Volpe-developed VIEW Blind Zone app and database, which can help fleets buy the safest available vehicles.
Installing side guards. Side guards are barriers installed on the side of trucks to prevent vehicles, pedestrians, and cyclists from sliding under the truck during a side-impact collision. Side guards can result in a 40% reduction in fatalities compared to trucks without this technology. Under Local Law 56 of 2015, the City of New York began to install truck side guards on all City-owned trucks. The law also required all trade waste trucks with a gross vehicle weight rating over 11,000 pounds be fitted with side guards by 2024. In October 2021, the city council passed legislation that moves this deadline up by one year to 2023. The new law requires truck side guards for any trucks used under a City contract valued at $2 million or more, starting with new contracts signed on or after January 1, 2023. The City will provide information sessions about truck side guards to contractors and other interested parties throughout 2022.
Investing in vehicle technology. Technologies like surround cameras, safety lights, automatic braking systems, and additional mirrors can reduce fatalities and injuries. These and other technologies adopted as part of the City of New York's Safe Fleet Transition Plan for City fleet vehicles can also improve safety for private garbage trucks. DCAS is in the process of installing 1,500 surround cameras on City trucks. The Volpe Center, DCAS, and BIC will continue to work together on developing best practices for retrofitting technology onto commercial garbage trucks. BIC rules now also require certain commercial garbage trucks with conventional cabs to install a mirror to reduce the blind spot in the front of the truck, among other requirements.
Addressing visual impairments. Certain vehicle retrofitting devices, like bug deflectors, can increase visual impairment and pose an unnecessary safety risk.
"As part of Vision Zero, the City launched a Safe Fleet Transition Plan in 2017 to ensure that our fleet units were designed and specified for safety," said Keith Kerman, DCAS Deputy Commissioner for Fleet Management and NYC Chief Fleet Officer. "We have implemented over 65,000 safety improvements so far. The City Safe Fleet Transition Plan can now help serve as a model and roadmap for safety enhancements for commercial waste trucks and other private fleets."
"The U.S. DOT Volpe Center is proud to provide technical expertise to the New York City Department of Citywide Administrative Services and Business Integrity Commission," said Dr. Alexander Epstein, US DOT Volpe Center. "In addition to safer vehicle operators and roadways, safer vehicles can reduce the number of fatalities and injuries in the BIC-regulated fleets. Our initial analysis has led to a number of best practices that can be implemented, and we look forward to continuing to partner on fleet safety for Vision Zero."
"Studying the causes of collisions is an important aspect of running a safe, responsible business," said Noah Budnick, Interim Executive Director of Together for Safer Roads. "Safety requires a commitment to excellence and continuous improvement. What BIC and NYC Fleet are recommending as safety measures such as high visibility vehicles and side guards makes a lot of sense and can save lives. We applaud them and the entire industry for making this a priority."
The report was developed through the joint efforts of DCAS, BIC, and the U.S. Department of Transportation's John A. Volpe National Transportation Systems Center (Volpe Center). This report is also the first to be issued in conjunction with Mayoral Executive Order 53, which directs DCAS to promote fleet safety and sustainability across private fleets through a Fleets of the Future initiative.
Using the findings of this report, BIC created new safety rules for the trade waste industry that are now in effect. The rules include new requirements such as crossover mirrors for trucks with conventional cab designs, bi-annual truck inspections, annual safety training, and record-keeping requirements. In addition, BIC will use the findings of the report when considering additional rulemaking on traffic safety. DCAS will also partner with the trade waste industry to push manufacturers of garbage trucks to offer high vision truck options as standard features. DCAS has rolled outside guards, surround-view cameras, and telematics in its own fleet and is working with BIC to implement the side guard requirements of Local Law 108 of 2021 for the trade waste industry and some City-contracted fleets.
DCAS
The Department of Citywide Administrative Services (DCAS) provides effective shared services to support the operations of New York City government. Its commitment to equity, effectiveness, and sustainability guides its work with City agencies on recruiting, hiring, and training employees; providing facilities management for 56 public buildings; acquiring, selling, and leasing City property; purchasing more than $1 billion in supplies and equipment each year; and implementing conservation and safety programs throughout the City's facilities and vehicle fleet.
BIC
The Business Integrity Commission (BIC) regulates the commercial waste hauling (trade waste) industry and the public wholesale markets in New York City.
BIC's mission is to eliminate organized crime and other forms of criminality from those industries and provide customers and competing businesses with a fair market in which to conduct business. As of November 2019, BIC's jurisdiction also includes safety in the trade waste industry – and particularly traffic safety.
---