---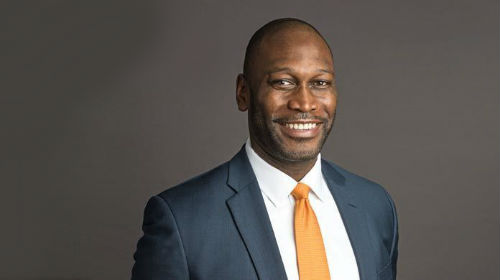 NYC Department of Small Business Services (SBS) Commissioner Gregg Bishop (pictured) and New York City Economic Development Corporation (NYCEDC) President…
…and CEO James Patchett today announced that applications are now open for a new apprenticeship program aimed at connecting New Yorkers to the 21st century skills needed to fill employer demands.The program, ApprenticeNYC, is the first program from the City's investment of $5 million to create 450 apprenticeships in the industrial, health, and tech industries over the next three years. The City will partner with nine local manufacturing businesses to provide participants with limited or no prior experience, with paid, full-time apprenticeships as computer numerical control (CNC) machinists. After the 18-month long program, apprentices will continue their full-time employment as a CNC machinist. A CNC machinist is a high-tech industrial position producing machined parts and, after four years of experience, can make an average salary of $25 per hour.
ApprenticeNYC is now accepting applications through April 14th for its first cohort of 15 participants. The program, which is led by SBS, is part of Mayor Bill de Blasio's  New York Works plan to create 100,000 jobs with good wages over the coming decade.
"As the economy becomes increasingly tech-focused, so must New Yorkers' skill sets," said Gregg Bishop, Commissioner of the NYC Department of Small Business Services. "With ApprenticeNYC, we're ensuring that New Yorkers have the tools they need to fill in-demand jobs in the advanced manufacturing industry."
"As we continue to build an economy for the future, we must continue to connect New Yorkers with forward-looking skills and opportunities," said James Patchett, President and CEO of New York City Economic Development Corporation. "ApprenticeNYC is a critical strategy in Mayor de Blasio's New York Works plan to create 100,000 good-paying jobs that are accessible, regardless of educational background. This initiative will equip New Yorkers with modern skills and open the door for a good-paying career in an industry that's growing."
Nine leading local manufacturing businesses have signed on as committed partners of ApprenticeNYC to provide New Yorkers with industry-approved training needed to fill the demand for CNC machinists in the local manufacturing industry. These businesses include:
Altronix
Boyce Technologies, Inc.
GAL Manufacturing, LLC
Architectural Grille
Lee Spring
Linda Tool & Die Corp.
Magellan Aerospace New York, Inc.
Rosco Vision Systems
Wiggby Precision Machine Corp
ApprenticeNYC will begin in May with nine weeks of hands-on skills training that covers the basics of being a CNC machinist to include machine operation, shop math, blueprint reading, and safety. Participants will also learn soft skills including communication, critical thinking, and problem solving. Employers will then provide participants with another 69 weeks of on-the-job training. Apprenticeship wages will start at $15 per hour with a series of pay increases throughout the training.
NYCEDC is providing the space for this program at Brooklyn Army Terminal in Sunset Park, Brooklyn. ApprenticeNYC will increase accessibility into the advanced manufacturing sector and feed into the vibrant industrial ecosystem at the Brooklyn Army Terminal, which is already home to over 100 businesses and over 3,500 jobs. In February 2018, the Brooklyn Army Terminal launched a Micromanufacturing Hub for small industrial firms to collaborate and grow within the campus.
Interested New Yorkers should visit nyc.gov/apprenticenyc or call 311 to learn more and register to attend a required information session on April 16th, 2018. This is an entry-level program; prior experience and formal education are not required to participate.
"ApprenticeNYC will provide Bronx residents and New Yorkers with the opportunity to develop a new, high-tech skillset that will enrich individuals and local manufacturing businesses," said Council Member Mark Gjonaj, Chair of the Committee on Small Business. "This innovative program will provide economic upward mobility for New Yorkers and represents a crucial investment in New York City's middle class.
"As we see the demands of our economy changing, we must ensure that we are supplying our workers with the skills needed to thrive in these new positions," said Letitia James, Public Advocate for the City of New York. "ApprenticeNYC is a critical program that will provide the tools and training needed to work in the advanced-manufacturing field, one that has traditionally been inaccessible for too many. I want to thank Commissioner Bishop for recognizing this need and ensuring we are preparing New Yorkers to fill these positions and succeed."
"ApprenticeNYC is a 'win-win' that will help City residents get valuable training and experience and enable local manufacturers to fulfill the demand for the CNC machinists they need to sustain and grow their businesses," said Melinda Katz, Queens Borough President. "ApprenticeNYC is an invaluable program that will help residents secure well-paying jobs and allow manufacturers to tap the skilled workforce they need to be globally competitive. The New York City Department of Small Business Services, led by Commissioner Gregg Bishop, deserves to be commended for spearheading this important program that will empower more of our City's talented and dedicated workforce to participate in the fast-growing advanced manufacturing industry."
"We are often asked, "Where do you get such great workers?" The fact is, we make them! Boyce Technologies has chosen to be a part of the ApprenticeshipNYC program because the synergy between us will help us in carrying out our commitment to investing in the lives of people, while contributing to the revival of manufacturing in Long Island City," said Charles Boyce, President, Boyce Technologies. "Through this program we will be able to acquire suitable candidates as we continue to mold and develop a technical workforce. We look forward to having great results from our collaboration."
"Architectural Grille is excited to have the opportunity to participate in the ApprenticeNYC Program and applauds this initiative of the NYC Department of Small Business Services," said Frederick D'Antoni, Special Project, Architectural Grille. "As a former educational administrator, I can attest to the importance of providing individuals with viable marketable skills, especially in a field such as manufacturing technology that traditionally experiences difficulty in locating qualified employees. By working collegially with NYC, not only will community members benefit by learning an employable and in-demand skill, but also our company will be able to hire a highly qualified CNC Machine Operator. A true quid pro quo."
"Lee Spring is excited to launch our participation in this program in conjunction with our 100th year anniversary," said Al Mangels, President, Lee Spring. "We hope and expect to establish a strong pipeline for our next generation of workers. We're happy that a comprehensive apprenticeship program such as this has arrived in New York City."
"For more than three decades, Altronix has continued to design and manufacture high tech electronic products right here in Brooklyn, which are marketed and utilized globally. We recognize the need to cultivate skilled workers to remain competitive, in order to bring manufacturing jobs back to NY and the US, and to ensure that our workforce remains relevant," said Alan Forman, President, Altronix Corporation. "ApprenticeNYC is a great career development initiative that will create additional high-value employment opportunities, and we are extremely pleased to participate."
For more information New York City Economic Development Corporation and find us on Facebook or follow us on Twitter, or visit our blog to learn more about NYCEDC projects and initiatives.
For more information on all SBS services, go to nyc.gov/sbs
---