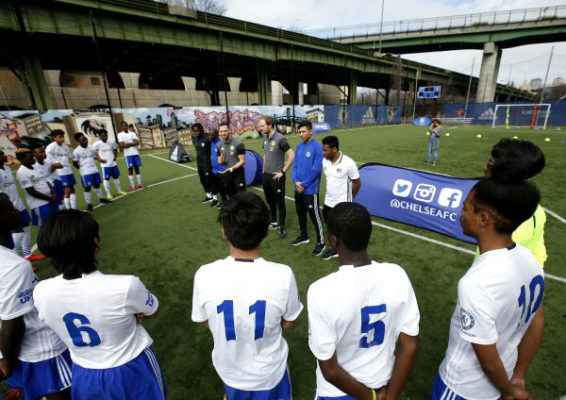 Sport Techie reports that Chelsea FC is best known as an English Premier League team, and it has also teamed up with Designit, a global design company, to integrate soccer and design at a camp for underserved communities.
The camp, now in its second iteration — the first was held in Southern California in 2016 — brings in students who are part of Harlem FC, an organization that provides opportunities for boys and girls in underserved New York City communities to play soccer and develop into leaders.
According to Nicole Okumu, Designit's Community Engagement Director, the Los Angeles-area camp last summer challenged teenagers in the area to create prototypes for equipment that combined soccer and technology to solve a problem, as well as an opportunity to practice their soccer skills under the guidance of Chelsea coaches. The New York camp has a decidedly different focus.
The students at the Harlem camp, which took place Saturday and also Feb. 25, got the same opportunities to hone their game with the help of Chelsea's coaches. Instead of creating a physical sports technology solution, however, they designed and coded their own microsites that display key attributes relating to their soccer skills and academics.
Last week, the students split into groups, created different design templates, voted on the best properties of each and decided on one final design that resembles a professional soccer player card. The driving idea was to think about what college recruiters want to see in a student-athlete, and to display those properties prominently on a webpage.
On the second day, the students will code their own HTML web pages and fill out the template with their information. For their skills on the pitch, they'll have the feedback of the Chelsea coaches with whom they practiced on the first day. The web page cards will also be hosted on the FC Harlem website.
"Everybody was excited, and I think that we were able to pack a lot of design thinking into a very short period of time," Okumu said.
Chelsea itself has been a key player in the junction between sports and technology. It has been partnered with Wipro, the recent parent company of Designit, and so it was natural for the Chelsea Foundation, the organization's philanthropic arm, to connect with Designit and put on a camp that instructs its participants in sports and technology. The Chelsea Foundation had already been working with Harlem FC before the camp was introduced in New York.
That relationship will pay off for the students down the road, as they'll be able to work with the Chelsea coaches and update their skills on the digital cards.
"What we're doing in this round is to create these digital playing cards, so we felt that it was important to both show them the whole process from concept to delivery — the process of collaborating in a group, and then the actual physically inputting of information into these templated coded cards — but then be something they can use as they move through their career as young people," Okumu said.
Related Articles
---
---