---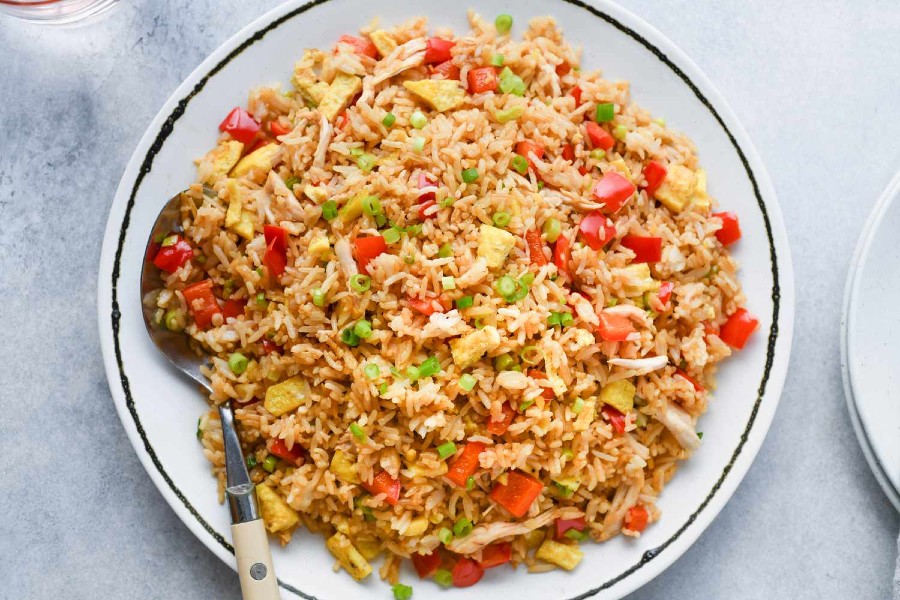 This is a healthy, dietary, and easy-to-prepare recipe from Peruvian cuisine.
Essentially, it is a sautéed rice with chicken known as arroz chaufa. It is said that this is the Peruvian version of Chinese fried rice.
Balanced and gluten-free, this dish is perfect for an evening or lunch meal that will also make you take you back to ancient Chinese times!
Since it is a traditional dish, we want to present to you this typical recipe from this South American country for you to try it. It is a stir-fried rice, which has its origins in Chinese gastronomy, but it differs from the Chinese recipe by adding sausage and cumin.
In this post we also want to offer tips and interesting information about this product.
Have the following ingredients at hand:
4 large chicken breasts.
500 grams of rice.
3 eggs.
1 chicken breast.
scallion.
Garlic, ginger, salt, chicken bouillon, lettuce, soy sauce.
To prepare this recipe just follow these directions:
Prepare the rice by adding a little ginger and soy sauce (to color the rice).
Beat the eggs with a little salt and then make an omelet.
Remove and chop into small squares.
Cut the scallion onion (green sprigs are used at the end) and add to the wok, with oil, garlic and diced chicken.
Add the lettuce.
When the chicken is cooked, add the rice and the egg little by little.
To finish, salt is rectified by adding more soy sauce (according to the taste of each one) and green sprigs of scallion previously cut.
As you can see, it is quite an easy dish to prepare and tastes delicious!
You can enjoy another delightful chaufa rice by preparing the recipe you will find in the link carolinarice.com/recipes/arroz-chaufa/. There you have this recipe described in detail for you to cook it right, following the directions given. Also some important cooking tips are provided and interesting facts.
Tips to make a delicious chaufa rice
An important aspect to keep in mind is that the intention is to fry the vegetables and the rice. That is why it is essential that the temperature at which we cook be high, so that food gets fried instead of cooked.
Chinese onions are always present in all the versions that can be made of this dish. If they are not available, they can be replaced by other vegetables. Since their flavor is somewhere between chives, spring onions and leeks, they can be perfectly replaced by any of these.
At the end, you can add a few drops of lemon and some homemade liquefied chili, the kind you always have in the fridge.
Rice is a staple food in many cultures and a good source of energy in the form of carbohydrates. For its consumption to be healthy, it is important to know the calories it contains. For example, 100 grams of fried rice have 160 calories, so the amount of calories contained in this dish depends on the rice. But be aware that its consumption in excess can increase the risk of obesity.
This arroz chaufa is an emblematic Peruvian dish that tradition says its name derives from the Chinese word chǎao-fàn, which means "fried rice".
As said, this delicious recipe comes from China, whose expert cooks collected the rice product of their work, and from the leftovers they made a mixture of what would later be called chaufa rice.
The expertise of these cooks has been transmitted through generations and created dishes that today are part of the daily Peruvian cuisine and many other countries.
It is already a famous and popular dish that cannot be missed in many menus and recipe books.
---