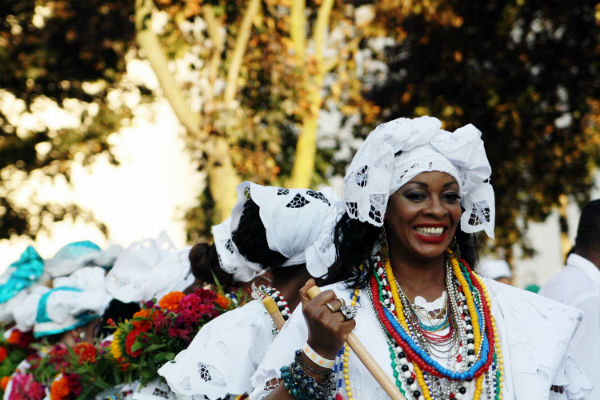 The Caribbean Cultural Center African Diaspora Institute (CCCADI) prepares for its much-anticipated move to an East Harlem Historical Landmark Firehouse with a series of fall programming that captures the spirit of the organization.
Known as the lead promoter of African and Afro-Caribbean traditions in New York City since its inception in 1978, CCCADI welcomes this transition period with activities that will give the community an introduction of things to come.
"CCCADI's programming is culturally grounded in the history and legacy of the past, present and projections for a balanced brilliant future for African and African Diaspora communities. That is our driving force, always, regardless of where we are. That said, our programs this Fall have extra significance because they give us an opportunity to share with our community what they can expect to see in an amplified version at the new site in 2016—our commitment to assuring equitable inclusion of our experiences in the cultural life of New York City." explained CCCADI's president and founder, Dr. Marta Moreno Vega.
On Friday, October 23rd from 3:00pm to 6:30pm, CCCADI offers New York City Educators free professional development opportunities rooted in the unique offerings of Touching Living Culture (T.L.C.) Arts Education Programs, CCCADI's multidisciplinary K-12 arts-in-education program in schools. The TLC Open House Event is presented at the Harlem School of the Arts (645 Saint Nicholas Avenue, New York, N.Y. 10030). The event will be followed by a theater performance of the renowned Afro-Cuban dance ensemble, Oyu Oro.
Starting Thursday October 29th, and each consecutive Thursday until November 19th, the organization presents Way of the Orisha: Sacred Songs with Frank Bell. Scholar and world-renowned Akpon, Frank Bell, will introduce attendees to specific Orisha groupings and lead participants through a participatory series of Orisha song information workshops. The workshops will be held at RAW Space at ImageNation (2031 Adam Clayton Powell Blvd.).
On November, 7th, CCCADI launches a series of events centered on the political arts movement in collaboration with the Department of Art and Public Policy, New York University; Institute of African American Affairs, New York University; and Institute for Research in African American Studies, Columbia University, The Art of Justice: Articulating an Ethos and Aesthetic of the Movement will present the ideas of early Black and Nuyorican arts movements that seamlessly married aesthetics and politics. As the conference will make clear, "Black Lives Matter" is one of the most recent manifestations of a long history of deploying art in the quest for social and political justice. The Art of Justice will explore these themes in an open format that encourages community participation. Renowned jazz pianist and composer Randy Weston will close the evening and the event will take place at New York University's Hemmerdinger Hall (Silver Building, 33 Washington Place First Floor, NY NY 10003) from 9:30 AM to 7:00 PM.
Together, these events mark the beginning of the organization's transition to its new home in East Harlem. In early 2016, CCCADI is set to move to the landmark firehouse at 120 E. 125th St., marking the new location for the nation's leading African-Caribbean cultural center in the neighborhood El Barrio.
For additional information: http://cccadi.org/
Related Articles