---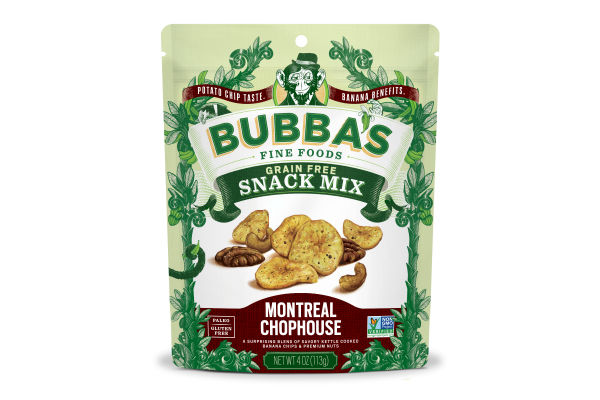 Put away the steak sauce and indulge your cravings the healthy way with Bubba's NEW Paleo Snack Mix! With this new mix, discover just how good real food ingredients seasoned just right can be. Bubba's Fine Foods, the purveyors of paleo-friendly snacks, is launching an all-new mix serving up their signature addictive crunch alongside a slew of zesty spices straight from the steakhouse.
The NEW Montreal Chophouse Snack Mix will be available in 4oz bags online starting August 6, 2019, and will hit store shelves on September 1, 2019. The new mix is inspired by the succulent flavor of a perfectly seasoned steak rub–minus the meat.
Bubba's has taken the starchy, prebiotic-packed saba green banana, sliced it thin, kettle-cooked it to crispy perfection and slathered it in Montreal steak spices. Protein-rich cashews and pecans round out the finger-licking blend for an energy-boosting snack that packs a punch.
Bubba's Snack Mix Highlights:
Made from green Saba bananas and kettle cooked for that perfect starchy crunch without the sweet banana flavor
Packed with vitamins, minerals, and prebiotics for gut health
Doused in nutrient-dense coconut oil and bold, natural seasonings
Project Verified Non-GMO
Paleo-Certified, Vegan, & Kosher by Earth Kosher
Grain-free, gluten-free, soy-free, dairy-free
Free of added sugars and artificial flavorings
Made in America
This new flavor will be available at all Natural Grocers stores. Bubba's Fine Foods other products are available for purchase at www.bubbasfoods.com, Amazon, Sprouts, Whole Foods, The Fresh Market, King Soopers, and select retailers nationwide.
---