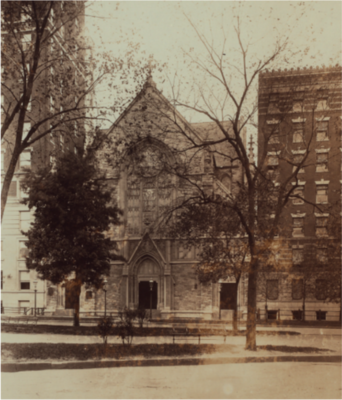 The Bloomingdale Reformed Church, 949 West End Avenue at 106th Street, New York, N.Y.. The Bloomingdale Reformed Dutch Church was founded in 1805 by Jacob Harsen and his neighbors in Harsenville, the area known today as Lincoln Square. At the time, yellow fever had broken out in the city below, and many residents wished to hold services in this safer location. In 1806, the society was incorporated as the Reformed Church of Harsenville, and was more familiarly known as Bloomingdale Reformed Church. From 1814-16, the congregation built a new steepled church with a churchyard and cemetery.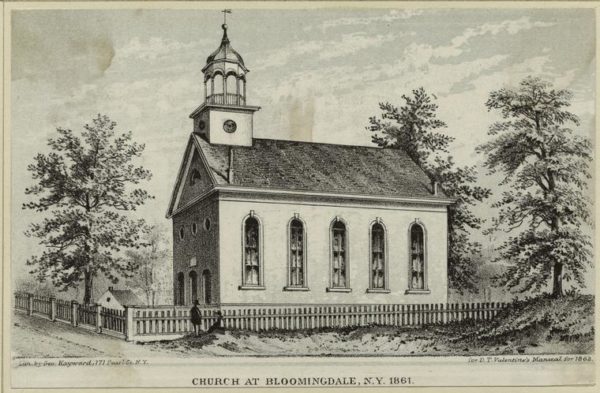 This building served for over a half-century until it was razed in 1869 when Bloomingdale Road was widened to form the Boulevard (known today as Broadway). A small portion of the churchyard and the burial ground were left.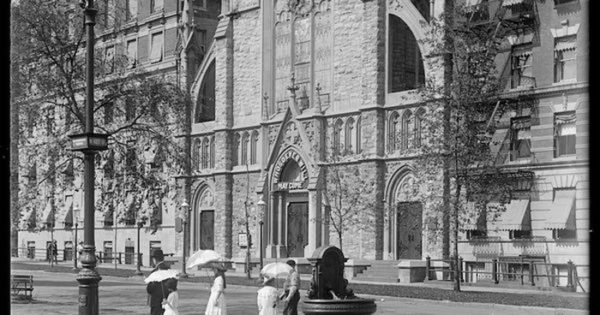 Fifteen years later, the congregation was reorganized and a new church was built from 1884-85 on the old site, by that time known as the northeast corner of 68th Street and the Boulevard. Designed by Samuel B. Reed, the Gothic-style edifice was faced with Kentucky limestone and had an eighty-foot tower topped by an eighty-foot spire. The church could accomodate 1000 people in the square, column-free auditorium. Reed also incorporated a Sunday school and parsonage into his design.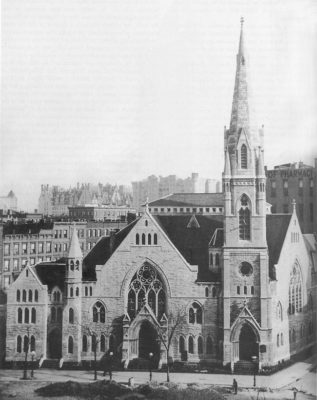 In 1905, the congregation relocated uptown to West End Avenue midblock between 106th and 107th Streets. Ludlow & Valentine designed the neo-Gothic edifice that was built from 1904-05. The church disbanded in 1913.
Via source. Photographs 1-5.
Related Articles
---