---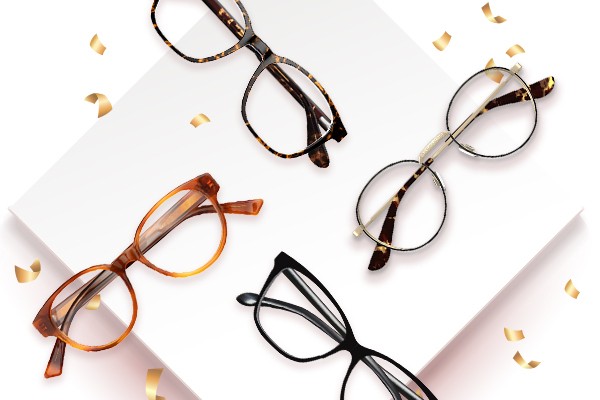 There has always been much debate regarding whether contact lenses are better than glasses.
The truth is neither is better than the other. Both glasses and contact lenses have their pros and cons in terms of vision, eye health, and convenience. Whichever one you decide to choose will depend on your personal preference with factors to take into consideration such as lifestyle, comfort, budget, and which you prefer the look of.
We understand that the decision-making process isn't always so straightforward and hence, this article looks at the advantages and disadvantages of the two so that you are well equipped to conclude for yourself.
Pros and cons of contact lenses
Contact lenses offer many advantages over glasses. One is that they don't obstruct your peripheral vision as they sit directly on the eye; this makes participating in certain activities such as sports a lot easier as they will not get in your way. In addition to this, you won't have to worry about them breaking or falling off. Here are the pros and cons of contact lenses:
Pros of contact lenses
Unobstructed vision – contact lenses fit perfectly onto your eyes
They don't get in the way of certain activities such as sports
You can experiment with your eye color with colored contact lenses
Unlike glasses, they won't fog up in cold weather, nor are they affected by rain or other weather conditions
Contact lenses will go with whatever you decide to wear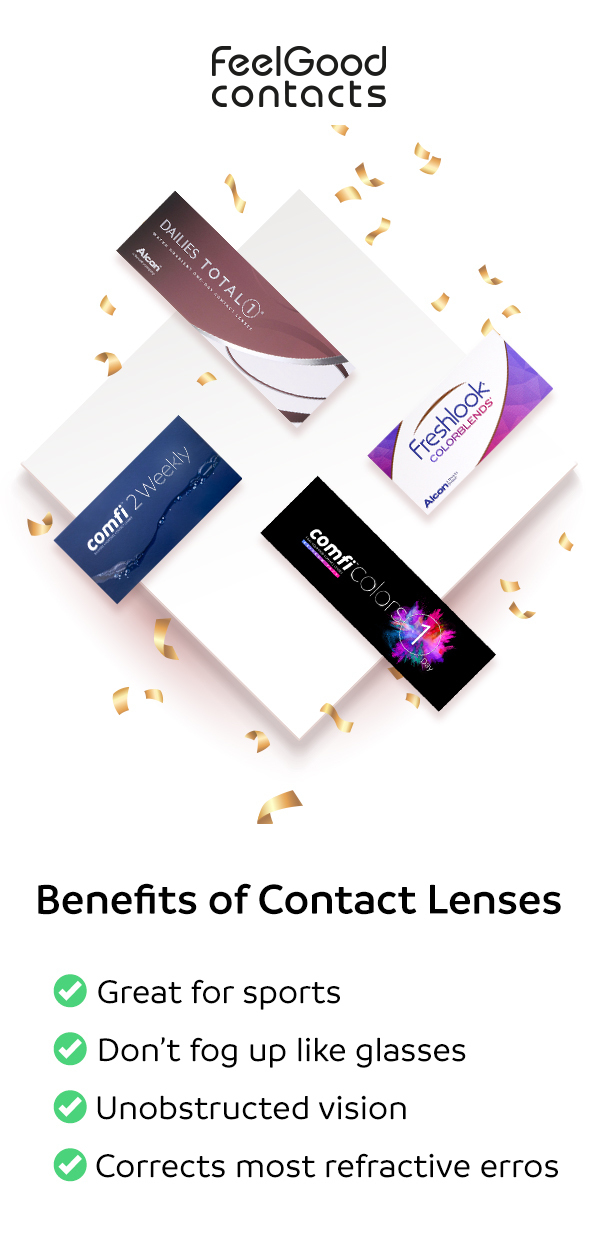 Cons of contact lenses
They need to be replaced more often than glasses and are therefore more expensive
Monthly and two-weekly contact lenses require cleaning
Some people have difficulty applying their contact lenses (although good practice and technique can overcome this)
Contact lenses reduce the amount of oxygen that's able to reach your eye; this can lead to dry eye
It's easy to forget you're wearing contact lenses which can run the risk of falling asleep with your lenses in. This is not recommended unless they are approved by your optician for extended use
Pros and cons of glasses
Some would argue that glasses are better than contact lenses as they require very little maintenance in comparison. In addition to this, they are also cheaper than contact lenses as they don't need to be replaced as often. Many find glasses an easier wear option as you don't have to touch your eye in order to correct your vision.
Glasses also offer a variety of lenses for your specific needs. For example, you can get photochromic lenses that darken when you're outdoors or exposed to UV light and turn lighter when you are indoors. This saves you from having to buy a pair of sunglasses and ensures that your vision is always clear and comfortable.
You can also get blue-light glasses, anti-glare glasses, scratch-resistant coated glasses, and more; the options are endless.
Pros of glasses
Glasses are cost-effective as they don't need replacing as often
They reduce the need for you to touch your eye and therefore reduces the risk of eye infections
You can choose from a variety of frames, allowing you to express your style
You can also choose from a variety of lenses to suit your lifestyle/vision errors
Glasses offer some protection from environmental factors such as wind, dust, and debris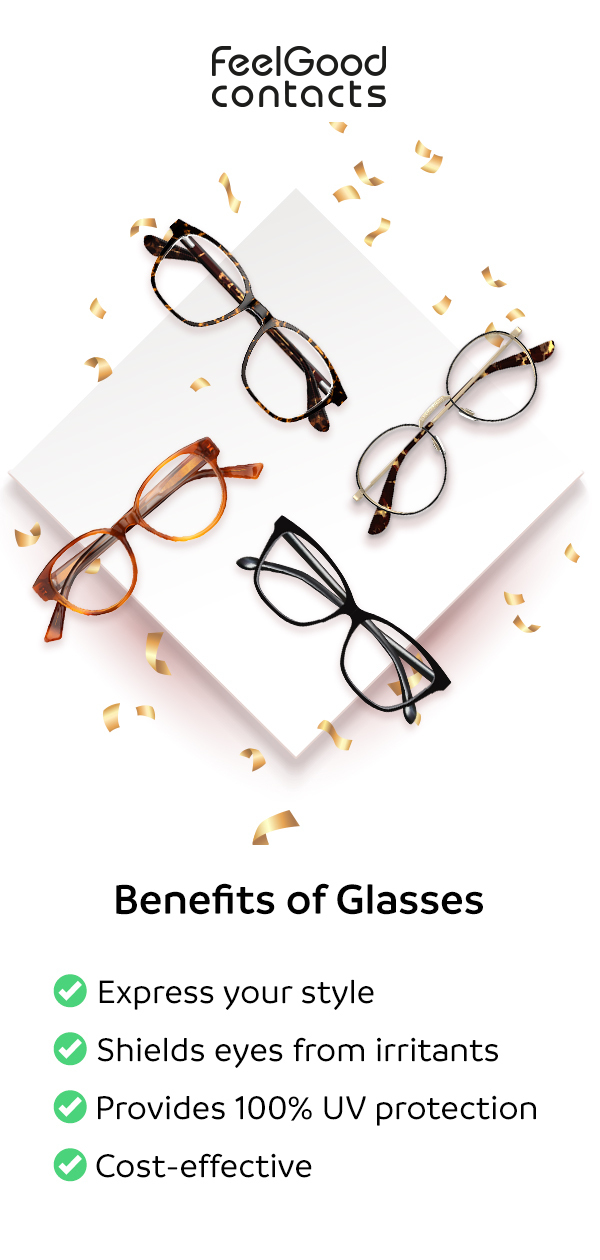 Cons of glasses
Glasses can obstruct peripheral vision and get in the way of certain sports and activities
Strong prescriptions can magnify or minimize the appearance of your eyes. The lenses may also look thicker and aesthetically unappealing
The weather can affect your vision while wearing glasses; for example, cold weather can cause foggy lenses
Some people don't like the way they look in glasses and feel that they may hide or detract from their features
The frames of glasses can put pressure on the nose and the ears
No matter whether you opt for glasses or contact lenses, it's important to have an up-to-date prescription when ordering online. Contact lens prescriptions are usually valid for up to 2 years. Once your prescription has expired, you should go for an eye exam to check your eye health and that your vision hasn't changed. You will then receive an up-to-date prescription.
Is it better to wear contact lenses or glasses or both?
Contact lenses have come a long way since their invention and thanks to advancements in technology, most people can wear contact lenses with no problems whatsoever, even if they wish to wear glasses as their primary choice of correction.
As you can see, both glasses and contact lenses have their benefits and disadvantages. Whichever you decide to go for, make sure you take into consideration lifestyle factors, affordability, and comfort.
For example, if you're someone who spends a lot of time in front of a computer, you may prefer to opt for glasses with blue light lenses to protect your eyes from the unwanted high-energy visible blue light given off from digital screens. These will minimize the effects of digital eye strain. If, however, you're someone who plays a lot of sports, you may prefer contact lenses as they are less obstructive and won't fall off during high-intensity activities.
While contact lenses are generally more expensive in the long run than glasses, you can buy contact lenses for the cheapest price in the UK and save money when you order online at Feel Good Contacts. Rated the no-1 contact lenses supplier on Trustpilot, here you'll find a wide range of contact lenses including daily contact lenses, monthlies, and even colored contact lenses for up to 50% cheaper than the high street. You can also enjoy other perks such as 10% off your first order, student discounts, tracked fast next-day delivery (when you order before 11:59 pm), and more.
The decision is therefore up to you; however, it's recommended that if you do wear contact lenses full time, you should have an up-to-date pair of prescription glasses, just in case you need to give your eyes a break or happen to encounter an eye infection.
---