---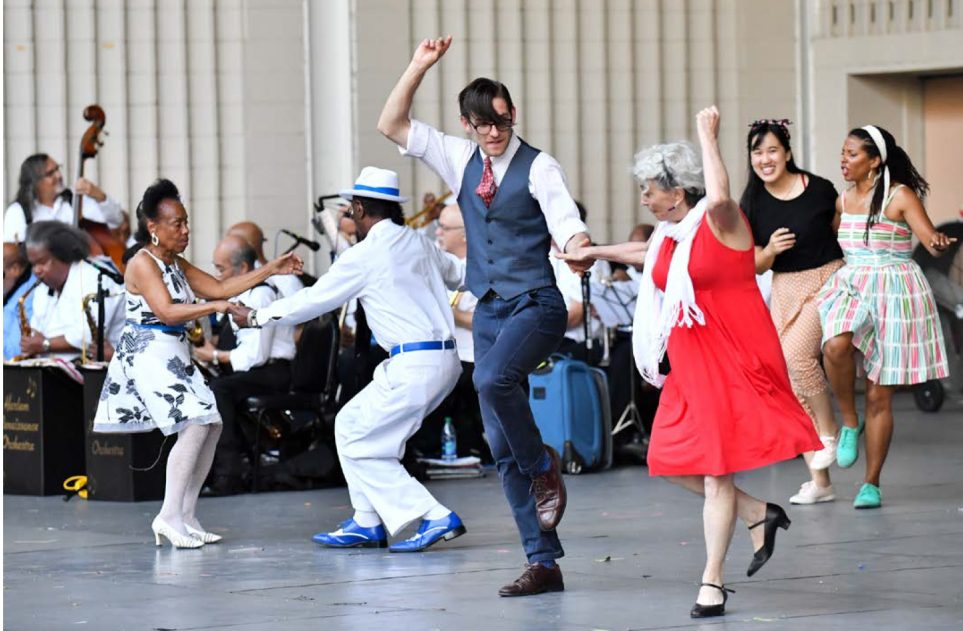 Today, the Upper Manhattan Empowerment Zone Development Corporation (UMEZ) announced the eight dance grantees for the first of two grant cycles supported by the Mertz Gilmore Foundation.
All dancemakers will be awarded $5,000 for grassroots dance projects taking place in Upper Manhattan between January 1, 2022, and July 31, 2022.
The awardees are as follow:
Julia Bengtsson, choreographer

Jenny Boissiere, choreographer and dance artist

Garnet Henderson, dancer and choreographer 

MODArts Dance Collective, established by Leah and Shaun Tubbs

Sydnie L. Mosley Dances (SLMDances), founded by Sydnie L. Mosley

Leonardo Sandoval & Gregory Richardson/Music From The Sole

Oyu Oro Afro Cuban Experimental Dance Ensemble, created by Danys "La Mora" Pérez

The Harlem Swing Dance Society, led by Allison Jones
"We congratulate the selected artists and look forward to seeing their performances in Upper Manhattan," said Blair M. Duncan, president and CEO of UMEZ. "These awards have been made possible thanks to the Mertz Gilmore Foundation, and together we are pleased to drive funding to our cultural community in Upper Manhattan."
UMEZ is grateful for the dedication of the following jurors who had the difficult job of adjudicating the selection:
Andrea Snyder, co-founder/co-director, American Dance Abroad and program advisor, South Arts' Momentum Program

Danni Gee, dance curator, City Parks Foundation/Summer Stage

Monique Martin, creative producer/arts consultant
The inaugural UMEZ Mertz Gilmore Seed Fund for Dance was created to reach deeply into the Uptown dance community in search of talented artists and organizations not usually eligible for other grants offered by funders in the philanthropic field, who typically require applicants to be incorporated nonprofits with budgets of $250,000 or above.
"The inaugural round of the Seed Fund for Dance magnificently realized Mertz Gilmore's aspirations to be more responsive to the dance field, especially by positing decision-making close to the ground. A streamlined application process, high-touch technical assistance, and deep local engagement enabled UMEZ to connect with a great number of small-budget dance groups," said Leah Krauss, Senior Program Officer for Dance and Special Projects, Mertz Gilmore Foundation. "The range of genres and aesthetics represented – tap, fusion, jazz, Afro-Cuban, improv, Lindy Hop, contemporary, and folk – testify to the creativity flourishing in Upper Manhattan. Mertz Gilmore Foundation thanks UMEZ and the panel for their dedication and hard work in helping to build a resilient future for dance. And we are honored to partner with such an inspired dance community."
The UMEZ Mertz Gilmore Seed Fund for Dance will have one more opportunity for eight additional grantees to be selected.
The application window will be from Tuesday, January 11, 2022, until Friday, April 1, 2022, at 5 p.m. EDT. The project activities for the second cycle must take place between August 1, 2022, and February 28, 2023.
The UMEZ Mertz Gilmore Seed Fund for Dance supports individual dance artists, ensembles, collectives, and nonprofit organizations with annual budgets of $250,000 or below in their pursuit of a project that expresses their artistic vision.
Applicants are encouraged to use funds to pay artist fees, recognizing that for communities to benefit most from artistry, artists must thrive.
Projects must be available to the public and can be performances, workshops, trainings, arts education activities, and other ventures fostering community engagement through dance.
For guidelines and application to the UMEZ Mertz Gilmore Seed Fund for Dance visit umez.org/seed-fund-for-dance. Images of the Cycle 1 grantees are included here.
UMEZ is an independent not-for-profit corporation whose mission is to sustain the economic revitalization of all communities of Upper Manhattan through job creation, corporate alliances, strategic investments, and small business assistance.
UMEZ is part of a national network of certified CDFI Funds that promote economic growth by financing businesses, creating jobs, and rebuilding neighborhoods. UMEZ facilitates economic development in the neighborhoods of Central, West, and East Harlem; Washington Heights; and Inwood. 
---