---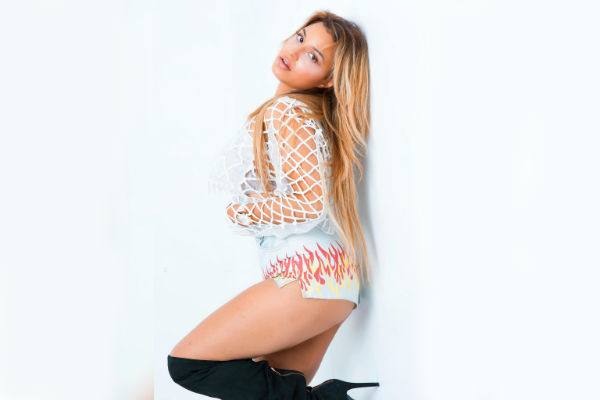 By Robert Walker
In the movie, "Birds of Prey and the Fantabulous Emancipation Of One Harley Quinn", we see that the comic book characters each have their special abilities and that one of the characters, "Black Canary."
She has singing abilities with a hidden aspect of her vocal gift that can break glass, or worse, like being able to blast away would-be attackers. It is her source of strength that she uses to empower those around her.
Amanda Holley is the New York-based singer who just might fit that description as a real-life "Black Canary" possessing a five-octave range voice that very few singers have.
Like Mariah Carey or Whitney Houston before Amanda, or Minnie Riperton before Denise Williams, there is that gift of voice that allows them the ability to sing higher than the average voice, giving them a special quality to sing out in ways that touch the hearts of those who hear them.
Music is in Amanda's blood. It has been said that she sang even before she could speak. Her voice could sometimes be heard from the rooftops of Newark, NJ where she would dwell for some months of her infancy with her musical mother & her guitar-strumming father. From the age of two, Amanda has been a violinist and self-taught pianist and an actress since age 7 performing in leading roles over a dozen times Off B'Way as a child and teenager and in indie films and is a member of the AEA. From age 8, Amanda was mentored and trained by Tony and Emmy winning actors and began training her voice with Juilliard Prep Professors at age 10 which would prepare her for her development as a music artist collaborating with and being developed by Oscar and Grammy-winning producers and composers. The multi-ethnic, biracial (African American, Italian, Cherokee, Egyptian) Amanda Holley practically lived in the orchestra pit while her mother (Manhattan School of Music) would play some of the greatest musicals and symphonies were ever written on her cello. Amanda's father, Gregory Clarke Holley, wrote songs for Sarah Vaughn, and her aunt Pat Holley (Juilliard), is a songwriter and arranger who discovered, trained and wrote for Stephanie Mills.
Amanda is also a lyrical talent and musician and has won multiple awards and scholarships, along with a prestigious publication with Columbia Press at the ages of 16-18. As a 15-year-old, Amanda began training major recording artists for Motown and Sony A&Rs and by age 16, Miss Holley began training Multi-Grammy winner Lauryn Hill for two consecutive years multiple days each week and helped her rehabilitate her voice.
"Music is who I am. I never woke up and decided to be a singer – I always have been and always will be. I eat, sleep, and BREATHE music. I cannot wait to share my story of tragedy, overcoming, strength, hope, and LOVE with the world through my music!".
Amanda's first release, debut single "FEENIN" on Tommy Boy Warner Bros. produced by XXL FRESHMAN CLASS PRODUCER OHKAYLAWS, has gained Amanda recognition both in the USA and worldwide with features on iHeart, MTV.com, & radio nationwide on over 30 P1 stations and charted in the #1 position on multiple internet stations and DJ charts with over 10 million listeners worldwide.
I was able to interview Amanda recently about her music career and her inspirations.
Q&A with Amanda Holley
Amanda, Thank you for taking the time out of your busy schedule to do this interview for our readers here on HubPages and other publications where this article will be seen.
RW: We first met last November in Beverly Hills in 2019. Since then much has happened that none of us could have predicted for this year with the pandemic, COVID-19 coronavirus. So, my first question is, how are you doing and how tough has this been being a singer and performer?
AH: That was such an awesome day!!! It's so hard to believe that was almost a year ago! Honestly, not being able to perform live with people and vibe with the energy of the crowd makes me feel like part of me is missing . . . that coupled with missing my team both here and in LA along with my fellow cast members is just challenging. My team is my family. The stage is where I feel the most alive. However, I am thankful that everyone I care about and work with is safe and healthy. That's all I can hope and pray for right now.
RW: I alluded to your singing at the on-set of this article about your gifts as a musician and vocally, and I mentioned people like Minnie Ripperton, Denice Williams, and Mariah Carey who also were noted singers with that special extra octave range vocally. What age were you when you discovered you had the gift to sing, and also when did you learn of your octave range? Please explain to our readers what that means as a singer.
AH: I didn't really know there was anything special about singing as a little girl. It's just what we did at home. My mom could sing in addition to being a concert cellist . . . she told me my dad sang and played . . . My family and family friends would always ask me to sing at holiday gatherings . . . some would cry. I also played the violin from age 2.5 . . . My mom would take me to sit in the orchestra pit when she would play and people would sing on stage. I assumed this was what everyone did and that, someday, I would do the same. I had an extremely difficult childhood . . . filled with adversity and pain and tragedy, even homelessness – however, my music kept me going. When I saw Whitney on TV back in our Newark apartment, I knew I was supposed to sing to the world just like she did. I was no more than 3 at the time. My mother loved Mariah and Whitney and Aretha, she also played a lot of Motown records. I would just sing along. I felt so strongly as a musician that I had to live up to their performances.
It was my school music teacher, my aunt's friend who was director of Juilliard Prep, and my dad's sister – my aunt – (she went to Juilliard, discover, trained, wrote for, and co-managed Stephanie Mills, worked with Denise Williams, Shirly Verrett, etc) who explained to me what my range really meant. I started following along with Minnie and Mariah in elementary school but really didn't understand what it meant to have this range until I met my aunt in the 4th grade. I'm not one of those singers who believe the range is everything because there is so much beauty and power in the human voice.
Billie (Holiday) used minimal range and she changed music forever . . . This beauty and power come in so many forms and colors . . . but my range brings me just the most incredible feeling of freedom – my instrument has gotten me through so many insanely difficult times through my childhood, teen, and young adult life emotionally, physically, spiritually . . . there is power in frequencies – and I'm so thankful for the gifts I've been given by the Creator.
RW: In the recent movie "Bird's of Prey, The Fantabulous Emancipation Of One Harley Quinn", one of the characters is "Black Canary" (played by Jurnee Smollett who the both of you are close in looks – you could have played that role). Black Canary had some superhuman vocal range where she could crack glass (among other things) with her voice, does your vocal ability allow you to do any earth-shattering things like that?
AH: (laughs) I'm a fan of Jurnee and LOVE that so thank you :). You know, it's so funny – it is a pretty insane feeling when standing in the middle of Times Square and feeling your voice bounce off of buildings. I've filled city blocks and skies from rooftops and the street, shaken rooms, and buildings so many times and had to soundproof every apartment I've ever had lol. I've been known to rattle floorboards and walls quite a bit and yes glasses too. My favorite is filling city streets – no microphone – just the power of soundwaves. I'm 5'6″ and kind of petite . . . but in those moments, I feel like a giant.
RW: Singing is not your only skill set musically, you also play the piano. Do you play any other instruments, and were you trained, or was that another gift that you discovered you have?
AH: I play the violin and piano and write . . . sometimes I pick up my mom's cello. I stared with about year's worth of lessons at age 2 and a half at Montclair State University's Suzuki class . . . then went on to just keep playing. We didn't have much, so my mom would show me things as I went . . . but mostly I played by ear until the music got so advanced I had to learn to read. I couldn't play the Bach Double by ear lol. As for the piano, I started teaching myself at 4 years so I could keep up with my song ideas . . . I told my mother I heard angel voices in my head. Finally, I realized those "angel voices " were unwritten melodies and orchestrations and I played so I could better show people what I was hearing. Mom explained to me that that was how Mozart did it and I assumed that was the way I had to learn to communicate my music as well.
Then, my 3rd-grade music teacher, Bob McHugh, gave me piano lessons on his lunch breaks twice a week which was so generous and kind of him. I would take what he gave me and sit at the keyboard for hours. He was also the first person to have me perform for hundreds of people and the first person to help me record an original song (also in elementary school). He showed me so much kindness I learned what kindness really meant. After that, I met my aunt and found out she was a songwriter as was my dad . . . she sat me down and wrote out the scale formula and chord structures. From there, I just kept going.
RW: Who were some of your music influences coming up, and do you come from a musical family?
AH: My mother went to Manhattan School Of Music for cello (one of 4 out of 5000 applicants and on a full scholarship). Mom also played guitar and sang, played in symphonies and B'Way Orchestra pits (which evolved into my being a child performer in NYC and NJ). Once I met my father, I understood why I was a songwriter. He wrote for Sarah Vaughn and his name is on the records even though, as a black songwriter back in the day, he never got his royalties. His sister as I said earlier was a Juilliard educated arranger and songwriter, sang with Oscar Peterson in the NYC clubs . . . discovered, managed, wrote for, trained Stephanie Mills among others . . . and Dad's brothers were in a group on Warner Bros back in the day called the Mello Gents . . . My aunt's best friend and writing partner is Dennis Doc Williams (30+ year Musical Director of the OJ's) who mentored me and later became my musical director. It was amazing meeting everyone as a little girl and understanding why my life was not conventional – that I needed to be born into a family of musicians. "Uncle" Dennis has known me since I was a little girl. He was the one who said to me "you're a pop star" – you have to do this.
I always loved divas and true vocalists growing up – I definitely have an old soul. I survived on Billie, Aretha, Ella, Whitney, Mariah, Minnie, Brian McKnight, Stevie Wonder, Usher, Lauryn Hill (who I ended up training for 2 years as a teenager), Natalie Cole, James Brown, Christina Aguilera, and looked up to Beyonce's style and confidence and liked Alicia Keys' musicianship while growing up while a lot of my friends were always on some super new. I went through various obsessions with Prince, Queen (Freddie Mercury is a BEAST), Panic! At the Disco, Rihanna, Chance The Rapper, Biggie Smalls of course, Tupac, Al Green.
I'm obsessed with voices and emotions. I love everything from classical to theater to jazz. I really feel absorbing and performing every genre is part of what enriches me as an artist. The music feeds and fuels my soul and being and expression. I crave all great music constantly.
RW: Who are some of the singers out there today that you like and listen to?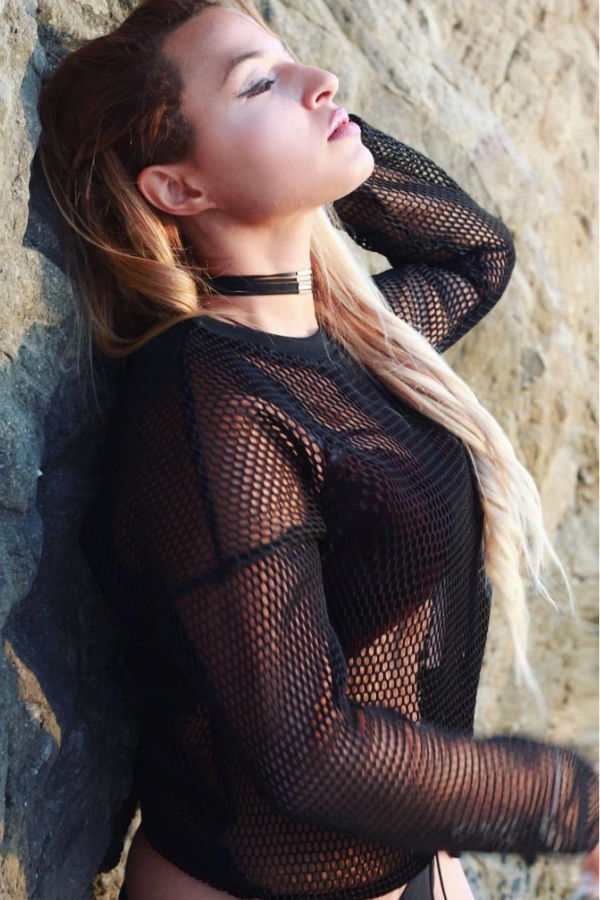 AM: For current artists? I LOVE The Weeknd, Adele, Sia, Juice WRLD, Drake, Future, Chance The Rapper, I have a lot of respect for Khalid, Halsey, Billie Eilish, Sia, Sam Smith, Daft Punk, Disclosure, Kid Kudi, and I love what Childish Gambino is doing artistically. Music has changed SO much really, but I can fall in love with any music that comes from a raw and honest place. Of course, I still listen to the throwbacks . . .
RW: What genre of music are you professionally classified as being identified with? R&B, Pop, Neo-Soul?
AH: I'm technically a pop/r&b/soul singer/artist . . . but that category doesn't really exist anymore lol. So we say Pop / Rhythmic Crossover or Pop/Soul. Honestly, I'm an R&B/Soul Singer . . . but I am a Pop artist.
RW: Do you write your own music, and what is your latest single release, and who did you collaborate with on the song (producer)?
AH: I write most of my own music either alone or as a collaboration. Our latest release, "Runaway" is up for a re-release now with a new partner . . . TBA (very excited about it). I co-wrote it with Cecily Wagner and producers Davis Chris and Shane Foster who are know all over the Top10 iTunes Charts! We have about a dozen records together.
RW: What's your current single release, and is there a new single coming soon, are you working on an album or just singles currently?
AH: The album has been ready for release since before the pandemic. I have a few albums worth of music and CAN'T wait to put them out! I have hundreds of songs recorded with multi-Grammy and Oscar-winning producers and composers. Right now we are in the middle of a re-release of the first single since my Tommy Boy Warner Bros. release and will be doing this with a new label partner.
RW: Speaking of collaborations, you have surrounded yourself with some pretty dynamic people to help you on your professional journey as a musician. I am referring to Mr. Ralph Cooper, II. Ralph is your manager? Tell our readers who Ralph is, and how did you come to meet him and begin to work with him professionally? Who are some of the people you work with as well?
AH: Ralph is my manager and I am so thankful to have him on the team! His dad created amateur night at the Apollo, hosted it for 30+ years, discovered Billie Holiday, Ella Fitzgerald, put Aretha on the map, along with countless other icons of American Music. Ralph himself also produced the show for 12 years at NBC, had his own label at MCA/Universal, discovered and signed Ice-T the rapper, produced and wrote numerous major films included one I have the title track on "Sharon 123" out now on Showtime (directed by Mark Brown the creator of the Barber Shop movies). Ralph has such a deep understanding of what it is to build a legacy. He understands that I plan to be here for hundreds of years and want to move the world and the universe and fight for me and the integrity of what I know I've been put here to do. I met Ralph through my business manager Bert Padell (the Godfather of the music industry). Bert was an absolute legend and we just lost him recently. You could say he and Ralph saved my life after my first manager Phil Ramone died. Phil was an 80 time Grammy winner and a Godsend. I felt so lost when he passed away. Ralph and Bert swooped in like Superman for me. Ralph and I also had a producer I worked with who wanted us to work together. The synchronicity was amazing.
RW: Are you signed to a major music label or an independent label? And, what is your goal musically with your recording career? Do you plan to have your own label eventually and sign other artists?
AH: I first signed with Tommy Boy at Warner Bros. As of now, we are working with a major on the release of the singles and album. My dream with my career is to affect billions the way I was affected and saved by powerful, passionate, true music. I will do everything I can, guided by the Creator, of course, to have that massive platform in the world so I can help others like me!
RW: You have had some pretty awesome concert performances over the last few years. Tell our readers about some of the places you have performed and what were some of the shows you have done?
AH: The most unforgettable moment was definitely playing and singing my own music at Carnegie Hall under musical director Myron McKinley (Musical Director of Earth, Wind, and Fire) in a show produced by Michel Pascal (spiritual healer, leader, partner with Deepak Chopra, the Dalai Lama). I've had such an amazing time touring with Style Fashion Week in NY and LA for 5000+ people on the 100ft runway with my dancers, playing events at Coachella such as Combschella, performing and headlining at legendary places such as Toads Place in CT, the W Times Square and Hollywood, Highline Ballroom, singing for and with the African Monarchs at the United Nations, Funk Flex's Franchise Record Pool, and even intimate venues like Rockwood Music Hall. Each show means everything to me. I really can't wait to fill Madison Square Garden one day in the not so distant future.
RW: What else is on the agenda for you Amanda professionally? Will we eventually see you acting, or modeling, and do you have any desires to have your own fashion line perhaps, or be involved in the beauty industry in some way, which seems to be the natural thing to do to really secure artists financially?
AH: I grew up on NY Theater stages as both a singer and actor and am in the Actor's Union . . . so I'm excited to branch into TV and film and venture back to the theater as my career grows – fashion is another love of mine for sure! Right now, I'm one of the stars of a new reality show backed by some pretty powerful and amazing people starring E! Entertainment's Acting Coach To The Stars, Bobbie Chance! It's exciting, humbling, and so meaningful to me! My music is who I am – I'm a born singer/composer – while my love for acting is another part of me and always has been ever since I was 3 and I can't wait to share that as well. One of the hardest things about the pandemic has been not being around my director – Bobbie Chance. Bobbie trained everyone from Scarlett Johannsen to Ryan Reynolds, Giovanni Ribisi, Brad Pitt, etc. She has helped me grow so much – She has brought me to levels of emotion I was running away from – levels that have affected my art in every capacity. Bobbie also taught me not to be afraid of what I am and being a force in the world and in the industry and to stop limiting myself. I can't wait to get back to our work together and prepare for what is to come in TV and Film!
RW: Where can our readers find you on social media, and are there any plans to do any live ZOOM performances as we continue with this quarantine?
AH: I can be found @listentoamanda on Instagram. The day before the shutdown, I did a live streaming performance event with Franchise Record Pool founded by Funk Flex. I performed all of the music from the album. Over the quarantine, I did an interview with Dr. Bob Lee of WBLS and that aired live throughout the 5 boroughs of NYC. We are considering & planning some streaming performances with the label right now. I really miss live shows so much!!!
RW: If you were asked to come to a music school and speak to a graduating class of young people about to embark on a career in music, what words of encouragement would you Lahore with them?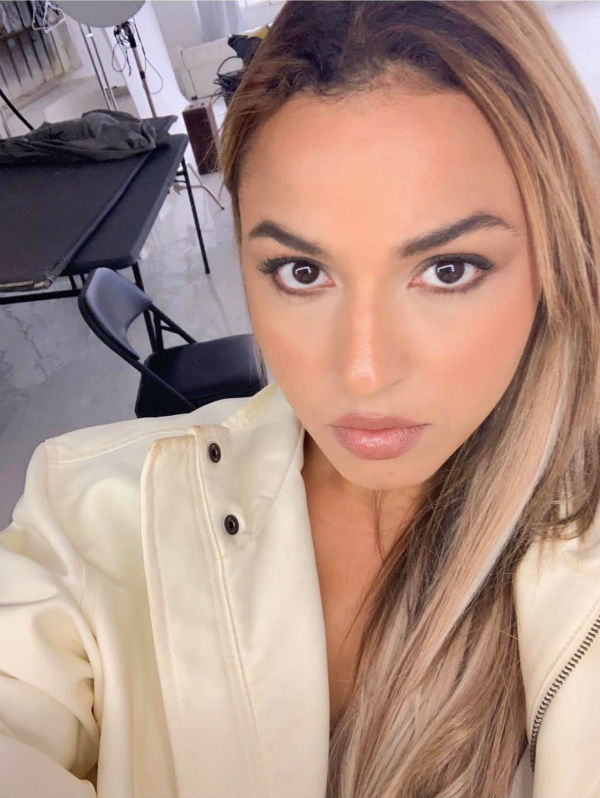 AH: If I were asked to speak to a graduating class today . . . hmmm . . . I would say that the world needs more "pure of heart" artists. We are the ones that shape our universe and planet. We can bring millions of people together in one 3 minute song – and our work is eternal. It's important to understand our gifts and our power and move forward in courage. I always say I will die fighting for what I believe in and what I was put here for. If you have that truth and passion in your soul, you will get to where you belong. I believe that wholeheartedly.
Amanda, we expect even bigger things for your artistry on the horizon and hope that you will allow us to follow up with you in a future chat about all the new stuff coming from you musically. Thank you.
Read more Robert's World here.
Robert Walker is an award-winning writer. As a freelance Public Relations Consultant, Robert's clients included the NBA's only licensed female designer of women's sports apparel, Deborah Williams of Her Game 2; The Sickle Cell Anemia Disease Association of America; Gospel Artist, 2009 NAACP Image Award nominee, Omega Bugembe Okello; famed Dancer and Actress, Trina Parks, Filmmaker, Nicole Franklin, Jazz Singer, Freda Payne and actresses, and Dr. Tommie Tonea Stewart, to name a few. He is a recipient of the Silver Award at the World Fest Film Festival, he worked with Tony-nominated award-winning actress. Today, he works as a film writer/producer, along with colleague and author, Olivier Stephenson, telling the remarkable untold stories of pioneering women of color who have impacted our nation's popular culture. https://about.me/robertprguy
Photo and video credit: 1-4) Amanda Holley.
---