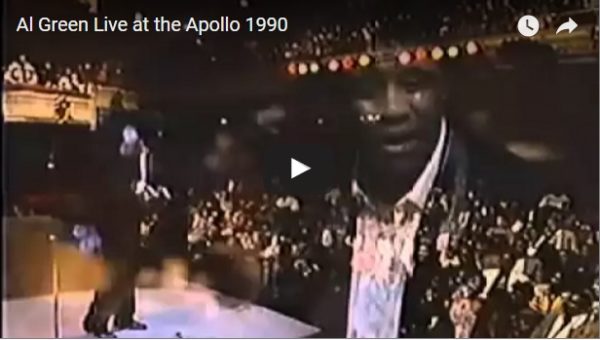 A great video of the L-O-V-E (Love) concert with words and music by nine time Grammy award winner Al Green, with band members Willie Mitchell, Mabon Hodges and others at the Apollo Theatre in Harlem, New York, 1990.
A year earlier Green had a hit in 1989 with "The Message is Love" with producer Arthur Baker. A year later the nine Grammy award winner is performing in Harlem in 1990. Green's 1995 album, is inducted to the Rock and Roll Hall of Fame.
Here's the almost hour-long (59:56) video, where Green kicks off a gospel marathon with Amazing Grace fueled by Green's funky soul gospel passion:
(note: at times you may need to adjust the volume)
In the Youtube comments section Yosh95wilde wrote:
Only man i know that can make you scream and shout & worship God in the same song!!!!! Love you Mr.Green
That Al Green sound, that direct, always original, sparse sound of his [Green's] early classics years is in this recording.
Via Youtube
Related Articles
---