---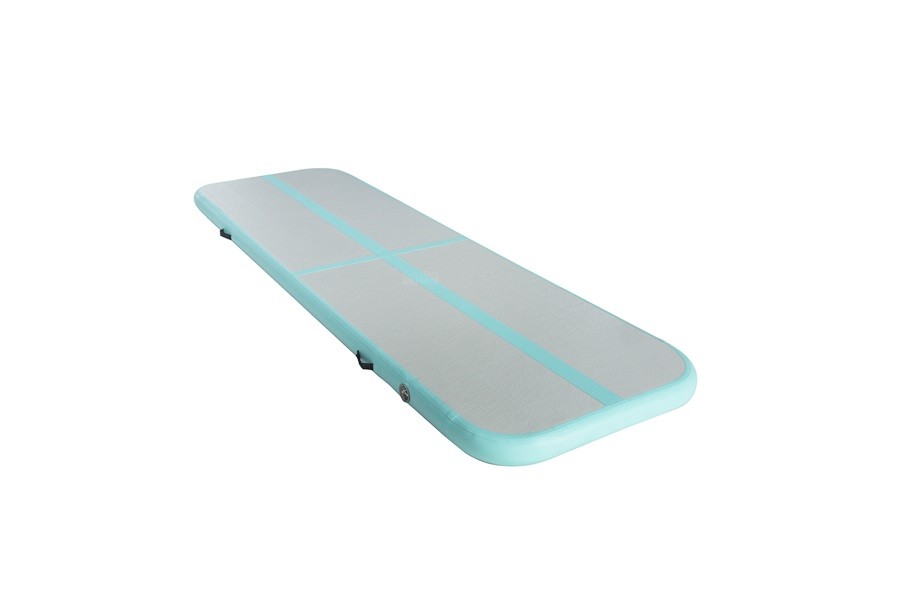 Gymnastics is fantastic since it doesn't need much fancy gear to start. This is particularly relevant when you are just beginning your endeavor.
If there's any piece of equipment that every future Olympian should have, it's a set of mats designed specifically for tumbling.
Training critical skills have become much safer thanks to transportable mats. A flawless pass on an actual spring floor might be hard to recreate, but some simulators get close.
What do you think is better for athletes? Airtrack or Tumbling Track mats? Some people might lean one way, while others might think differently. Let's look at the pros and cons of both options so you can decide which is right for you.
What's the differences
As a portable, pneumatic tumbling mat, "Air mats" are ideal for usage in settings other than traditional gymnasiums. Air mats are practically indistinguishable from a spring floor in terms of bounce because of their sturdy design and extra pressure.
There are two significant benefits to enhanced rebound. One advantage is that it increases the gymnast's strength, making it easier to perform complex moves like plyometric exercises, splits, etc. As a bonus, it makes people safer if a mechanical malfunction or mishap occurs.
On the other hand, tumbling mats are as straightforward as they come; they're just chunks of foam with velvet, PVC, or flexible Vinyl over them. While conventional mats are great for absorbing shock, their portability is perhaps its best selling point.
A few key differences make the former the superior option when comparing an air track mat to a regular tumble mat. However, before making a final purchase decision, you should carefully weigh both options' benefits and drawbacks.
Putting the air mat and the tumbling mat on the test
1. Comfort
Learning how to tumble on an inflatable mat involves a learning curve. It's not the same as flipping about on a spring floor, and it's certainly not the same as running outside or on the bare floor. However, the bouncy, lightweight sensation that an Air mat can only provide will quickly become your favorite feature as you get used to the bounce-back.
A tumbling mat's primary use is to cushion tumblers from hard falls. Unfortunately, this makes it more difficult to produce force when stopping, making them less than optimal for tumbling.
Mats are best used by athletes who still need to be utterly confident in performing a variety of abilities and routines together. They also want some additional cushioning while working on these moves.
2. Size
There is a broad range of options regarding the size of air mats. The typical dimensions for a general framework are between 10 and 15 feet in length and 3 to 6 feet in width. When it comes to gymnasts' safety, air mats are clearly the best option.
Traditional tumbling mats are available in a wide variety of forms and sizes, much like their inflated counterparts. Typical dimensions are 8 feet in length, 4 feet in breadth, and 1 to 3 inches in thickness. Because of this, they are excellent for mastering solo techniques but less effective for training longer, more complicated series.
The only way to complete a tumbling sequence is to buy several mats and join them together. That will increase your overall cost, of course.
3. Cost
Compared to traditional tumbling mats, inflatable ones are much superior in terms of safety, sensitivity, and portability. But there's a price to pay for all those luxuries.
A good-quality inflatable tumbling mat with the most advanced safety features will set you back quite a bit. Therefore, buying the best possible Air mat or foam tumble mats is recommended only if you wish to ensure maximum safety. Similarly, traditional foam tumbling mats are low-cost and too flimsy to be effective.
4. Safety
We all know that tumble boarding is a dangerous sport. The best way to reduce injury risk while practicing or performing is to fully invest in a mat, which will provide the necessary elasticity and bounce to tailor each routine for maximum safety.
Air mats can absorb much of the shock from hard falls. In a worst-case scenario, their thick foam trays and firm outer shells will minimize exposure to the ground.
A disadvantage of a tumbling track mat is that it's not as tough on falls as an air mat. Also, if you are new to the sport, your risk of injury is higher than it would be otherwise.
5. Durability
Mats, in comparison to their inflatable competitors, tend to last longer. You can tell the mats at a professional facility have gone through a lot by looking at how worn they are after years of regular use. When they do eventually break, it's usually over time. The foam will be unharmed even if the outer sheet tears or wears out.
However, there is no lack of satisfied customers who claim their air mats are still going strong after years of use. Although most manufacturers only provide a two- or four warranty, top-tier products sometimes last for four to five times as long under normal conditions.
Tumbling mats are moredurable than air mats, although the difference is not huge.
Conclusion
Overall, an air mat will provide a more exciting, secure, and versatile flipping adventure if money and room are no issue. In terms of value for money, a good tumbling mat is tough to resist. Feeling safe will be a priority no matter what gear you choose.
---