---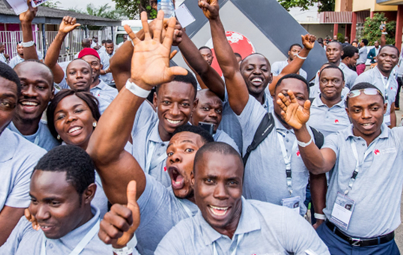 Harlem World Magazine sends a shout out to the largest gathering of African entrepreneurs and the broader entrepreneurship ecosystem will unite over 5,000 entrepreneurs, global investors, leaders from the African public and private sectors and developmental organisations in Lagos. The event is a unique opportunity to generate ideas, forge networks and bring policymakers and the private sector together, in a spirit of robust debate and interaction. The 2018 cohort from the Tony Elumelu Entrepreneurship Programme, as well as mentors and partners, will be present, as the culmination of their intensive twelve-week induction.
In keeping with the Foundation's track record ― most recently with President Macron of France ― of bringing politicians face to face with the new generation of young business women and men shaping Africa, the Forum will include an interactive session with President Uhuru Kenyatta of Kenya and President Nana Akufo-Addo of Ghana, moderated by TEF Founder, Tony O. Elumelu.
The Forum will also feature the launch of the TEFConnect, the world's largest digital platform for African entrepreneurs, dedicated to connecting African entrepreneurs and the entrepreneurship ecosystem.
Founder, Tony O. Elumelu, CON, stated: "In just four years, we have directly invested in 4,460 entrepreneurs, and we are beginning to see the results – job creation, ripple effects, but most importantly a recognition that Africa's economic well-being is driven by entrepreneurs – they are the engine of our continent's transformation. We will be championing and celebrating them. This year, we are truly achieving scale and impact; we received over 150,000 applications in 2017 alone, up from 20,000 applications in 2015. We are now calling on the current generation of African success stories and others to partner with us to see how we can all further create impact, genuinely transform millions of lives and increase the number of inspiring stories we will be hearing in Lagos."
TEF CEO, Parminder Vir OBE stated: "The TEF Entrepreneurship Forum is the only event across the continent that brings together the complete African entrepreneurship ecosystem, demonstrating our commitment to capturing the whole continuum – from the entrepreneurs themselves, governments who must provide enabling environments, to capital, advice and perhaps most importantly access and network."
Visit http://www.tonyelumelufoundation.org for more details.
SOURCE The Tony Elumelu Foundation
---