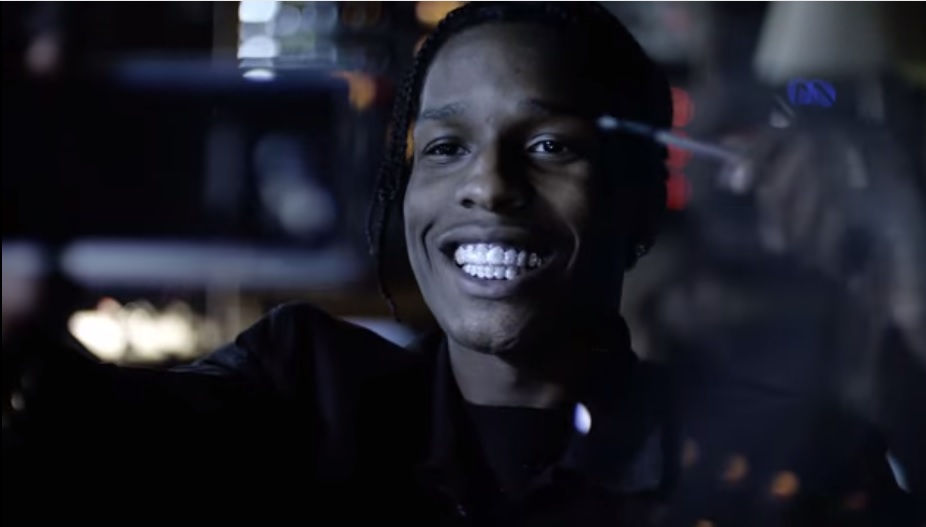 A$AP Rocky is all over the place, last week he was messing with about "", now he's on Vogue.come writes don't ask A$AP Rocky about his style rules or his favorite fashion items. "I'd rather not say because you know what would happen," he says, smirking. A preliminary Google search reveals the outcome: Anything he calls out achieves instant grail status. "I don't even shop for clothes anymore. I don't buy clothes, I buy pieces," he continues. The distinction is subtle—pieces are for building a collection, clothes are just the wardrobe fillers mere mortals buy. "But good luck finding all my pieces," he says, flashing his diamond-studded smile. "My style is for everyone to be inspired by, but the pieces are for me."
Even so, as we sit down to discuss his Guess Originals collaboration, the 27-year-old rapper rattles off the names of the designers he's wearing like they're his friends—"Comme, Gosha, Rick Owens jeans, regular white T-shirt probably from the corner store or something like that, Raf Simons Adidas, Gosha hat, and Wacko Maria hoodie"—and for the most part, they are. Since he arrived on the scene in 2011, Rocky has been a fashion world figure as much as a music one, attending Dior Homme shows, debuting Rick Owens sneakers, and, most recently, sitting front row at J.W.Anderson's Fall 2016 show in London. He calls Raf Simons and Michele Lamy friends and mentors—the former collaborated with Rocky on a hoodie for his family and friends, the latter considers him one of her "personal O.G.s" alongside Pina Bausch and Rei Kawakubo.
"All the relationships I have are all genuine, and that's why I don't want to be friends with every fashion designer just because they make cool clothes," he says. "These are people that I look up to as mentors, and this is not me just throwing that out there. These are people that I actually take good advice from and are genuine with me. They want me to grow. Raf's not out to make money off of me, so if I'm doing something, he's happy for me. When I'm working with Dior, he's happy—he worked with Dior. Why wouldn't he be? I worked with him, I'm chillin' with him. He's my guy . . . I'm not here to exploit or just capitalize on fashion, I just know it and it's a part of my life."
His latest venture into the fashion arena finds him collaborating with Guess Originals on a capsule collection for men and women, inspired by iconic Guess styles of the '80s and '90s. "I just felt like there was a void of information, of knowledge, about how Guess played a big role in urban fashion and urban culture in general in the late '80s and early '90s. That's just missing. I felt it was time to revamp that and just give it a little more juice and some new edge, and here we are," he says, adding that he trekked to the brand's archives in California to find new ways to update its iconic pieces and logo. "There's no denying how influential Guess was on hip-hop culture, even with the denim being the first acid-wash jean. They invented that. If you know your denims, you know that. This is history with Paul Marciano."
Rocky's been wearing the collection around Los Angeles, as have his friends like Ian Connor and Luka Sabbat. The real question, though, is with all of Rocky's fashion knowledge, who does he really want to see wear one of his designs? He broods for a moment and says, "Anna Wintour!"
---
Become a Harlem insider - Sign-Up for our Newsletter!
---
Related Articles
---
VIDEO
---
"Dr. Harry Delany is a renowned Harlem born and raised surgeon, the son of the great jurist and civil rights leader, Hubert Delany...." This monthly post is made in partnership with Harlem Cultural Archives.