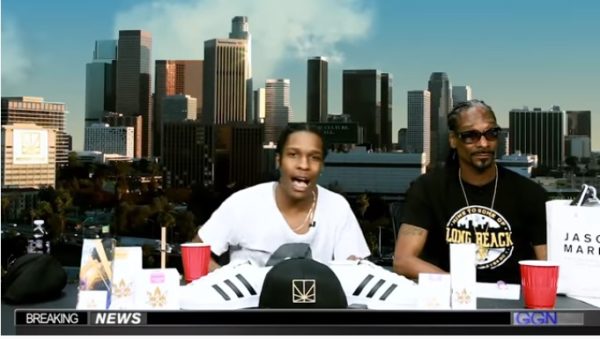 On the last edition of GGN of 2016, Snoop Dogg invited ASAP Rocky onto the show to talk shop, primarily about Rocky's new role over at MTV.
Around the 7:40 mark though, they threw on the instrumental for Mobb Deep's Alchemist-produced "The Realest" and these two just started spitting.
Rocky kicked things off by saying he wanted "two gold teeth from his dentist" for Christmas—which he rapped while rhyming with a teeth full of gold fronts. It's a true off the dome (a.k.a. "off the tip-top") freestyle, so Rocky doesn't go BARS DEEP, but he styles like only Rocky could over the track while asking for a round of applause. Then it was time for Uncle Snoop to go ham one time, and he let people know he supplied all the weed and chased all of the zebras before shouting out to all of the Libras. Snoops' freestyle skills are no-nonsense, and once he gets into that pocket, it's buttery smooth. Can we get an Alchemist x Snoop mixtape/EP in 2017?!
Now that you're done taking in the marvelous stylings of Snoop and Rocky, you should go back to the beginning of the episode. Rocky talks about the different generations of hip-hop fashion, including how the size of your jeans has changed. Rocky's creative director position at MTV Labs is discussed, with Rocky specifically saying he wants to get back to "music television."
"It's about different genres…if it wasn't for MTV, we wouldn't know who a lot of artists were," he says, before mentioning Yo! MTV Raps and TRL inspired him in terms of the energy of the show. Later on, Rocky talks about the friction that was apparently brought up between Rocky's ASAP crew and Tyler's Odd Future squad, and how they overcame the f*ckery to really become friends and associates.
Here's the video:
There's much more that Rocky and Snoop get into; check out the full episode above.
Via source
Related Articles
---
VIDEO
---
"We re-imagine, recreate, and redeem cultural omissions and misrepresentations of Blackness, for the culture. ...." This post is made in partnership with British Pathé.