---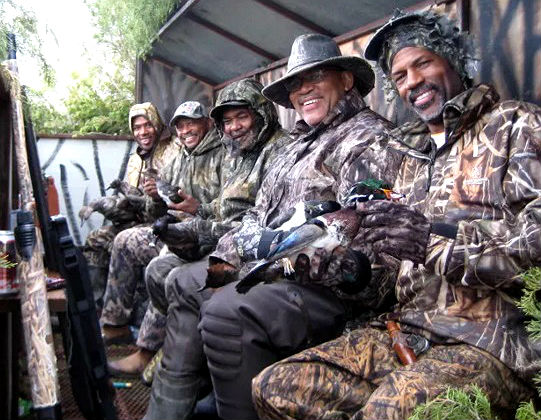 Hunters are notoriously difficult to buy gifts for unless you are a hunter yourself and are familiar with their gear and what they may be lacking. If you're not a hunter, this guide is for you. The focus of this guide is helping you come up with a thoughtful and useful gift on your own, and while we do have a few suggestions of things to take a look at, we'll mostly focus on asking the right questions so you can come up with the best gift idea yourself.
Figuring Out the Right Gift
Start by asking yourself and your hunter some questions. Like, "What does he/she complain about?" "Have they mentioned something that they wish they had?" The best gift will depend on what kind of hunting they do; for example, a duck hunter may be more interested in waders or waterproof boots than someone who might want a DeerHuntingGuide.net.
Also keep in mind that your gift doesn't actually have to improve their hunting experience; something decorative or identifying can be a great gift. Something as simple as framing a large print of them with their biggest buck could be just as meaningful as some new gadget that mildly enhances their hunting experience. 
I've seen a tough-as-nails marine veteran giggle like a schoolgirl upon receiving a custom bobble-head of him in hunting camo holding a rifle.
One of the issues with buying a gift for a hunter is that for every item there are tons of different variations made to be compatible with certain rifles or ammo calibers. Some brands are only compatible with products of the same brand, and some things just won't fit into their workflow. So, here is the basic info you need to have to make sure you buy the right variation of whatever you have in mind:
What kind of rifle does he/she shoot with? Most important here is usually the caliber of ammunition it's chambered for, but brand and style are good to know as well.

The answers to the questions in the first paragraph of this section. Any complaints? Wish-lists?

What does the hunter already have? This is item-specific. For example, if you're thinking of getting him/her a new scope, what optics does he/she already have?
Some Ideas to Get You Started
As long as you're careful not to get an optic the hunter already has or that isn't compatible with their rifle, it's hard to go wrong with a new one. It gives them an excuse to go to the range to zero it in, it adds variation to their hunting experience, and shows that you put a lot of thought into the gift. For hunters who shoot .308, you can find some great scopes options here.
Optics can be expensive though, and if you're looking for some more affordable gift options we might make the following recommendations:
Mosquito repellant, especially types that don't have a noticeable smell

Pretty much anything waterproof

Replacements for old gear; just because they already have something doesn't mean they don't want an upgrade. You can upgrade backpacks, carrying cases, etc.

Knives or pretty much anything sharp. A hunter is likely to appreciate anything with a sharp edge, even if all they can use it for is whittling.

"Tacticool" stuff. A flashlight with a little built-in capsule for matches is more fun than a regular flashlight, even if your hunter never uses the matches.

Decorations, trinkets, and memorabilia. My father is an avid fisherman, and his favorite gift he ever received was one of that wall-mounted singing bass. He kept it long after it had stopped working. 
Closing Thoughts
Hunting is like any other passion, you can definitely do your homework and find great gifts to give a hunter that will help them pursue their hobby with more ease and enjoyment. You can also look at gifts that give them the chance to showcase and display their hobby. We all like to have things on our desk at work or in our shop that communicate who we are.
If you're still worried and not sure what to do, you can always take the information you have, head into a sporting good's store, and start asking the employees questions. They will generally be knowledgeable enough to at least point you in the right direction, and you can compare the in-store price with what's available online if you find a gift idea you really like. 
---