---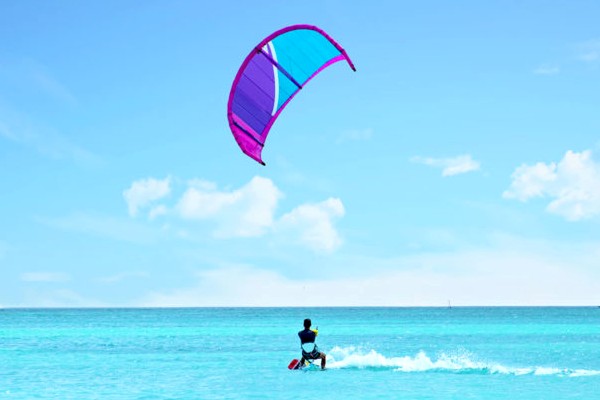 Every one loves having some fun in the water, especially during summer. Even if you have a phobia for large bodies of water, the odds are that you often hang around pools or beaches to cool off. If you're not afraid of getting a little wet, here are 7 water sports you should seriously consider trying.
Spearfishing
The name of this sport practically explains it. If you don't know, spearfishing is a mix of hunting and swimming, and it involves you diving to catch fish using a speargun or a pole spear.
Spearfishing is great because it engages your whole body but also teaches you the value of patience. There are also a few rules to follow in the sport and that makes it a valuable way to practise discipline and focus.
3 interesting things about spearfishing
You'll be free diving so it helps to learn how to swim and hold your breath for as long as you can
Spearguns and pole spears have their pros and cons so you may have to review a pole spear or speargun selections to find the perfect one
Spearfishing is even more satisfying when you get to kill and eat whatever you catch.
Parasailing
Parasailing is an interesting sport because you're basically strapping yourself to a small plastic vessel with a large parachute-shaped canopy wing. The goal is to gain enough speed until you take flight and soar.
This sport helps you learn what it's like to actually fly and surrender control to mother nature. Because you can't direct the parachute, the weather conditions have to be right to parasail safely.
3 interesting things about parasailing
Don't try to skimp on the canopy because it can drastically affect your experience.
Under the right conditions, parasailing can be a lot of controlled and safe fun. That's why it's always important to have an expert set it up for you
You can parasail competitively and the goal with that is to reach a target with accuracy after being released from the boat.
Wakeboarding
The sport of wakeboarding is a lot about balance, coordination and sheer skull think snowboarding but with turbulent snow!) With wakeboarding, you're being pulled by a speedboat or a fast water vessel and the goal is to ride the wake of the boat.
Standing on a wakeboard is much easier than on water skis because the board has a large surface area. You can get a lot of air during wakeboarding and experienced boarders even do tricks and stick perfect landings for extra fun.

3 interesting things about wakeboarding
Like any sport requiring balance and coordination, wakeboarding takes practice. It takes a while to learn balancing while water splashes in your face
Wakeboarding can be a gateway to other water-based sports like surfing, water skiing, and even windsurfing
Wakeboarding is mostly done in rivers, lakes, and open water but some people have used unconventional locations like flooded car parks.
Jet Skiing
Jet skiing is the sport for you if you're looking to get a splash but don't want a full-body workout. It's a lot like riding a motorcycle but on water. As a result, you get a greater safety factor, plus it looks really cool.
Riding a jet ski can be physically challenging and very cool, especially if you're jumping waves or exploring new locations on the water. It's also quite fun because a jetski is incredibly versatile, can turn on a dime or grab massive air.

3 interesting things about Jet Skiing
In some states, you require a license to drive a jetski. This may also apply to learning how to drive one.
You can easily rent a jet ski for a few hours, so you won't have to worry about any significant financial commitments.
Jet Skiing is a sport so if you're competitive, there are a ton of opportunities to test your mettle against other players.
Canoeing
Canoeing is a great way to exercise your upper body, do some cardio, and have some fun. The great thing about this water sport is that you can have as many people as you want. With a big enough canoe (and some live vests), you can have some great family fun.
Canoeing has been around for the longest time. One thing people love about this sport is the quietness. Once you paddle out to the middle of the lake, you have nothing but your thoughts and the company of those around you.

3 interesting things about canoeing
Canoeing has been an Olympic sport since 1936 and contestants contest in two categories – slalom and sprint
Canoeing doesn't require any advanced skills. As long as you can paddle, you'll do great. However, there's also room for improvement on speed and technique
It's a great way to explore new areas. Just make sure you bring a compass.
Underwater hockey
Yes, underwater hockey is a real sport, and it is exactly as it sounds – hockey but underwater. Contestants hold the paddles with their hands and they try to get the puck across the other team's goal line.
Underwater hockey can be physically demanding because you're not allowed to use breathing apparatus of any kind. Players will often go back to the surface for air so there's also a significant amount of teamwork involved.
3 interesting things about underwater hockey
Underwater hockey is also known as octopush in the UK and it's mostly played in a swimming pool.
Unlike traditional hockey, there's limited contact involved in underwater hockey. The teams are too busy trying to conserve oxygen!
There may be up to 3 referees per game, and they are uniquely dressed in a red cap and golden yellow shirt for easy identification.
Flyboard flying
"Flyboard" is a brand name for a hydro lifting device. The device is a board connected to a watercraft that shoots high-pressure water out of two nozzles, propelling the rider into the air. Flyboarding requires a lot of balance to stay upright and do tricks.
Flyboard flying is more of a fun activity than a sport. Individuals aim to go as high as possible or dive headlong through the water. It requires a lot of skill or you could really make a fool of yourself
3 interesting things about underwater flyboard flying
Flyboard flying was invented in 2012 and the initial design required you to adjust the propulsion by foot and balance using your hands
Flyboard flying is now a competitive sport where the aim is to perform tricks among other things
It's one watersport where with enough skill, you could avoid ever getting wet!
---