---
Tokyo is one of the most amazing cities globally and one of the most popular tourist and TEFL destinations.
With its amazing food and nightlife, it's no wonder why people flock to this city every year. It's a city that is constantly alive and buzzing with energy. There are so many things to do and see in Tokyo. It can be hard to know where to start. If you're planning on visiting soon, ensure to check out this list of the six things you must do. Whether you are interested in history, food, or culture, there is something for everyone in Japan's capital city.
Experience Traditional Japanese Style At A Ryokan And Onsen
Ryokans are traditional Japanese inns located all around Japan, including Tokyo. They usually have very minimalistic interiors with tatami floors and futon beds to sleep on. Meals are served in your room, and many ryokans also offer beautiful outdoor bath facilities that guests can use for free.
It is great fun to try staying in a ryokan while in Japan. It's worth it if only to experience the traditional cuisine and bath facilities they offer. When you are visiting Tokyo, there are plenty of options for choosing where to stay. If you want to go somewhere with English-speaking staff, a quick google search is a great start. Many chain hotels have Japanese-style rooms, including Hotel Unizo and Toyoko Inn.
Find Peace Amongst The Sprawling Scenery Of Shinjuku Gyoen
Shinjuku Gyoen is a large garden located in Shinjuku, Tokyo. It contains dozens of different types of trees and flowers. In springtime, it's filled with beautiful cherry blossoms. Some ponds and streams run through the garden and some historical Western-style mansions from Japan's borders to foreigners during the Meiji Restoration (1868).
It's only about a fifteen-minute walk from Shinjuku Station. If you're in the Shinjuku area, it's worth a visit. The park is open every day except Mondays and certain holidays.
Walk Around Harajuku And Omotesando On A Sunday
If you're looking for somewhere to do some shopping, then take a stroll around Harajuku and Omotesando on a Sunday because most stores are open. It will allow you to browse through unique clothing, makeup, and accessories while also enjoying the lively atmosphere of these two neighborhoods.
It's a quick train ride from Tokyo Station or Shibuya, depending on where you wish to go afterward. The most popular stores can get very crowded during peak times, so keep that in mind when you're planning your trip. Sometimes it's better to go on another day if possible.
Get A Fantastic View Of Tokyo From Roppongi Hills
Roppongi Hills is a large complex built in 2003 that contains restaurants, shopping malls, bars, and museums, and the Mori Tower is located at the top. When going up there, ensure not to miss out on going to each level because they all have different things to see, such as panoramic views of Tokyo. Roppongi Hills is located next to Roppongi Station on the Hibiya Line, Oedo Line, and Namboku Line, so it's easy to get here. It will take about 40 minutes by train from Tokyo Station or Shibuya, depending on where you are coming from.
Visit A Traditional Japanese Tea Ceremony
Tea Ceremonies are a unique opportunity to learn more about Japan while participating in an ancient tradition that has been around for over 1000 years. You can try different types of tea while watching how it is made. There are even opportunities for visitors, including foreigners, to perform some Japanese traditions if they wish.
It will take about 15 minutes by train from Tokyo Station to Ueno Station and then a further 10-15 minute walk from right in front of the station. You can choose many different tea ceremonies when going there, so it's worth visiting multiple times if you enjoy them.
Visit Tokyo Skytree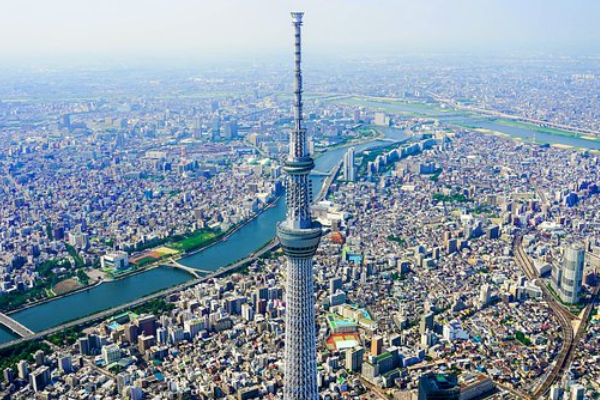 The Tokyo Skytree is the second tallest structure in the world. It stands at 2,080 feet tall. The height of this tower makes it one of the most iconic structures in Tokyo. The design of the building draws inspiration from Japanese folklore and nature. Two restaurants are located inside the tower to dine over 1,000 feet above ground level. You will have to take an elevator ride up 634 meters in less than 40 seconds to get to these restaurants. It is located in Oshiage, which is a part of Sumida City. You can get here by taking the train on the Tobu Skytree line from Asakusa Station. From there, it is a one-minute walk to the tower.
Visiting Japan is one of the best ways to learn more about the country and its culture since it's such a modern yet traditional country. Many foreigners like to experience everything this wonderful country offers, including learning more about the language, meeting new people, or visiting some of Japan's most important historical landmarks. Many activities can be enjoyed here, so it's easy to find something for everyone to do on a visit. This article highlighted some of the top things to do in Japan and hopefully sparked some interest, so take a trip down soon and see for yourself what this amazing country has to offer.
---