---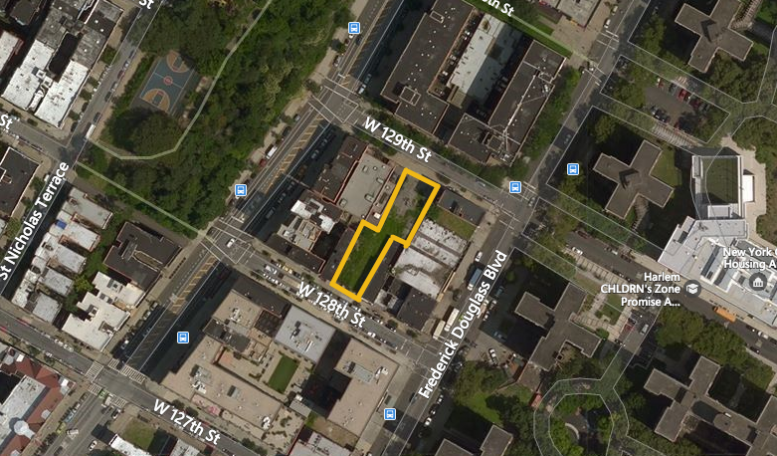 One of the last large, vacant lots in central Harlem is about to become an apartment building. The property's longtime owners, the Fane family, have filed plans to erect a 10-story residential development on the plot at 305 West 128th Street, between Frederick Douglass Boulevard and St. Nicholas Avenue.
The complex would actually include two towers, because the lot runs through the block from West 128th to West 129th streets. It would hold 57 apartments divided across 53,074 square feet of residential space, for relatively spacious average units of 931 square feet.
Each floor would have one to four units each, and both buildings would have roof decks. The cellar linking the two buildings would also host laundry rooms, a lounge, bike storage, and a fitness center.
The development benefits from generous R8 zoning, which doesn't have height limits and has relatively low parking requirements. The lot size, combined with the number of apartments, means that this developer doesn't have to build any parking. The permits don't include any, and it seems like a sensible choice, because the A, B, C, and D trains are only a few short blocks away at 125th Street.
The Fane Organization, headed by Daria and Jason Fane, has owned the 10,000-square-foot site since 1992.
Kutnicki Bernstein Architects will be responsible for design.
Although this part of Harlem hasn't seen quite as much development action as the eastern half of the hood, construction on small and mid-size buildings is starting to get underway. Permits were recently filed for an 11-story building a few blocks north of here, on West 133rd Street, and a big mixed-use project with a hotel and apartments is planned for a former commercial property on West 126th Street. And the former Yuengling Brewery complex – which is up for landmark designation – could be redeveloped into office or light industrial space.
Via Source
No related posts found...
---