---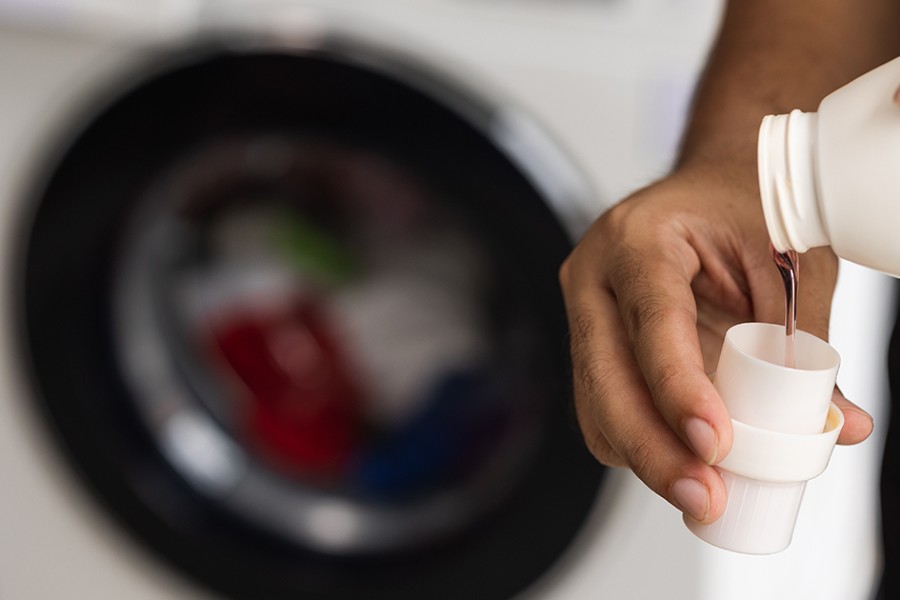 When thinking about some of the household staples in your home, what comes to mind?
For a lot of people, these could be things like a vacuum cleaner, dish soap, towels, and disinfectant spray. However, let's not forget one item that many of us couldn't live without: laundry detergent. Whether you realize it or not, your laundry detergent is one of the most important things in your entire household. Without laundry detergent, how in the world are you supposed to wash your clothes and have them smell clean and fresh? Clearly, laundry detergent is super important and shouldn't be left out as a household staple. 
As great as laundry detergent is in general, not all detergents are made equal. In fact, instead of benefiting you, your laundry detergent could actually be harming you. We're not okay with this, and we're sure you're not either. Today, we're going to help you determine if the laundry detergent you're using is right for you or if it's time to get a new one. Specifically, we'll tell you all about three signs you need to switch laundry detergents. Whether you decide to buy a higher quality liquid detergent or opt for the newer laundry detergent sheets is up to you, but to learn if now's the time to say "goodbye" to your ol' faithful detergent you've been using for too long, keep on reading. 
1. Your Clothes Stink
The purpose of laundry detergent is to clean your clothes from the sweat, dirt, and grime they acquire throughout the day, so if your clothes are smelly after you wash them, then something is seriously wrong. Laundry detergent is supposed to make your clothes smell fresh. If you take your clothes out of the washing machine and they still smell sweaty and musty, that means your detergent isn't doing its job. This could potentially be from the actual detergent concentration of the laundry detergent you're using. Non-concentrated laundry detergents can be up to 90% water. This high water content is doing nothing for the cleanliness and smell of your clothes. If you're struggling with a laundry detergent that is too watery and isn't giving your clothes the fresh smell of clean laundry, then you might want to consider opting for laundry detergent sheets, which contain a surprisingly concentrated amount of detergent. With laundry detergent sheets, you won't need to worry about smelly clothes anymore.
2. It's Irritating Your Skin 
Has your skin been irritated recently for no apparent reason? If so, you might want to do a little experiment to see if your laundry detergent is causing those rashes. When people see that their skin is reacting poorly to something, the fault is often wrongly put on some food or beverage. However, some laundry detergents can also have a negative impact on your skin. Check to see if the reaction is caused by any new foods or drinks first, and if removing those from your diet don't seem to make a difference, try using a different detergent with non-toxic ingredients. Also note where the skin reactions are occurring; if you sleep on your side and you notice a skin reaction on the side of your face you sleep on, then it might be caused by your laundry detergent. This is because lower-grade detergents use a variety of toxic chemicals that can potentially affect your skin. Always check the ingredients list before buying a new detergent. If you want to stay on the safe side, most laundry detergent sheets use ingredients that are skin-friendly, so if you're tired of skin reactions caused by cheap detergent, go for laundry detergent sheets instead.
3. You're Tired of Producing So Much Plastic Waste  
This is a big one for all the environmentalists out there; it might be the time to switch laundry detergents if you're tired of creating so much plastic waste. Seriously, have you taken a look at the containers that most liquid detergents come in? They're enormous and made of hefty plastic. With each bottle of liquid detergent you buy, you consequently add another one of those giant plastic containers to a landfill, and there's no way that's good for the environment. The most eco-friendly solution to this problem is laundry detergent sheets. They're zero-waste, save a lot of space, and you can use them free from the guilt of producing plastic waste. Each little change, like making the switch from bulk liquid detergent to laundry detergent sheets, makes a big impact on the environment.
Conclusion 
In summary, here are the three main signs that you need to switch laundry detergents:
Your clothes stink
It's irritating your skin
You're tired of producing so much plastic waste
We hope this article has helped show you whether now is the time to switch detergents. Our personal favorite is laundry detergent sheets; you really can't go wrong with them, and they solve all three problems we mentioned above. Once you try laundry detergent sheets, you'll never want to go back.
---