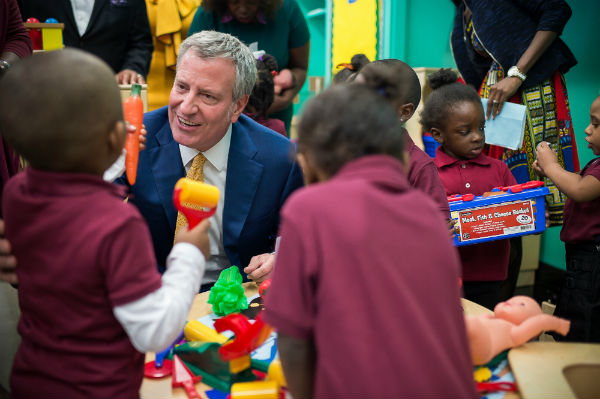 By Bill de Blasio
I am writing not just as your Mayor, but as a parent, because every child needs the strongest possible start in life our city can give them. That's why I'm so proud that this school year, New York City's first ever pre-K classes for three-year-olds started in Brooklyn and the Bronx.
Earlier this year, we announced 3-K for All, our plan to bring high-quality, full-day, 3-K education to every three-year-old in New York City over the next four years. We know this is one of the best investments we can make in our kids and in our city's future.
The fact is the most important development of human minds occurs before the age of five. As parents we see it and science confirms it.
3-K programs lay a critical foundation for children to grow and learn. Kids who have access to quality early childhood education have higher reading levels, better social skills and increased academic achievement. If we reach kids during that time, they will do better and go farther throughout their educations and their lives. If we lose that opportunity, it never comes back.
Bluntly, society has missed the boat on this for decades. We haven't focused on the youngest years of education, even though that's where we know we can have the biggest impact on children. We also know how much families benefit, saving $10,000 a year and giving moms and dads time to advance their own educations and careers.
We've show with Pre-K for All that in just a few years we can reach every child at the age of four with a high-quality, full-day education, and we have shown just how much demand there is for it. Now it is time to reach every child at the age of three.
We begin this school year in Districts 7 in the Bronx and 23 in Brooklyn as we work toward making 3-K for All a reality by 2021.
We believe we have a chance to reach children now and start changing their lives. It's a bold move but a necessary one that will recast the future of this great city.
Related articles
Related Articles
---