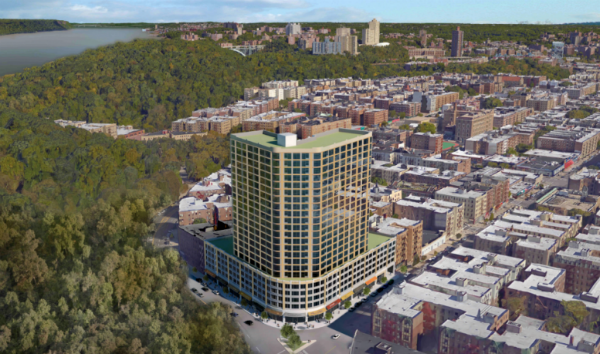 Washington Square Partners and Acadia Realty Trust want to build a 23-story apartment building at 4650 Broadway, right next to Fort Tryon Park and the Cloisters in Washington Heights. But first, they need a major upzoning from the city. YIMBY uncovered renderings of what the 500,000-square-foot tower could look like in newly posted zoning documents.
The City Planning Commission discussed initial plans for the mixed-use development earlier this week. The project, dubbed Sherman Plaza, would be the first one affected by the mayor's new mandatory inclusionary housing (MIH) policy, which requires builders to set aside at least a quarter of their apartments as affordable housing if they want to build on rezoned land. In exchange for the rezoning, the developers said they would rent 25 or 30 percent of the apartments at below-market rates.
The documents outline two different proposals for the development, which would be one of the largest new buildings constructed in upper Manhattan in decades. The smaller plan calls for a 23-story, 335-unit building with 25,000 square feet of retail and 15,000 square feet of community facilities. Roughly 100 affordable units would be rented through a lottery to families who make up to 80 percent of the Area Median Income, or $62,150 for a family of three. The rendering above shows that plan, and the massing isn't exactly ideal. That's because it doesn't take into account the design flexibility built into the city's new zoning tweaks, known as Zoning for Quality and Affordability (ZQA).
The renderings make a strong argument for a taller, thinner building that wouldn't block as much light. And it would include more affordable housing. With ZQA and MIH, the development would get a boost to 27 stories and 435 apartments, 142 of which would rent for below-market rates. There would also be 41,000 square feet of ground floor retail and 54,700 square feet of community facilities on the second and third floors. It would reach 280 feet into the air.
Without the rezoning, the developers plan to put up a 10-story, 172-unit building. It would have essentially the same amount of retail and community facilities as proposal no. two. And the rentals would be completely market-rate.
While we don't know how closely the finished building will resemble these designs, we do like how the structure takes advantage of the wedge-shaped site. The lot – and its current structure – have an unusual rounded corner. So the new development could have a rounded, Art Deco-style base that mirrors its predecessor.
A two-story parking lot with a U-Haul rental currently occupies the property at the corner of Broadway, Sherman Avenue, and Ellwood Street
Related Articles
---
VIDEO
---
"Dr. Harry Delany is a renowned Harlem born and raised surgeon, the son of the great jurist and civil rights leader, Hubert Delany...." This monthly post is made in partnership with Harlem Cultural Archives.