---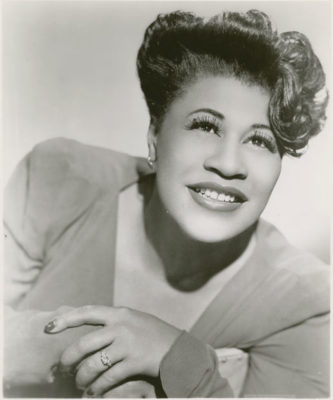 The Schomburg Center for Research in Black Culture today announced its 2017 Annual Women's Jazz Festival honoring the centennial birthday of Ella Fitzgerald and her continued influence on the evolution of jazz.
The year's festival, titled "Ella, Ella: A Centennial Celebration of Mama Jazz!", will be held at the Schomburg Center over four consecutive Mondays in March, beginning on March 6 and ending on March 27. Each program will explore the multi-dimensional music, life, and legacy of the jazz legend and will feature some of the most well-known and emerging women performers in jazz today.
Guest curators for the festival include critically acclaimed harpist Brandee Younger, ethnomusicologist Aja Burrell Wood, and The Afro-Latino Festival NYC. This year's Women's Jazz Festival is done in partnership with WBGO Jazz 88.3FM/WBGO.org.
Festival Calendar
March 6: Divine Ella
Acclaimed harpist Brandee Younger will join singer Jean Baylor, Camille Thurman (alto sax and vocals), Courtney Bryan (piano),  Dezron Douglas (bass) and Kassa Overall (drums) as they highlight Ella Fitzgerald's influence in both sacred and secular music. The evening will draw on Fitzgerald's record, "Brighten the Corner," offering original compositions and new arrangements of favorite Fitzgerald masterpieces that evoke a spiritual essence.
This program is guest curated by harpist Brandee Younger, a fearless and versatile talent, who defies genres and labels as a classically-trained musician playing in the avant-garde tradition of her sonically forward predecessors Dorothy Ashby and Alice Coltrane.
March 13: Ella is Present
Grammy Award-winning jazz drummer, composer, and producer Terri Lyne Carrington, together with special guests, will perform a tribute to the indelible legacy of Ella Fitzgerald. This retrospective will present Fitzgerald's impact on today's diverse and progressive voices and explore her unique influence in contemporary music.
Guest curated by Aja Burrell Woods, ethnomusicologist and adjunct professor of African American music at The New School and Brooklyn College Conservatory of Music.
March 20: WJF in Conversation: There's Something About Ella
Join the Schomburg Center for the debut of Women's Jazz Festival Conversations. We invite scholars, artists, and archivists to discuss the legacy of women in jazz. This evening we will reflect on the legacy of Ella Fitzgerald.
March 27: J'adore Ella
The French duo, Les Nubians, sisters Hélène and Célia Faussart from Bordeaux, France are known for melding African rhythms with jazz and R&B. This final evening of the festival will provide a glimpse of Fitzgerald's influence as an internationally acclaimed jazz artist. In 1990, Fitzgerald received the French medal of Commander of the Order of Arts and Letters (Commandeur des Arts et des Lettres) for her significant contributions to jazz. Infusing traditional Fitzgerald with cultural notes from across the African diaspora, the Grammy-nominated singers offer a sophisticated ode to why the world loves Ella Fitzgerald. Guest curated by the Afro-Latino Festival NYC.
Each performance and program of the 2017 Women's Jazz Festival is open to the media. Professional photography and video recordings are prohibited without expressed consent.
Tickets are available at SchomburgCenter.Eventbrite.com
More information about Schomburg at www.schomburgcenter.org
The New York Public Library for more information at www.nypl.org
Related Articles
---