---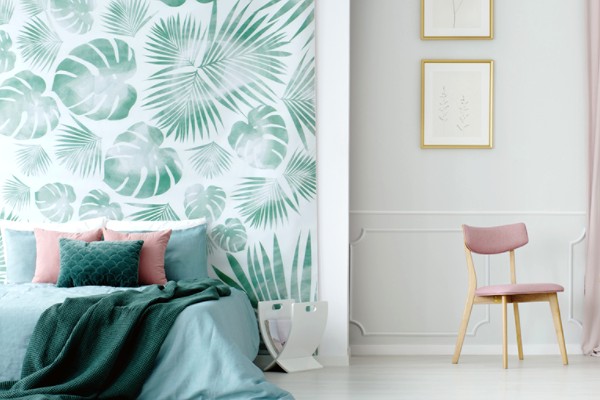 You might have leftover wallpaper rolls biting the dust in your home's basement, waiting to get wasted.
But hey, why throw them away when you can be creative with them?
You read that right. You see, wallpapers aren't only about sticking paper to walls. You could use their designs to make creative stuff your guests will like. 
Don't believe us? Here are 10 fun ways you can get creative with wallpapers. 
Read on!
Accentuating Your Ceiling 
Wallpapers add a lot of depth and an illusion to the dimension of your room. The fifth wall that is the ceiling can be adorned with beautiful bold wallpapers to get those eyeballs rolling. 
From a magnificent architectural fort to plain solid prints, one can choose how bold one wants to be with their wallpaper designs.
Garnish Your Kitchen
Designs with blooming flowers and garden motifs instantly make the kitchen bold and bright. Cabinetry adorned with pretty wallpaper adds richness and glamour to the dishware.
Wallpaper serving as a backsplash adds a statement to your kitchen. Use an old charm brick design wallpaper to add that backsplash to your kitchen. Hues of grey and white are the most preferred ones for the kitchen area.
Line Your Bookshelves 
Wallpaper is a versatile medium and can dress up any dull bookshelf. Adding a soothing colour or vintage wallpaper to your bookshelf will make it a star corner of your study area.
Decorate Your Tableware 
A small piece of wallpaper can give you a brilliant theme for your next party. Stick those wallpapers on the serving trays to adorn your old trays. Black or any bold coloured background with pop coloured flowers looks excellent on trays. 
You can also make a table runner out of the rest of the wallpaper to add glitz and glamour to your party theme.
Make A Photo Backdrop
Having photo booths for every occasion has been quite popular lately. Why not beautify your photo booth with a stunning wallpaper backdrop? 
You can go for pink/blue-themed or animal wallpaper for your kid's birthday photo booth (consider buying one if you feel the need). A vintage floral wallpaper also makes a beautiful backdrop to freeze in your priceless family moments.
Beautify The Stairs
Another fantastic way to repurpose wallpaper is to use the wallpaper at the back of every step of the staircase. Uniquely and creatively coordinated, these wallpapers can bring life to any boring stairs!
Embellish The Panel Walls
Spice up your walls with a bright pop panel using abstract wallpaper. Adding textured panels brings life to a dull, dragged wall. An acoustic wallpaper can also be functional in improving sound quality and limiting the amount of noise coming from outside.
DIY Lampshades 
Use those leftover wallpaper rolls to create upscale lamps. Put your origami skills to practise and save that money being spent on fancy lamps for the cosy corners of your house.
Furbish Your Furniture 
Show some love to your old furniture pieces by adorning them with those extra rolls of wallpaper. From covering up the scratchy coffee table to sparking your study table, you can choose from a wide variety of floral, abstract, or just plain coloured wallpapers.
Update Your Dresser 
Use a pastel-coloured wallpaper to highlight your dresser table, or just cover it with quirky vinyl wallpaper to add that extra zing to your dresser area. 
Final Word
Wallpapers are a perfect way to add utility most affordably. In fact, durable wallpapers are easy to maintain and are usually soil-resistant. 
If you're looking for easy to clean wallpapers, you can also consider Vinyl wallpapers. 
The bottom line? Don't be afraid to be creative while using the wallpapers in your home to make it look more stylish. Use the above tips and thank us later!
---